The Kick Ash Basket is used while grilling to enhance the grilling experience and make it more convenient. It provides the user with impeccable ash management, imparts good airflow, easy ash removal, quick cleanup and many more. As a charcoal ash basket, the Kick Ash is dime a dozen.
However, there's more than one way to flip the burger. You don't have to use the Kick Ash all the time to get efficient results. Instead, there are a lot of alternatives to the product that provide more exciting features and perks. Yes, you got that right. This piece is all about the kick ash basket alternative. 
If you want to make the best purchase on it, carefully read the article till the end and keep your grilling secrets under your chef's hat. 
Every product is independently reviewed and selected by our editors. If you buy something through our links, we may earn an affiliate commission at no extra cost to you.
5 Kick Ash Basket Alternatives You Must Consider
As you delve into the article, you may have been wondering about the alternatives to employ in place of Kick Ash Basket. Hold my beer, homie. In the segment below, I will provide some exciting products that remove your need to buy a Kick Ash. Also, these mentioned products are as superior as Kick Ash and more useful.
Here is the quick decision making chart to save you extra time –
| Key Features | only fire Ash Basket | Skyflame Ash Basket | ZBXFCSH Basket |
| --- | --- | --- | --- |
| Top, Bottom, Depth | 14", 8.97", 4.25" | 14″, 9″, 4.25″ | 13.5″, 9″, 4.25″ |
| Item Weight | 3.39 pounds | 4.64 pounds | 3.89 pounds |
| Material | Stainless Steel | Stainless Steel | Stainless Steel |
| Handels | Yes | Yes | Yes |
| Divider | No | No | Yes |
| The Hallmarks | Heavy duty material, Great compatibility, Super fast temp control, Simple cleaning & Convenient handles | Creative & decorative design, Functional, Great air circulation, High quality material & Larger capacity | High quality material, Removal divider, Simpler ash cleaning, Extra durability & Better airflow |
| Price | Check on Amazon | Check on Amazon | Check on Amazon |
Alright, roll up your sleeves, and let's get the ball rolling! 
only fire Stainless Steel Charcoal Ash Basket
Whether you're looking for a charcoal ash basket for your Big Green Egg or Kamado Joe Classic, the following product will fit best to your grill. It has minimal dimension, free airflow features, time-saving temperature control, and whatnot.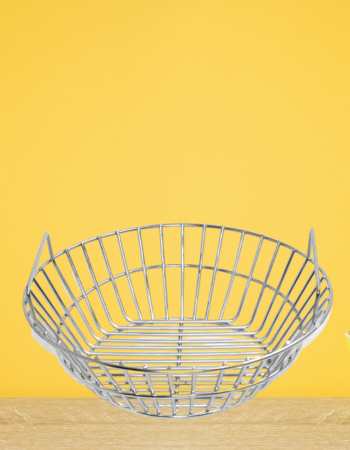 Top Features 
Easy to clean

Minimal design

Heavy-duty stainless steel

Time-saving temperature control

Highly compatible with the standard grill model
| Specifications | Parameters |
| --- | --- |
| Brand | Only fire |
| Dimensions | 8.97″D x 14″W x 4.25″H |
| Material | Stainless Steel |
| Weight | 3.39 pounds |
With this basket, cleaning will be super easy. Just lift the handle of the grill and give it a little shake. That's what it requires.
The excess ash will accumulate on the bottom of the grill. However, the remaining charcoal could have been reignited very quickly.
So, if you want to be safe, don't put all your eggs in one basket and switch to only fire without further ado. 
You may wonder that only fire is not as superior as Kick Ash as a brand. Have the last laugh- only fire is one of the top-notch brands known for producing high-quality grilling and BBQ accessories. Their products receive umpteenth positive reviews every now and then. So, if you're looking for a better alternative to the Kick Ash, take a stab at it. 
Pros 
Minimal shape and dimension

Cleaning the grates is very easy

Can handle around 2700 F

Constructed by highly durable stainless steel

The sturdiness of this product is impeccable. It will stand still for ages
Cons 
The handles do not allow the divide-and-conquer system to sit correctly. 

The firebox may crack while using (though it depends on the intensity of use) 
Also Read: Kamado Joe Charcoal Basket vs. Kick Ash Basket: Which is Better for Grilling?
Skyflame Stainless Steel Charcoal Basket 
While the Kick Ash Basket can be introduced to all sizes of grills, the Skyflame comes in a dimension of 14-inch and fits to almost all common grill sizes. So, if you're looking for a charcoal ash basket for your grill, the following one will fit you like a glove. 
Proceeding further, the Skyflame charcoal basket is made of heavy-duty stainless steel that will surely provide you with extensive durability and ensure the product's utter sturdiness. 
No matter how roughly you use the product, it won't get wrecked after a certain period.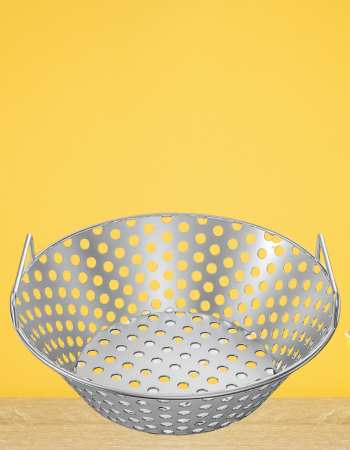 Top Features
Super easy cleanup

Hollow holes design

Great ash management

Stainless steel construction

Enhances airflow and heat distribution
| Specifications | Parameters |
| --- | --- |
| Brand | Skyflame |
| Dimensions | 14″, 9″, 4.25″ |
| Material | Stainless Steel |
| Weight | 4.64 pounds |
Also, the design of this product is very humane. It has hollow holes in its design, while the Kick Ash consists of grid-like structures. 
Whatever the thing is, this product's ash management is superior and has ample space for holding charcoal. Along with all these, here's to many more features you will get along the basket: 
To go the extra mile, the Skyflame is compatible with almost all the grill sizes as it's 14-inch in dimension. From Large Big Green Eggs to Pit Boss and Louisiana Grills, it will get you covered no matter what you have in your backyard. So, don't worry. Add this to your bucket list now.
Pros 
Compatible to almost all 14-inch grills

The basket manages ash very smoothly

Ample amount of space for storing charcoal

The hollow holes design of the basket improves airflow

Durable enough as it's constructed with heavy-duty stainless steel
Cons 
The price of this basket is relatively higher than similar products

Can only be implemented on grills that are 14 inches in dimension
Also Read: Big Green Egg Plate Setter Alternative (15 Alternatives For You)
ZBXFCSH Metal Charcoal Ash Basket 
If you're deadlocked with your large grill and trying to purchase a charcoal basket, the following product will make your life so much easier. Believe it or not. The ZBXFCSH Metal Charcoal Ash Basket fits almost all the large Big Green Eggs, Kamado Joe Classics, Pit Bosses, Primo Kamado Grills, and whatnot. 
Considering your grill's model, you will surely get the desired charcoal basket from ZBXFCSH.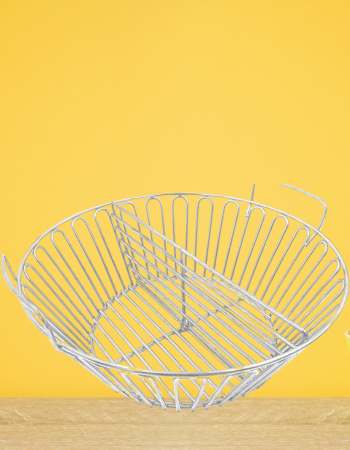 Top Features
Versatility 

Easy to clean

Advanced airflow

Smart ash management

Heavy-duty construction
| Specifications | Parameters |
| --- | --- |
| Brand | ZBXFCSH |
| Material | Metal |
| Weight | 3.89 pounds |
| Shape | Round |
| Is Dishwasher Safe | Yes |
Going into detail, the product is constructed with heavy-duty stainless steel, so it's sturdy enough to stand still for ages. 
Also, the ash management of this product is pretty smart and efficient. It can separate ashes from charcoal, facilitate the entire cleaning process, and enhance the airflow. 
However, if you're not satisfied with all these features, let's go beyond the basics-
The Kick Ash Basket enhances airflow and prevents clogs. This is one of the most identical features of Kick Ash (if I ever had to shortlist the features). Well, the following one also has the same feature. 
The ZBXFCSH allows optimal airflow and heat distribution throughout the grill and makes the work a lot easier than ever before. You may compare now. Go nuts! 
Pros
The durability is heavy-duty

Easy cleaning saves time and energy

The compatibility of this product is extraordinary

Improved airflow makes the charcoal burning more efficient

The basket is effective in terms of separating ashes from charcoal
Cons 
Prices may vary from time to time. 

It can't be implemented on grills other than 13.5-inch dimensions. 
Also Read: Big Green Egg Fire Bowl or Kick Ash Charcoal Basket
SELEWARE Stainless Steel Ash Basket 
In terms of Kick Ash Basket, you will be lucky enough to manage a distinctive amount of size variations considering your grills' model. But this following product is specially designed for large Big Green Egg, Primo Kamado, and similar products. From that sense, this could be the perfect alternative to Kick Ash Basket. 
Here goes the top features of this product: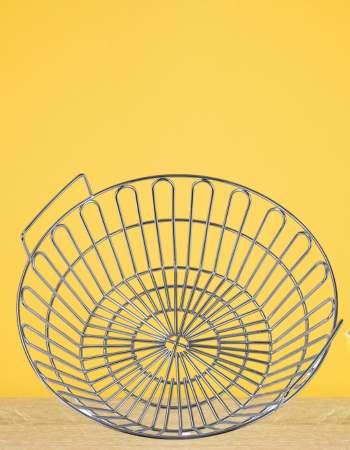 Top Features
High durability 

Great compatibility

Superior Ash management

Advanced & Improved airflow

Stainless steel 304 construction
| Specifications | Parameters |
| --- | --- |
| Brand | SELEWARE |
| Material | Stainless steel |
| Color | Silver |
| Capacity | 0.4 Liters |
If you're wondering for a second string in place of the Kick Ash Basket, you can select this product carefully. Trust me, and it won't disappoint you by any means. 
The superior ash management system made it pretty much great to go. Again, the stainless steel 304 construction puts a cherry on top of the product. 
From an aesthetic appeal to large functional attributes, heat resistance, and, lastly, strength and durability, the SELEWARE Stainless Steel Ash Basket is a total package. You can select it if you want to make a solid long-term investment. 
So, add this to your bucket list right now. And let the charcoal basket to be your trusty sidekick during grilling sessions. 
Pros
Compatible with almost all large grills. 

The basket could have been used with different grilling methods. 

Ash management is superior to the Kick Ash (

from personal experience

) 

Makes the cleanup easier and improves airflow for better heat distribution

Stainless steel 304 construction that is corrosion resistant, can withstand high temperatures and is built to last.
Cons
It cannot be installed on grills larger than 14 inches.

Has brand limitations. This product might not fit the grills made by the same brands due to the imbalance of dimensions. 
Also Read: Cambro Vs Carlisle – Which Brand Fits Your Needs?
CAXXA Wire Basket As Alternative to Charcoal Basket
While Kick Ash consists of a solid construction with a grid-like design, this very last product on our bucket list comes in with an open structure. Many features out there have made this product a cut above the rest. You will be amazed if I provide you with other exciting information regarding this product. 
The silver lining is this product can not only be used as a charcoal basket, but you can store and display fruits, bread, vegetables, and snacks with it. While the Kick Ash only separates ashes from charcoal in grills. This, indeed, is a bang for your buck!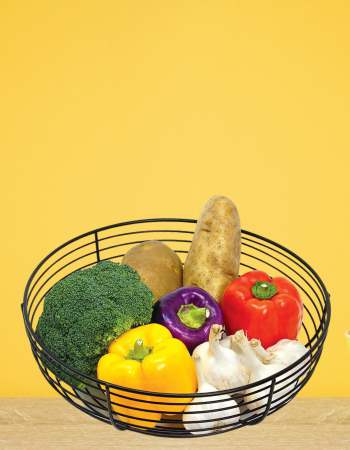 Top Features
Sleek design

Easy to access

Versatile usability 

Wire basket design 

Utilize maximum space
| Specifications | Parameters |
| --- | --- |
| Brand | CAXXA |
| Material | Steel |
| Dimensions | 11.2″D x 11.2″W x 3.6″H |
| Color | Black |
| Shape | Bowl |
The wire basket design may seem unusual in a charcoal basket. But trust me; this is the very feature that made the product much more helpful than all the similar ones. 
The fruit bowl features a wire basket design that allows for airflow, keeping fruits and vegetables fresh for more extended periods. 
It comes in with a high-quality powder coating that is very easy to clean. The sphere feet design prevents the countertop surface from damage. 
Also, as it's made of steel, you don't have to be in a knot thinking of its durability. Indeed, this product is a kitchen treasure trove, offering convenience and versatility. 
Pros
Suitable for storing a variety of items

The exterior is very sleek, and the design is minimal

Air circulation within this basket is on top of the notch

The wire basket provides ample space for storing fruits, vegetables, and more

Makes sure the stability and prevents accidental tipping or sliding with a non-slip base
Cons
The size option is limited as well. 

Color options are limited. If color is not your concern, don't let the grass grow under your feet; go snatch up this product.
What To Look For While Choosing A Kick Ash Basket Alternative 
In case you want to choose a worthy alternative to Kick Ash Basket, some factors must be considered. Without these considerations, your purchase will not be that efficient. And to some extent, the end result may disappoint you. 
In the segment below, I will provide some key considerations you should consider while selecting an alternative to Kick Ash Basket. 
Carefully read this and take the plunge. Voila! 
Durability and Longevity 
If you want to take the charcoal ash basket under your wing, you must select the best one. Well, how would you know which one is best? Simply go for that one that is more durable and provides more longevity. 
The Kick Ash is built to last, withstands high temperatures, and maintains structural integrity. The product you thought of selecting as an alternative must assess durability and longevity. That's the meat and potatoes! 
Customer Reviews and Ratings
This is the second most important thing to look at. As you're not aware of the quality of the product, you can seek professional help. Scroll onto the review and rating section of the products' website and check for the reviews. I believe that will help you a lot. 
Price and Value 
Last but not least, consider the price in relation to the features and quality offered. And then compare the price and value to the Kick Ash Basket. After conducting all necessary comparisons, justify it's worthy enough to be replaced in the place of a Kick Ash Basket. 
Alright, homie. These are more or less the thing to be worried about. Now go and put your money where your mouth is. 
Kick Ash Alternatives Vs. Kick Ash Basket 
Till now, we have discussed a lot about some of the Kick Ash Alternatives. You may have selected your convenient one already. If yes, congratulations in advance. The thing is, there is no such thing as perfection. 
Well, the Kick Ash Basket is a superior and trusted grilling and BBQ manufacturer. But that does not imply that nothing can replace it.
From my point of view, I found some of the products from our own bucket list more valuable and efficient than the Kick Ash Basket. 
But, if you can get yourself one of the Kick Ash, your grilling would have been a lot easier as it consists of some exciting features. 
But if you want to fly under the radar, just go and get yourself any of the baskets from our discussion. That too would work really well. Trust me! 
Stainless Steel Vs. Metal Charcoal Basket – Which Material Is Best Alternative?
To be a gainer in the long run, go for a stainless steel charcoal basket because that will provide you with utter ease and efficiency. Stainless steel imparts extensive durability, longevity, and heat conductivity. 
Also, a basket made of stainless steel is relatively easy to clean and maintain, as it is resistant to rust and corrosion. 
On the flip side of the coin, metal charcoal baskets are made of aluminum (mostly) and get wrecked by rust and stains over time. I don't think it will be a good investment if you put your money in a metal charcoal basket. 
In the end, which one is better depends upon who's using it. If you think a metal basket will be convenient for you, go get it. Otherwise, change gears.
Is Kick Ash Basket Worth The Extra Money?
Kick Ash Basket imparts excellent efficiency and is designed to improve ash management in grilling by allowing for better airflow and easier removal. Also, it provides convenience, longevity, and extensive compatibility, all keeping it economical. 
If you have financial flexibility and believe that the benefits of a Kick Ash basket align with your grilling needs, it may be worth the extra money. You call the shorts! 
What Are The DIY Method As Alternatives To Kick Ash Basket?
In case you want to pinch your pennies, you can try some DIY methods as alternatives to Kick Ash Basket. Point to be noted, these alternatives will never ever provide you with the same amount of comfort and ease as the original product. For temporary usage, these will be more than enough. 
First of all, you can use a DIY wire mesh basket. Get yourself a sturdy wire mesh that has pseudo holes to prevent the charcoals falling through. Now, cut the mesh according to the design of your grill. Trust me, it will work like magic. 
Another profoundly impactful alternative could be aluminum foil baskets. Take a heavy duty aluminum foil and tear a large sheet of the foil and make it double by folding from the middle. Place the foil in your grill by cutting according to the shape. 
However, in this method, the airflow will not be that good and temperature regulation may get very very difficult. But indeed, it works! 
Conclusion
Homie, it's time to extinguish the flames and pack up the grill. Till now, we discussed a lot about the kick ash basket alternative. I don't think you have any further confusion regarding the topic. If it is, I have to take my leave now. Before that, share the directory to your friends and mates who have a fire in their belly for grilling. And reread the article if you ever fall in confusions regarding this topic.