Got yourself a pellet grill? Then you must be looking for an appropriate attachment for it? So, what are you gonna choose, a flat top sidekick or a sear box?
We all know that Camp Chef makes some amazing sidekicks and sear boxes that go well with almost all of their pellet grills.
Every product is independently reviewed and selected by our editors. If you buy something through our links, we may earn an affiliate commission at no extra cost to you.
Although both are great grilling partners, a sidekick offers more versatility having a flat top griddle. On the other hand, a sear box can reach a higher temperature leaving nice grill marks on your steak.
However, choosing between Camp Chef sidekick vs sear box has always been a tough call. So, here we present a detailed analysis of these two pellet grill attachments with some amazing product recommendations.
So, let's get started!
Camp Chef Sidekick Vs Sear Box – Which Suits You Best
Well, it depends on a lot of factors. First of all, ask yourself what you love the most- only searing or more than that.
Here's The Time-saving Comparison Chart –
| Key Comparison | Camp Chef Sidekick | Camp Chef BBQ Sear Box |
| --- | --- | --- |
| Item Weight | 37.9 pounds | 31.5 pounds |
| Material | Stainless steel (Inner) | Stainless steel |
| Included | Flat top griddle, Seasoned surface & Propane tank holder | BBQ sear box, Propane burner & Propane tank holder |
| Diffuser Plates | Yes | Yes |
| Surface Area | 231 sq. in. | 184 sq. in |
| Best For | Griddle cooking, Boiling, Pizza baking, Searing, and more | Reverse searing, Steaks, Burgers, Grill marks & Infrared cooking |
| The Hallmarks | VersaGrility, Durability, Large Cooking Area, 28,000 BTU Burner, Advanced Technology & Easy Cleaning | Durability, 16,000 BTU Burner, Easily Replacement, Built-in Ignition, Large Searing Area & Easy Installation |
| Price | Check on Amazon | Check on Amazon |
Solely for the searing purpose, we highly recommend the Camp Chef sear box. It has enamel-coated cast-iron grates which leave those exclusive sear marks on your food. 
You just need to make sure the meat is not raw. So, cook it till then and throw it in the sear box. Thanks to its incredible high heat production capability, any meat you love will be nicely seared with a mouth-watering flavor.  
Besides, the enamel-coated grates are a bit raised to leave their distinct grill marks behind. So, if you prefer traditionally seared food, there is no alternative to a bolt-on propane attachment by Camp Chef called a sear box.
Coming with a heat deflector plate over the propane flame, it makes sure to sear the food properly without any cold spots. Moreover, searing at 900° temperature is no joke. 
But a sidekick isn't far behind as well. It comes with all the amenities a sear box provides. Furthermore, it's more convenient as a side burner attachment having a larger cooking surface and a higher BTU output. 
Besides, a sidekick is considered a more versatile cooking appliance. As it is designed to fit a wide range of accessories like a grill box, pizza oven, cast iron skillet, broiling pan, griddle, etc.
To put it straightforwardly, you can sear in a sidekick by adding the stainless steel grill box to it. But you cannot enjoy the versatile and all-in-one cooking in a sear box. It's made for high-heat searing only. 
On that note, a Camp Chef sidekick is certainly a better buy. But please remember that it only facilitates all-in-one cooking being assembled with the full range of cooking accessories. 
But nothing comes free, right? Similarly, the full set of cooking appliances adds some more bucks. 
Therefore, if you don't need all those extra cooking facilities, a sear box will suffice as it's way more affordable.
But if you are regular in grilling and prefer experimenting with your food in different ways, go for the sidekick attachment. It is worth the extra expenses. 
Aside from that, the BTU output of a sidekick is way ahead of a sear box which makes a difference in the food flavor as well.
But it has its own drawbacks as well. A sidekick usually doesn't come with a grease tray which results in a messy cooking environment. 
That's where we prefer a sear box attachment more since it offers a functioning grease trap to hold food greases.
So, you better focus on your purpose to decide on your pellet grill partner wisely. Both are irreplaceable in their respective fields. 
But with a bunch of extra accessories, a sidekick performs better to suffice your versatile cooking demands other than searing only.
However, a feature by feature analysis of both their similarities and disparities would help you make an informed purchase. So, let's move on!
Now, let's look forward to some current best sear boxes and sidekicks by Camp Chef to understand how they can let you grill better.
Camp Chef Sidekick Including Flat Top Griddle
Need a versatile grill attachment to embrace the endless possibilities of outdoor grilling? Try this Camp Chef accessory once and be a fan forever. 
To be honest, this single burner attachment is compatible with most of the full-sized Camp Chef 24″ or 36″ pellet grills. On that note, let's check out its top features first.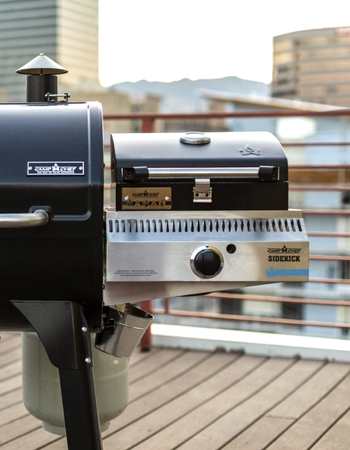 Top Features
28000 BTU cast aluminum burner

A gas-powered side burner for pellet grills

Features fully adjustable heat control knob

A seasoned surface makes the griddle ready to cook

Sustainable stainless steel construction of the interior
---
If you are looking for a sidekick burner that can bake, broil, sear, saute, grill, or braise- this is your pick for sure.
Having overall dimensions of 18×20.5×6 inches, it offers 231 square inches of large cooking surface to suffice all your smoking needs.
Moreover, the elegant black exterior adds more value to the product as an outdoor grilling attachment.
The simple and sturdy architecture makes the sidekick burner a true warrior in the outdoor cooking field. Truth be told, you can take your camp cooking to the next level, thanks to the matchless ignition of this flat top griddle.
In addition, Camp Chef manufactured it as a professional grill attachment with a convenient grease management system. The super-effective grease drain makes the sidekick griddle easy to clean.
Also, the 28000 BTU output is perfect for searing your favorite food. Furthermore, you can easily attach it to all other 14″ Camp Chef sidekick accessories.
What we liked more is the matchless ignition system with even heat distribution. No wonder you don't encounter any hot or cold spots while grilling your favorite items.
Best of all, the fully adjustable heat control knob makes it easier to use even for beginners.
So, whether you are a professional BBQer or a fresher in the camp cooking field, this 14″ grilling attachment system is a must-have product for you in every aspect.
Pros
Includes a heat diffuser plate

Creates even cooking surface

Comes with a built-in grease drain

Heavy-duty stainless steel construction

Pre-seasoned griddle to be used instantly
Cons
Doesn't light up easily

Sometimes the ignitor doesn't work
Also Read: Pit Boss Griddle Vs Blackstone Griddle – Has Blackstone Met It Match?
Camp Chef Sidekick Including BBQ Box
Here we have another top-ranked sidekick from Camp Chef with a BBQ box. Let's break down its prime specifications below to understand how it intensifies your grilling experience.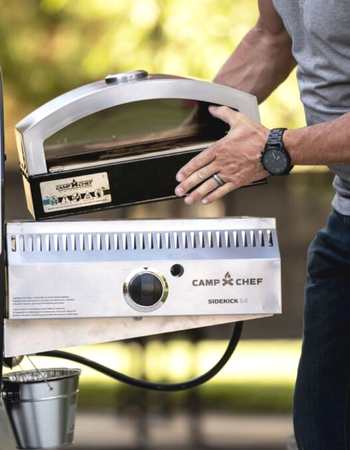 Top Features
28000 BTU output

Includes a stainless steel BBQ box

A propane-powered 14″ sidekick sear

Includes a stainless steel lid with hinges

Easily fastens to most Camp Chef pellet grills
---
To start with its core amenities, you get a simple yet durable BBQ box to smoke, grill, and BBQ at ease. The box is made of premium quality stainless steel providing piercing heat for a greater grilling experience.
Similar to the previous one, it too delivers 28000 BTU output making BBQing a breeze. In fact, you can easily sear, bake, grill, or smoke anything you want with this super convenient sidekick single burner adjustment.
Having the dimensions of 22.1×19.3×20.1 inches, it has a larger cooking area than the one with a flat top griddle.
To put it simply, it's a better companion to your pellet grill if you are cooking outdoors. Furthermore, the silver color exterior is absolutely beautiful to draw your attention.
As it uses wood as the primary fuel, the pellet grill attachment infuses an incredible smoky aroma to the meat. And creating an even cooking surface, it prepares well-cooked dishes in a pinch.
Although it costs more compared to the Camp Chef Sidekick with Flat Top Griddle, the cooking conveniences speak for the extra bucks it asks for.
And most importantly, it boosts the temperature very quickly. Even a low heat setting can burn your food. So, watch out!
However, the high heat flow can leave a nice sear on your steak. That's surely an exclusive feature for any sidekick attachment out there.
Coming with a cast iron grill plate, the sidekick burner works wonderfully well without creating any cold spots. Whether you bake, grill, saute, or sear, literally every piece of food will be well-cooked thoroughly.
So, how can you miss this powerful cooking partner adjustable to your favorite Camp Chef grill?
Pros
Quite easy to use

Reaches high heat fast

Very well made architecture

Leaves nice grill marks on food

Last pretty long as a sidekick burner
Cons
A bit expensive as a side burner

The stainless steel has poor polishing
Also Read: Traeger Ironwood 650 vs Pro 575: Which Grill Is Right for You?
Camp Chef Sear Box – Woodwind
After discussing two Camp Chef sidekicks, now it's time to review their most famous sear box which is Camp Chef Woodwind.
Long gone are those days when you had to fire up both your pellet grill and gas grill to get a satisfying seared finish. Nowadays, many feasible BBQ sear boxes are there to get you covered.
On that note, meet an exclusive sear box grill attachment unit from Camp Chef with countless amenities to enjoy a perfect sear.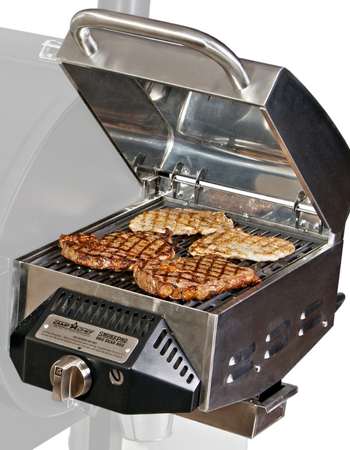 Top Features
Comes with a propane tank holder

180 square inches overall cooking area

A 16000 BTU propane-powered burner

Includes an inbuilt ignition for easy lighting

High-temperature grilling delivering up to 900° F
---
Although it doesn't offer a larger cooking surface like the Camp Chef sidekicks, it delivers up to 900° heat for consistent searing. That makes it an efficient replacement for the sidekick grill attachment.
As the sear box comes with a heat diffuser plate, it ensures even heat distribution throughout the 11.5×16 inches grilling area.
All thanks to the sturdy stainless steel construction, the sear box lasts quite a long. And the enamel-coated cast iron grill grates are totally worth it when it comes to achieving those exclusive grill marks.
Most importantly, it's a perfect sear box for a pellet grill that goes along with all full-sized Camp Chef 24″ and 36″ pellet grills.
And guess what, you can use this sear box for Traeger( also fits with Traeger pellet grills) grills too. Yes, you need to invest a few screws and around 30 minutes to do so.
But is that a big deal when you are getting such an unimaginable opportunity from a Camp Chef sear box?
Overall, it's a must-try sear box that pushes any Camp Chef grills, for the better, of course.
Pros
Easy to attach

Cools down quickly

Reaches high temperature pretty fast

Features raised ribs for exclusive sear marks

Large enough to sear several burgers at once
Cons
Sometimes the grease trap holds water

The cast-iron grates should be seasoned
Differences Between Sidekick And Sear Box
Although both are products from the same manufacturers, they have some distinctive features which differentiate these two propane attachments. 
So, let's figure out their disparities first to understand their capabilities and limitations. 
Time of Launch
Camp Chef launched the propane sear box attachment first to make the grilling game even more exciting. It was invented back in 2015. Following the success of the sear box, the sidekick attachments were launched in the year 2017.
Temperature
These two propane attachments also vary in high heat production. Talking about sear boxes, they can reach up to 900° temperature. So, if you prefer high heat searing, go for it.
But in terms of BTU output, a sidekick attachment is better. It offers 28000 BTU output while the sear box can offer only 16000 BTU output. 
Although you can cook over 700° temperature only on a sidekick. 
Cooking Space 
In terms of cooking space, the sidekick is the race winner delivering 231 square inches of wide cooking surface. 
On the contrary, the sear box is also large enough with a 180 square inches cooking area. But obviously, if you have to draw a competition, it runs behind the sidekick. 
Accessories
You can use a versatile range of accessories with the Camp Chef sidekick. For instance, it is compatible with a 14″ flat top griddle, a grill box, and an Artisan pizza oven.
But the sear box is the sole warrior coming with a propane tank holder only. Although it features a removable grease drip tray along with a heat deflector plate, all these are inbuilt accessories, not supplementary ones.
So, in terms of additional appliances, you get more versatility with a sidekick.
However, as sidekicks came later in the market, it was designed with some advanced features including some extra benefits. Still, it couldn't beat the high heat searing of a sear box.
Similarities Between Sear Box And Sidekick
Despite the differences stated above, a sidekick and a sear box share some common key specifications which make them each other's replacement in an emergency. 
So, let's look forward to the similarities between these two propane attachments that can completely change your grilling game.
Size
Both have more or less the same size and dimensions if bought separately. Aside from that, both work as side burners and come with a propane tank holder for high heat cooking.
Price 
A sear box is cheaper than a sidekick attachment. But if you buy only the sidekick side burner without that full range of accessories, it doesn't cost that much more than the sear box.
Compatibility 
Both the sear box and sidekick by Camp Chef fit all their 24″ and 36″ pellet grills. So, you can easily mount them to your remaining pellet grill or buy a new one between those sizes. 
Moreover, be it a sidekick attachment or a sear box burner, both are quite easy to assemble. 
Is Camp Chef Sear Box & Sidekick Fits For Traeger
Yes, some specific designs of Camp Chef sear boxes and sidekicks are made to fit any pellet grill. You just need a few screws to install it.
As Traeger is one of the oldest pellet grills, people most often own at least one Traeger grill at home. That's why Camp Chef came up with an innovative idea of manufacturing their sidekicks and sear boxes compatible with a Trager grill too. 
For example, most of their sidekicks and sear boxes are mountable to any 24″ and 36″ pellet grills. Of course, you need to do a little alteration by drilling a few holes to screw them tightly.
But that's it! You can easily make a Traeger grill more versatile by installing a Camp Chef attachment to it.
What Does A Sear Box Do
A sear box is an amazing grilling partner offering high temperatures to sear and brown your favorite meat. 
Coming with a large cooking surface, it actually makes use of a large number of flames to heat the heat diffuser plate. 
That's how it vaporizes the grease dripping and keeps the pellet grill clean. And the high-heated ceramic heat diffuser plate emits infrared radiation to sear the food quickly.
Being capable of reaching a high temperature fast, a sear box is totally worth it when it comes to enhancing the food flavor. You can even cook an undercooked piece of meat once you preheat the surface.
What Do You Cook On A Camp Chef Sidekick
After a head-to-head analysis of a sear box and a sidekick, it wouldn't be wrong to say that a Camp Chef sidekick is way more versatile in cooking various foods than the sear box. 
With a 14″ sidekick, you can cook, sear, bake, saute, or grill quite comfortably. Other than that, a Camp Chef sidekick single burner attachment can efficiently cook pasta, seafood, veggies, fish, or meat. 
You can even enjoy your favorite fast foods like burgers or pizza with the burger box and pizza oven mountable to a sidekick.
How Hot Does Camp Chef Sidekick Get
Usually, a Camp Chef sidekick gets really hot with a 28000 BTU output. The 231 square inches of the wide cooking surface of the sidekick quickly produces high heat from the propane burner. 
As a result of this high heat output, you can cook a lot of things using a sidekick than any other grilling partner. 
Can You Sear Steaks On Camp Chef Sidekick
As a Camp Chef sidekick is a single burner attachment for any Camp Chef pellet grills, you can use it for searing purposes too. 
Basically, it's an all-purpose cooking partner that can grill, bake, broil, or sear. 
You can easily sear steaks on a sidekick as it includes a removable steel griddle top. And that flat top griddle is perfect for sauteing or searing. 
Though you cannot get those exclusive sear marks but still, if you don't have a sear box, a sidekick easily gets the job done with satisfying results. 
All you need to do is to cook the steak properly. Meanwhile preheat the sidekick until it reaches a super high temperature. Then throw the steak on the sidekick sear and sear each side for about 45 seconds.
Flip the steak and repeat the process. Eventually, you can have your steak ready.  
Conclusion
To wrap up the conversation on Camp Chef sidekick vs sear box, all we can say is that you should decide on your pick based on your preferences. 
If you don't need anything other than searing, go with the sear box. Excluding all the extra accessories like an Artisan oven or a BBQ box, it costs way less than a sidekick. 
On the contrary, with all those additional cooking appliances, certainly, a sidekick is way more versatile compared to a sear box. It allows you to cook the same food in a variety of ways. 
But you need to own it along with the complete accessory pack to enjoy all its utilities. 
So, what is your favorite cooking partner from Camp Chef, a sidekick, or a sear box? Don't forget to share by commenting below.