Gravity Fed Smokers are a brand new player in the ever-evolving electric smoker market and they have the potential to pretty much revolutionize the way we think about electric smokers. We, enthusiasts, should also be grateful to Masterbuilt for originally coming up with the gravity-fed idea. 
Over the years, Char Griller gravity-fed series has become the one competitor that can actually go toe to toe with the Masterbuilt. But is the original still better? Or has the competition caught up? Char Griller 980 vs Masterbuilt 1050! Which one should you actually pick?
Let's dive right in:
Every product is independently reviewed and selected by our editors. If you buy something through our links, we may earn an affiliate commission at no extra cost to you.
Char Griller 980 Vs Masterbuilt 1050 – The Comparison Overview
Let's get one thing out of the way first, the numbers in the name of each of these 2 smokers stand for their total cooking surface. The 1050 is also the biggest model Masterbuilt makes and it is also the one that comes closest to the Char Griller 980 in terms of specs and pricing. That is why I decided to compare these two particular models.
Quick Comparison Chart –
| Key Features | Masterbuilt 1050 | Char Griller 980 |
| --- | --- | --- |
| Product Weight | 203 Pounds | 213 Pounds |
| Briquette Capacity | 16 lbs | 16 lbs |
| Cooking space | 1050 Square Inches | 980 Square Inches |
| Time of Use | 8 Hours (Non-stop) | N/A |
| The Hallmarks | Sear & Smoke versatility, Set it & Forget it, Folding Shelf & Racks, Smart controlling system & Quick heating up | Precise temp. control, Insulated grill body, Large hopper system, Meat Probe, Folding front shelf & Side shelf |
| Price | Check on Amazon | Check on CharGriller |
So obviously Masterbuilt 1050 has a marginally bigger cooking surface than the Char Griller, right? Well, technically, yes, but in practice it is a lot more complicated than that.
You see, both these products have heightened shelves meaning only the bottom shelves will be directly in contact or closest to the heat. 
The Masterbuilt has 2 extra shelves on top of the bottom one and the Char Griller only has one.
This is interesting because I refuse to call any other shelves except the bottom one actually usable surfaces. 
The bottom shelf on the Char Griller 980 amounts to a total of 680 square inches of cooking area while on the Masterbuilt 1050, the bottom shelf is only around 550 square inches.
The biggest difference between these two products is that despite the bigger number, the Masterbuilt 1050 provides you with around 130 square inches of less usable cooking surface.
Setting aside the surface area difference, you can obviously see the difference in shape between these two competitors. 
The Char Griller comes with the tried and true, barrel shape while the Masterbuilt has a unique shape that we call a bread box in the business.
This amounts to the Masterbuilt taking up a lot less horizontal space and can be stored very very easily in your garage.
To get a little bit more technical, the controller of the Char Griller is a little bit more sophisticated as it has a turbo mode, but it did not matter at all to me. What did is, it had only 2 temperature probe connectors while the Masterbuilt comes with 4. This is a great advantage for people who do not own fancy thermometers.
As for temperatures, both these grills have a maximum temperature of 700 degrees F but while the Char-Griller can only go down as low as 200 degrees, the Masterbuilt can give you better low and slow results with its 150 degrees temperature floor.
Okay, so other small differences, the Masterbuilt uses fully cast iron grates and they are reversible. Char-Griller, on the other hand, has porcelain-coated cast iron. 
The Char Griller grease tray is also designed better wheres the Masterbuilt 1050 has had a few problems with grease leaking down the sides and the legs.
If you are into mods and accessories, the Masterbuilt product is an older one meaning 3rd party manufacturers have had a lot more time designing and releasing accessories and mods for it. Simply put, the 3rd party accessories market for Masterbuilt is a lot more enriched than the Char Griller smoker.
Aside from these, everything else on these two devices is pretty similar. They have the same hopper storage space with identical designs. They both sport WiFi and Bluetooth connectivity and they both give you fantastic results no matter what you are cooking.  
Before we get ahead of ourselves, it is important to take an in-depth look at each of these products: 
Masterbuilt 1050 Grill and Smoker Combo
With the reputation they have accumulated, the Masterbuilt tag has become enough to sell any product. Especially something as groundbreaking and new as the Gravity series. It is an innovative and imaginative product that can only be the brainchild of the genius' at Masterbuilt.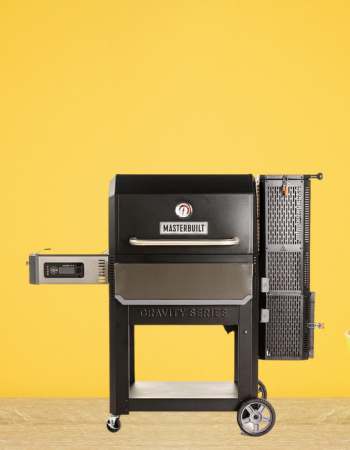 Top Feature:
4 Temperature probe ports 

Foldable front and side shelves

WiFi/Bluetooth-enabled smartphone app

Hopper capacity of 10 lbs for lump or 16 lbs for briquettes

Reaches 225 Degrees F in 10 minutes and 700 Degrees F in 15 minutes
| Specifications | Parameters |
| --- | --- |
| Brand | Masterbuilt |
| Power Source & Fuel | Charcoal |
| Product Dimensions | 33″D x 52″W x 61″H |
| Material | Steel & Stainless Steel |
First of all, construction. This thing is genuinely built like a tank. Even hard bumps will not move the smoker more than a couple of inches. This is an extraordinary feat of engineering because the overall machine is pretty light and with the caster wheels, can be taken almost anywhere.
Coming to the actual operation of the device, the quick start-up and heating times were genuinely impressive to me. 
Add the wifi connectivity that enables me to control the device from almost anywhere and cooking on this smoker makes me wonder how I ever settled for a traditional pellet grill before.
I generally kept my cooking operations contained in the lower cast iron grates and only used the upper grates to keep my cooked food warm. The reversible cast iron grates were incredible at the job and they were also fairly easy to clean. 
The only main gripe I had with it was the weak vent adjustment and the terrible grease tray design. The vent was not adjustable to the degree that I would like and for some reason, the grease channeling was all over the place meaning the tray leaked even when it was fully emptied. 
But these two small gripes were nothing considering the absolutely otherworldly results I achieved from this relatively compact machine!
Pros
Uses very little charcoal

Heats up incredibly quickly

4 built-in temperature probes meant more adjustable meat temps

Construction is better than any competing product in the same category
Cons
More expensive than the competition

The usable cooking area could be more

The app has a tendency to disconnect often
Also Read: Best Masterbuilt Electric Smoker Review (Top 5 Picks)
Char Griller Gravity Fed 980
Char Griller is a new player in the gravity-fed smoker market but it has improved quickly and is fully caught up in terms of features. Their design language is something a lot of users would actually prefer over others because the function has always reigned supreme over form.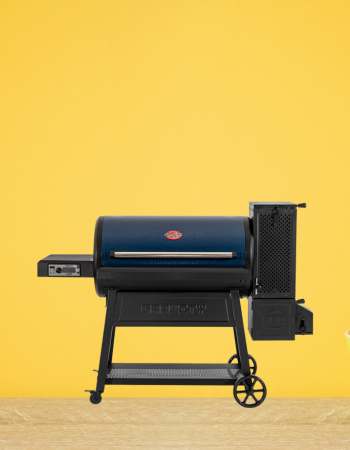 Top Features
2 temperature probe port

Fixed side shelf and foldable front shelf

Can reach 700 degrees C in 20 minutes or less

Back Slide Damper provides precise airflow control

Hopper capacity of 7 lbs for lumb or 16 lbs for briquettes
Check today's price on CharGriller
---
There is something charming about cooking on a barrel-shaped device that is accelerated by the fantastic function-forward design of the Char-Griller. 
Everything you may need or want will always be at an arm's length and cooking anything using this device has been an absolute joy!
I particularly loved the back vent design. It is a lot more sophisticated than the master built and lets me tune in exactly how much airflow I want every single time. 
The ash pan was another example of great design being foolproof in terms of collection while being easy to clean too.
If more cooking surface is what you need, the Char Griller will provide you with the best experience, given that you remove the top grates beforehand. 
The space between the top and bottom grates is small enough for almost half of the bottom grates to become unusable.
Coming to things I was not impressed by, the construction was anything but confidence-inducing as the legs wobbled a lot more than they should. The 2 temperature ports were also not enough for my use cases. And finally, I did not like the interface design of the app and the grill did not go lower than 200 degrees F.
However, the biggest gripe of mine was the heating time. Compared to the Masterbuilt, the Char Griller took ages to heat up and equalize in temperature. 
So much so that oftentimes I had to start the grill at least an hour or 90 minutes prior to cooking.
Pros
Huge cooking surface

Very affordable for the features

Great food with a fantastic smokey flavor

Back vent design enabled precise control

Shelves were designed very well and nothing gets in the way
Cons
Portability is a big issue

The app interface is awful

Not enough temp probe ports

The legs are flimsy and wobbly
What Are The Differences Between Masterbuilt 1050 And Char Griller 980 
Now that we have taken an in-depth look at these two products, it is worth our time to highlight exactly what sets one apart from the other. This will help you pick the features that you really need and not pay for extras that you are never going to use. The differences are:
Cooking Surface
This difference is in the name. The Masterbuilt has an overall cooking surface of 1050 square inches compared to Char Grillers' 980. That is not the full story though, as in my opinion, the only usable surface is the primary cooking area which is only 550 for the Masterbuilt and around 689 square inches for the Char Griller. 
This means if you want the absolutely largest primary cooking area, Char-Griller is the clear winner, but if you need secondary zones or warming zones, the Masterbuilt is the defacto choice.
Heating Time
This difference has to do with how fast the grill comes up to temperature and is ready for a cook. The Masterbuilt holds quite a hefty lead in this aspect as it can be in any temperature of its range in just 15 minutes or a bit more.
However, the Char Griller takes a long long time to heat up. Even though the advertised time is only 20 minutes, anecdotal evidence suggests that getting this grill up to temperature may take as long as 90 minutes. That is a very stark difference and depending on the user, is a make-or-break difference.
Temperature Range
While neither brands advertise its temperature range, I have carried out vigorous testing and found out that the Char Grill operates in a range of 200 degrees to 700 degrees.
The Masterbuilt can go lower with a range of 150 degrees to 700 degrees. Meaning if low and slow is your favorite method, Masterbuilt is the obvious answer.
Accessories 
Masterbuilt has had a head start in the market meaning 3rd parties have had more time to think of, design, and release more accessories. Even in the first-party market, you can get a rotisserie attachment with the Masterbuilt or get various vent, firebox, and hopper mods available.
The Char Griller does not have that rich of a market for accessories. You may find some really good mods here and there but generally, they are a bit harder to come by.
Build Quality
Both these machines sport premium materials like stainless steel but they are not built equal. The Masterbuilt 1050 is a lot sturdier and feels like it will hold up to years of abuse. 
It gave me the confidence needed to maneuver the smoker to my will and I never felt like it would break on me. I wish I could say the same about the Char Griller 980.
Price
As is, without any accessories, the Masterbuilt 1050 will be around 100 bucks more expensive depending on sales and availability. This makes sense as Masterbuilt has the bigger market reputation but if the price is worth it is a question only you can answer. 
What Are the Similarities?
Even though there are quite a few differences, at the end of the day these two products achieve the exact same purpose. Meaning they have more in common than you might think. For example:
Hopper Capacity
Although they are not exactly the same, regardless of what you use, lump, or briquettes, you will get an overall similar capacity for your grill fuel from both of these devices. That means 16 lbs of briquettes is the maximum you can store at one time.
WiFi and Bluetooth Functionality
Both of these gravity smokers have their own smartphone apps available on both iOS and Android. These apps will connect via WiFi or Bluetooth to their respective grills and give you a fully fleshed control panel right inside your pocket.
Function
Regardless of everything else, these two smokers can do the exact same thing. Meaning your food taste will only be limited by only and only your own skills and ingredients. 
Masterbuilt and Char-Griller both excel at what they do and there will never really be a situation where you would be able to blame the machine for a dish not coming out well.
Maintenance
Maintenance is another area where you are bound to have a similar experience. The porcelain coating may be a little easier to clean but considering every part of the smokers and how often they need cleaning and how difficult they are to clean, Masterbuilt and Char Griller provides an identical experience. 
Char Griller 980 Vs Masterbuilt 1050 – Which Should I Go For?
Overall, having used both of these gravity smokers, I can safely say that for me, the Masterbuilt 1050 offers a lot more value. 
Its built quality and available mods made me believe that I can keep using this device and fine-tune it to my heart's content for years and years to come. 
Also, the lower low temperature and very fast heating times were something I really value as someone who loves versatility and does not often have enough patience to let things heat up. This overall made me think that the Masterbuilt offers more value even at the higher price.
However, I did not have the necessity for a huge cooking surface nor did I need the accessibility of porcelain-coated grates. If these are the things you look for, by all means, get the Char Griller 980.
Overall, like the answer to every other comparison question, there is no one answer for all consumers. You really need to know what you want to see which product is right for you. Hopefully, I have been able to give you enough information to decide.
Conclusion
Upon using them, I can very well understand why these two devices have gathered an almost cult-like following. It also dawned on me how confusing it can be for a new and inexperienced user to pick the right one. Hopefully, even if my experience does not translate to yours, my unbiased opinions will help you decide your answer to Char Griller 980 vs Masterbuilt 1050. Regardless of what you pick, you are sure to have a fantastic BBQ accessory that will be an integral part of your cooking arsenal for years if not decades.