Cast iron has always been my favorite in the kitchen. It's very versatile and timeless. You can literally pull off every recipe with perfection when using cast iron. 
Two of the most popular names that come to mind when considering cast iron are Cuisinel and Lodge. Many people get confused between these two brands and rightfully so. That's why I'm going to demonstrate a detailed comparison between Cuisinel Vs Lodge cast iron.
I've also reviewed the top products you can consider from both these brands. So, let's get started, shall we? 
Every product is independently reviewed and selected by our editors. If you buy something through our links, we may earn an affiliate commission at no extra cost to you.
"The importance of a cast iron skillet isn't measured in ounces or inches but in the richness it brings to your cooking."
Cuisinel Vs Lodge Cast Iron – Which Is The Best Cast Iron
You may have heard about Cuisinel and Lodge cast iron. When someone is shopping for their first cast iron product, they often get confused between these two. 
Well, Let's have a look at the key feature comparison chart –
| Key Features | Cuisinel Cast Iron | Lodge Cast Iron |
| --- | --- | --- |
| Nonstick Time | More Time | Less Time |
| Affordability | Little Expensive | Cheaper |
| Top Pick | 3-Piece Cast Iron Skillet Set | Pre-Seasoned Skillet |
| The Hallmarks | Versatility, Smooth finish, Long-term reliability, Even heat distribution, Durability & Easy cleaning | Long-lasting, Quality design, Versatility, Great heat resistance, Great compatibility & Non-stick surface |
| Price | Check on Amazon | Check on Amazon |
"Cooking with a Lodge cast iron skillet is like creating magic in the kitchen. It's the ultimate culinary wand."
Now, Let me demonstrate a few differences and similarities to help you make the decision. 
The first thing you need to know about these brands is their origins. Both brands are designed in the USA. However, Cuisinel is manufactured in China, whereas Lodge is manufactured in Tennessee. 
Many people prefer their cookware to be manufactured in the USA. If you're one of them, Lodge will certainly have an edge over Cuisinel. 
If you are comparing the quality and durability of the cast iron, there is no significant difference between the two. Both are heavy-duty and long-lasting. 
They're pretty convenient to use too. Just like any high-quality cast iron, this cookware will get better with time, given that you're maintaining them properly. 
When you're searching for product variety, Cuisinel has a bit of an advantage over Lodge. In comparison, users have mentioned that Cuisinel takes more time to become nonstick compared to Lodge.
If you are thinking about cooktop compatibility, there is no difference between the brands. Both brands offer high-quality cast iron that you can use on any cooktop. This is a very attractive feature of these brands. Most people can't find anything that is compatible with all cooktops. 
There is a difference between prices. Lodge is comparatively cheaper than Cuisinel. If you are tight on budget and don't want to go for something expensive, Lodge cast irons are the preferable options for you. 
With these cast iron pans and pots, you can cook on any heat source, including induction. Many people complain about both these brands. Why is that? The thing is, cast iron takes patience and expertise to use. 
You can treat cast iron like any other material. It needs to be maintained properly if you want it to perform efficiently. For instance, you will have to hand wash cast iron. Putting it in the dishwasher or using harsh abrasives will permanently damage the material. 
Besides, the less you clean, the more you will protect the seasoning of the cookware. 
That's another thing. Maintenance includes seasoning the cookware after each use. You need to clean it first. You can use cast iron steel wool to clean it, and then dry it on the stove or using paper towels. Then, you will have to use oil to season the cookware before storing it. 
The bottom line of this Cuisinel vs Lodge argument is that both are excellent choices. The differences are very minor but can certainly help you decide which one should you buy. 
Also Read: 5 Best Steel Wool For Cast Iron To Get Perfect Cleaning
3 Best Cuisinel Cast Iron Review
To help you get an in-depth idea about the products from Cuisinel, I've selected the best-cast iron skillets from the brand. Go through them if you've decided to buy one from this brand. 
Cuisinel Pre-Seasoned 3-Piece Cast Iron Skillet
If you want to go versatile with convenience, this is the pack to choose. This pack includes three cast iron skillets of different sizes. The price is also very affordable, considering that you'll be getting a full pack of three skillets. 
Attractive features like protective handle covers, a pre-seasoned surface, and a durable structure make this pack one of the most desirable ones on the market. 
Let's take a peek at the top feature before jumping into the detailed review.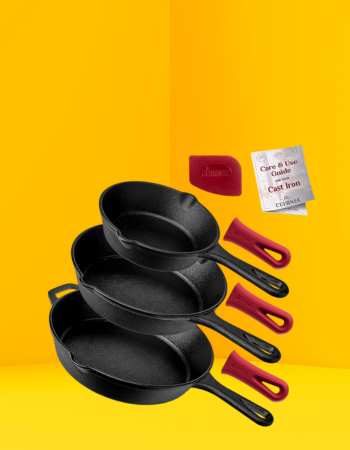 Top Features
Versatile use

Durable and reliable

Precise heat distribution

Heat-resistant handle covers

Set of three different-sized skillets
---
The smooth finish on the pans will make you feel like a professional chef every time you cook something on it. All the skillets come pre-seasoned, so you can start cooking on them right out of the box. 
One of the most interesting features of this cast iron is compatibility. No matter what cooktop you're using, you'll get the perfect outcome every time. It's also very versatile to use too. You can cook all types of meat and vegetables on these skillets. 
The heat-resistant covers are something to think about too. They facilitate maneuvering the skillets when they're hot. In addition, they're also removable. You can also expect these skillets to be extremely durable. They're made to get better with every use. Note that you have to hand wash these skillets after each use. Putting them in the dishwasher will ruin the material. 
Overall, if you want to own cast iron skillets of various sizes, you can't get a better deal than this one. If you want singles, there are options for that too.  
Pros
Comes pre-seasoned for convenience

Consists of three different skillet sizes

You can use these on stoves, grills, and induction cooktops

Heat-resistant handles make it easy to maneuver the skillets

Suitable for baking, frying, grilling, braising, broiling, and sautéing
Cons
The food may stick to the surface initially but gets better over time
Also Read: Best Cast Iron Griddle For Gas Stove (My Top 4 Picks)
Cuisinel Oven Safe 2-Piece Cast Iron Pan Set
A set of oven-safe cast iron skillets is just what you need from Cuisinel. If you don't want three skillets but want to get a package deal, this is a great option for you. In this pack, you will get one 10-inch pan and one 12-inch pan. They both come with protective handles to keep them cool even on the stove. 
These are high-quality cast-iron pans so they're entirely oven-safe. There can't be a better option than these if you wish to go versatile with your cooking style. Transfer them directly from the oven to the stove for a perfect finishing.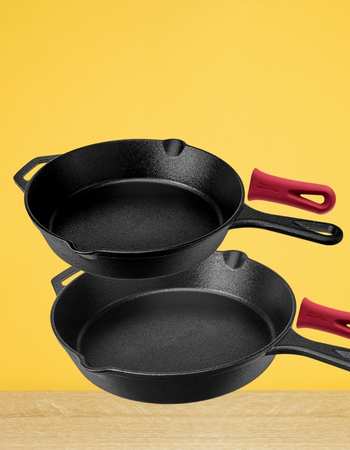 Top Features
Pre-seasoned

Set of two pans

Easy to maintain

Durable and versatile 

Protective handle covers
---
High-quality cast iron will always ensure a perfect heat distribution, making your recipe more perfect than ever. The sizes of these two pans are comparatively larger than the previous one I reviewed. So, you can cook large steaks on these pans with ease. 
You will have to hand wash these skillets. However, cleaning them is a breeze. Don't use any harsh chemicals on these. Instead, dry them thoroughly on the stove after hand washing them. And then, season them with your favorite oil. 
Food particles may stick on the surface, even though the pans come pre-seasoned. However, as you continue using these with regularity, the seasoning gets better and it becomes more nonstick. Just like the previous pans, these ones also come with heat-resistant handles. 
Basically, all other features are similar to the previous skillets. You can expect excellent durability and efficiency in your cooking. Overall, if you want larger pans, this is the best option to go for.  
Pros
Easy to care for 

Perfect for every cooktop

Durable material gets better with each uses

Easy to hold and use because of the heat-resistant hand covers

The oven-safe feature allows you to go versatile with your recipe
Cons
They're heavy and a bit challenging to lift
Also Read: How To Make A Cast Iron Skillet Non Stick (Easy 5 Steps)
Pre-Seasoned Cast Iron Skillet With Glass Lid
If you're not into package deals and want a single skillet, Cuisinel offers that too. Along with all the special features you get from the brand, this one also comes with a glass lid. So, if that's something you are searching for, I highly recommend you consider this pan. 
It's a 12-inch skillet made of cast iron. The heavyweight may seem a bit tough to handle in the beginning, but once you get used to it, you will find it beneficial. The structure is not only sturdy but also durable. 
Let's see what features you can expect from this skillet.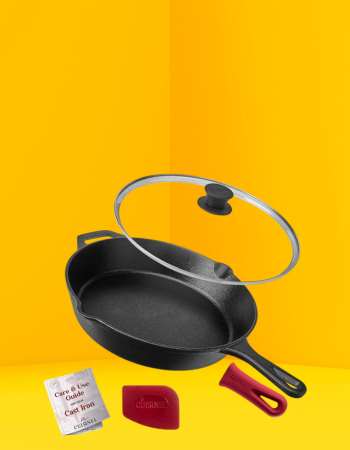 Top Features
Versatile cooking

Tempered glass lid

Silicone handle cover

Precise heat distribution

Pre-seasoned and durable
---
As I have mentioned before, all cast iron from Cuisinel has excellent quality and durability. This one is no exception either. It's a 12-inch skillet. So, you can get versatile with your cooking options. Try grilling, broiling, braising, and of course, frying using your cast iron skillet. 
Compatibility with all types of cooktops is another admirable feature of the brand. You can not only use the pan on grills and stoves but also on an induction cooktop. This feature certainly opens a lot of doors for cooking enthusiasts. 
You will get a silicone handle cover and a tempered glass lid with the pan. It does increases the price a bit. Even though the silicone is heat-resistant, it can get hot. So, the brand suggests that you use oven mitts when maneuvering the skillet. 
Overall, if you want a single skillet with a lid that offers high-quality performance on any stove, this is the right choice for you. 
Pros
Durable and sturdy construction

Satisfying after-sale service with warranty

Comes with a silicone handle cover and a glass lid

Perfect for frying, grilling, baking, braising, and sautéing 

Compatible with all types of cooktops, including induction
Cons
3 Best Lodge Cast Iron For You
Much like Cuisinel, Lodge has a huge customer base when it comes to cast iron. If you've decided on a Lodge skillet, take a look at the best options offered by the brand. 
Lodge Versatile Pre-Seasoned Skillet
Lodge has a variety of sizes when it comes to skillet. The one I am talking about right now is 13.25 inches. It comes pre-seasoned but not perfectly. As you know, cast iron gets better with use. With your favorite oil and a bit of care, you can make this one of the best nonstick skillets that ever existed. 
Another amazing thing about Lodge is the price. It's comparatively inexpensive compared to the quality you get. The material is well-built and sturdy to last for decades to come.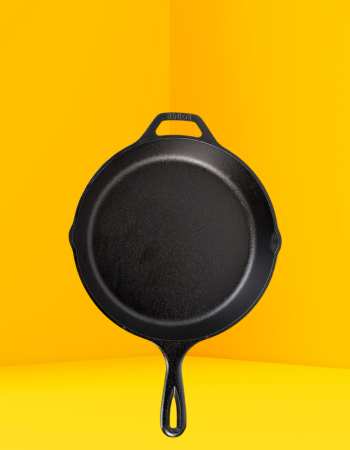 Top Features
Pre-seasoned

Reasonably priced 

Durable and sturdy 

Good heat retention

Manufactures in the USA
---
One thing that customers love about this brand is that it's manufactured in the USA. The materials are sturdy and made to last for decades. 
As for the performance, you can expect excellent heat retention. The temperature also stays the same throughout the entire surface because of efficient heat distribution. 
You can use the skillet on all heat sources. In addition, you can cook anything you want by following any type of recipe you want. This really increases the cooking versatility in the kitchen. No matter what you're willing to try, the cast iron skillet from Lodge will have your back. 
The price is where it gets more interesting. You always expect high-quality things to be pricey. This one doesn't come cheap but is reasonably priced compared to other options. Not to mention that you will spend on cookware that will last you for decades. 
Pros
Even heat distribution 

Affordable price range

Excellent heat retention

Durable and long-lasting 

High-quality performance 
Cons
The pre-season isn't enough for the skillet to be nonstick
Also Read: How To Use Cast Iron Griddle On A Gas Stove?
Lodge Round Cast Iron Combo Cooker
The one I am about to review right now is a combo. It comes with a 3-quart dutch oven and a shallow skillet. Both are made of excellent cast iron from Lodge. If you want your cookware to last a very long time, Lodge will always have your back. Besides, it's extremely soothing to cook on these pots and pans because of the finish they come with. 
You can cook any types of recipe you want using these two pans. The dutch oven is deep with risen sides, while the skillet is shallow. So, they pretty much cover all criteria you might be looking for in a set. Let's highlight the top features of this set.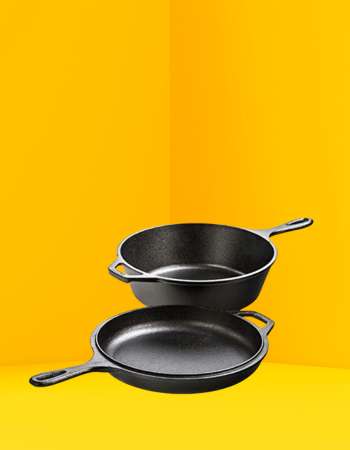 Top Features
Oven-safe

Pre-seasoned

Made in the USA

High-quality cast iron

Durable and robust construction
---
This set from Lodge will create a lot of opportunities for you in the kitchen. Cast iron is already versatile and convenient to use. The features from the brand make these pans more efficient, regardless of what you're preparing.
Two things that matter the most in cookware are heat retention and even heat distribution. These pans pass with flying colors when it comes to the basic qualities.
When you're determined to perfect your recipe, cast iron from Lodge can be just the thing you're missing in your kitchen.
You can also combine the pans and use the skillet as a lid for the dutch oven. This way, the capacity will increase and so will the efficiency. If you are someone who only prefers cookware manufactured in the USA, there can't be a better option than Lodge.
Pros
Diverse use

Sturdy construction

Even heat distribution

Excellent heat retention

Manufactured in the USA
Cons
Lodge Pre-Seasoned Fajita Set Cast Iron
The one I am about to review now is the most suitable for making Fajitas. It's a set that comes with an oval-shaped pan, a red stain wooden base, and a holder. The most attractive feature of this set is the price. It's amazingly inexpensive for the quality you're getting. The cast iron is not only durable but also high quality.
So, you can expect to use this for a really long time without any issues. I'm certain that it will become your next favorite fajita pan in your kitchen.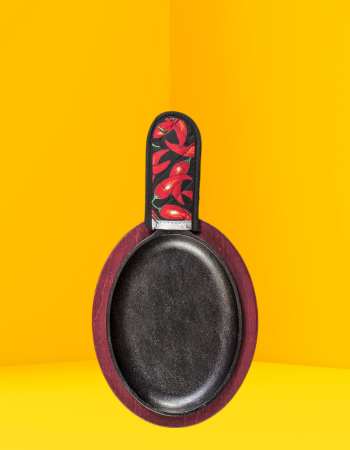 Top Features
Versatile use

Easy to clean

High-quality cast iron

Lightweight and convenient

Comes with a wooden base and hand mitt
---
If you don't want to spend a lot of money on your cast iron, this can be a great place to start. If you have a lower budget than this, you can't get a decent cast iron skillet. This oval-shaped pan from Lodge certainly stands out in the crowd.
One reason is the quality of the cast iron. You can expect to use this pan for decades to come. And the best thing is, it will only get better with each use.
Note that if you want to make your cast iron better with time, you should avoid washing it roughly. The less you strip off the seasoning, the better your next recipe will taste.
Don't be worried about maintaining cast iron. It's pretty easy. All you have to do is hand wash the pan, dry it on the stove or using paper towels, and then season it before storing.
If you can utilize it the right way, you can make anything you want with perfection. Overall, it's one of the best options you can choose in this price range.
Pros
Long-lasting cast iron

Gets better with each seasoning

Comparatively inexpensive to use

Can be used to cook a variety of recipes

A complete set of a pan, a wooden base, and a handle cover
Cons
Food may stick in the beginning
What Are The Differences
Both brands offer great cast iron products. So, it's tough to find any significant difference between them. Product shapes and sizes are one thing to notice when it comes to these brands. However, that's not where the main difference is. 
There is a great difference when it comes to price ranges. Lodge is comparatively cheaper than Cuisinel. However, the features are also limited. Many people mentioned that the Cuisinel requires more time to become nonstick compared to Lodge. 
Another difference between these two is the country of origin. Even though both brands are designed in the USA, both aren't made in the USA. While the manufacturing process of Lodge is done in the USA, Cuisinel manufactures its products in China. 
What Are The Similarities
Because both brands are popular for cast iron, there are a lot of similarities. For instance, both brands offer pre-seasoned cast iron. Even though the seasoning isn't enough initially, both will get better with time. 
The maintenance procedure is also similar for both brands. You can expect to last these cast iron cookware a really long time. There isn't much difference when it comes to quality and durability. 
Another great thing about both brands is the compatibility with cooktops. You can basically use these on any type of cooktop, including induction. The same goes for heat retention and even heat distribution. 
What I am saying is, that there are no significant differences between these products. At least not where it matters anyway. 
Cuisinel Vs Lodge – Brand Overview
Let's talk about Lodge. The first thing you need to know about the brand is that it's a family-owned brand. It was first founded by Joseph Lodge back in 1896. 
The brand is still owned by the descendants of the Lodge family. The manufacturing unit of this brand is situated in South Pittsburg, Tennessee. It's a trustworthy cast-iron brand that has been in the market for a very long time. 
Cuisinel is another popular brand among cast iron lovers. It comes with a range of high-quality innovative products. 
In addition, Cuisinel offers a lifetime warranty against any manufacturing defects for their customer. Even though Cuisinel is not a family-owned brand like Lodge, it certainly has a strong image among a large customer base. 
Is Cuisinel A Good Brand
Cuisinel is a great brand with a wide range of products. The cast iron from Cuisinel is very high quality, durable, and gets better with each use. As long as you're using your cast iron by following the rules, Cuisinel products will last you for decades. 
Is Cuisinel Made In the USA
Cuisinel is not manufactured in the USA. Even though the products are designed in the USA, they are manufactured in China. 
Is Cuisinel The Same As Lodge
There are a lot of similarities between Cuisinel and Lodge cast iron. However, they are two different brands that come with a few differences in price, products, and origin. 
Does Lodge Cast Iron Have A Coating
Lodge cast iron comes pre-seasoned. There is a coating on the cookware. However, they're not often enough to be nonstick. With cast iron, you need to let it a season and become better with time. 
Is Lodge Enameled Cast Iron Safe?
Lodge enameled cast iron is safe to use. The iron will not leach into your food because of the coating. In addition, it's nonstick and very convenient to use. 
Conclusion
There aren't many significant differences between Cuisinel vs Lodge cast iron. However, if the minor things matter to you, it should be easy to make a decision about which one to go for. For instance, if you want the most affordable option, Lodge will certainly have an edge over Cuisinel. In comparison, Cuisinel will come in handy if you're in for sets and innovative products. But the bottom line is, no matter which one you go for, you will be getting the worth of your money. Because neither of the brands lacks where it counts.