Whether you are grilling red or white meat, nothing can beat the enchanting smoky essence imparted from lump charcoal.
But do all the existing brands in the market produce the same quality lump charcoal? Not really.
On that note, BBQheads often get confused over Jealous Devil Vs Kamado Joe Charcoal, the two most popular charcoal manufacturers of recent times.
So, let's battle-test these two crowd-pleasing charcoal makers in terms of pricing, material sourcing, and carbonization method to figure out which brand's lump charcoal comes out as the winner.
Every product is independently reviewed and selected by our editors. If you buy something through our links, we may earn an affiliate commission at no extra cost to you.
Jealous Devil Vs Kamado Joe Charcoal – Which Is Best For You
In the field of charcoal grilling, there's no one-size-fits-all policy. You may find one particular lump charcoal the worst whereas others might enjoy its flavor the most.
Quick Comparison Chart –
| Key Features | Jealous Devil | Kamado Joe |
| --- | --- | --- |
| Material | 100% Natural Hardwood Lump Charcoal | 100% Natural Lump Charcoal |
| Aroma | Mild flavor-enhancing aroma | Robust wood-fire flavor |
| Available Size | 6 | 2 |
| Burn Time | 4+ hours open grills / 20+ hours in smokers | Up to 27 hours |
| Reusability | N/A | Reusable up to three times |
| Versatility | Ideal for grill, smoker, kamado | Suitable for various cooking styles |
| Price | Check on Amazon | Check on Amazon |
That being said, I am here to analyze the pros and cons of Jealous Devil and Kamado Joe lump charcoal to let you make an informed purchase. 
Well, there's no denying that both offer high-quality lump charcoal to bless your BBQ palate with the original smoky essence.
However, as the name suggests, the Jealous Devil charcoal burns so hot that it makes the devil jealous. Jokes apart, but it burns too hot to sear steaks or briskets.
Alongside, the burn time is so long that even experienced pitmasters suggest this charcoal. 
Whether you are a beginner BBQer or a professional Chef, you cannot go wrong with Jealous Devil in terms of charcoal grilling. 
They claim to craft the charcoal following the traditional hand-picking method. All hardwoods are handpicked, hand-cut, and carbonized onsite in their custom-made kilns.
Naturally, they are unrivaled in terms of the highest quality control. Without no filler or scrap wood, all the wood chunks are kiln-dried in decent sizes to burn cleaner.
With Jealous Devil charcoal, there's very little ash left even after a long smoking session. Resultantly, cleaning your grill becomes a breeze.
If you want to enjoy a pure natural woody essence with lump charcoal, Jealous Devil should be your go-to brand. 
They come in a vast array of sizes with a very affordable price range. And let me ensure that you will taste your food with Jealous Devil, not the fuel.
Compared to the reasonable price point of Jealous Devil, the Kamado Joe Big Block lump charcoal comes with an expensive tag.
But does its performance justify the extra cost? Umm, the answer is both yes in some aspects.
If I talk about charcoal quality, there's nothing much to complain about. The natural hardwoods are carefully picked from Argentine trees.
Also, they don't include processed wood or scrap furniture. That's why the charcoal burns hotter and cleaner keeping the meat moist.
Most importantly, you can reuse the partially burnt wood chunks up to three times. That surely makes up for the higher price tag compared to other poorly made lump charcoal. 
Whether you prefer high-heat searing or low-and-slow grilling, these charcoal are suitable for both.
To add more, all the hardwoods are collected from dense hardwood trees. Therefore, they impart a rich woody aroma to your food. If you prefer a distinct smoky hint in whatever you are grilling, go for it.
In terms of flavor profile, the JD is more on the milder side. Although the South American hardwood blends are 30% denser than traditional oak and hickory, the subtle smoky undertone doesn't overpower the food.
Plus, JD lump charcoal comes in waterproof, UV-resistant, and resealable bags which lets you store the leftover charcoal easily.
Nevertheless, it comes down to your personal preference regarding which lump charcoal you will go for.
In terms of affordability, cost-efficiency, and quality control, I think the Jealous Devil is the winner. 
However, if you want a deep smoky essence instead of a subtle note in your food, nothing can beat the smoke-filled flavor of Kamado Joe charcoal. 
Also Read: Best Lump Charcoal For Big Green Egg – (My Top 6 Picks)
Jealous Devil Lump Charcoal
If you want premium-quality lump charcoal at a reasonable price point, pick a Jealous Devil bag and relax. Coming in different sizes, it's one of the favorite lump charcoal brands for most BBQ aficionados. 
Aside from infusing an extremely appealing aroma, these all-natural hardwood blends burn longer and cleaner making cleanup a breeze. However, the core specifications are as follows-
Top Features
No sparking, popping, or scrap materials 

It imparts a mild flavor-enhancing aroma

Burns hotter yet longer than average lump charcoal

Compatible with any grill, smoker, or Kamado cooker 

Made of 100% natural and ultra-dense South American hardwoods
---
According to the manufacturers' claim, this hardwood lump charcoal isn't just made, rather it's crafted with the finest materials ever. Let's check out if the claim is true! 
Firstly, the ultra-dense South American hardwoods are 100% natural and chemical free. So, yes, it ticks the box of high-quality charcoal. 
Secondly, they offer a superior burn by doubling the cooking power. Plus, the charcoal lights up faster without any sparkling and popping. 
Thirdly, the mild essence doesn't overpower the food in any way. Even when you mix them with other woods, they still maintain the same consistency in flavor profile.
And you get a 35-pound pack under $40. Worried about the burn time? You get 4+ hours of flame time in an open grill and 20+ hours in a charcoal smoker. Doesn't it provide great value for your money?
Pros 
Extremely affordable price range 

Less ash production makes cleaning easier

Burns twice hotter and thrice longer than average lump charcoal 
Cons
A bit too smoky when starts burning
Kamado Joe Lump Charcoal
Recently, Kamado Joe has gained an immense following among regular BBQers with its Big Block Lump Charcoal. Although it's primarily made for Kamado grills, you can light up any ceramic grill and smoker with these all-natural hardwood blends to enjoy a deep woody essence. 
The key specifications which make their lump charcoal more popular are as follows-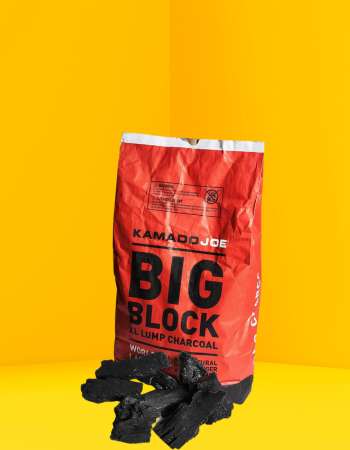 Top Features
Reusable up to three times

Made pure all-natural hardwoods

Burns hotter to let you sear a steak

Also suitable for low-and-slow cook

Doesn't pop or crackle while being lit 
---
Well, the 30-pound pack from Kamado Joe mostly contains medium to large size wood chunks with a little amount of crumbs. As a result, the charcoal lights easily with no sparking or popping.
At the same time, the descent-sized wood chunks burn steadily for a longer BBQ session. You get up to 27 hours of burn time in a Kamado cooker.
The all-natural materials are sustainably sourced from Guayacan, Guayaibi, Mistal, and White Quebracho trees. And the manufacturers ensure no use of artificial flavor. 
No wonder they deliver a deep and rich woody aroma while BBQing meat.
Once you close the vents in your grill at the end of a BBQ session, the partially burnt charcoal chunks could be re-used further.
Unlike regular lump charcoal in the market, KJ doesn't include any scrap furniture or processed wood. Therefore, the burn rate is exceptionally satisfying making it an ideal deal for low-and-slow smoking.
Yes, the 30-pound pack is more on the expensive side but the genuine hardwood blends make up for the price.
Overall, it's a great investment if you expect better fuel efficiency from any lump charcoal. 
Pros
Very easy to start the fire 

Infuses a robust woody essence into your food

Hot and long burn rate guarantees maximum charcoal-efficiency
Cons
A little bit expensive compared to its competitors 
Also Read: Kamado Joe Accessory Storage Solutions for Every Grill Master
What Are The Differences Between Jealous Devil and Kamado Joe Charcoal?
Although both Jealous Devil and Kamado Joe produce industry-leading lump charcoal from 100% authentic hardwoods, they do differ in certain aspects. 
As these little differences could lead to different results in BBQing, I decided to outline them in detail. 
Have a look below to understand the key disparities between these two crowd-favorite lump charcoal brands.
Source
While choosing the best fuel to light up your grill, you should focus on how the lump charcoal is sourced. 
The KJ lump charcoal is a balanced mixture of Argentinian hardwoods like Guayaini, Guayacan, Mostal, and White Quebracho. And these hardwoods are so dense that they are known as Axe Breakers.
On the other hand, the JD charcoal is carefully collected from South American hardwood trees 
Ash Production 
Though both charcoal is famous for notably less ash production, the JD is slightly ahead in this race. 
They produce very little ash offering unparalleled cleaner burn. Talking about the KJ lump charcoal, they leave a little more ash compared to JD. 
Packaging
The KJ Big Block charcoal is available in two different packaging, 20-pound or 30-pound. 
On the contrary, JD seems more versatile in packaging. The available sizes are 8lbs, 10lbs, 20lbs, and 35lbs. So, you get more options here.
Price
There is no dancing around the fact that the Kamado Joe lump charcoal is more expensive than the Jealous Devil one. You get one 35-pound JD charcoal bag spending around $40. 
Whereas a 30-pound bag from KJ will cost around $100. You better get it at the sale if you really want to use Kamado Joe lump charcoal. 
However, the 20-pound pack is not that pricey though!  
Smokiness
In terms of smoke-filled flavor, the KJ offers a robust woody aroma with a unique smoky essence. If you don't use KJ charcoal in the right amount, it might be overpowering the authentic BBQ flavor.
On the other hand, JD produced their charcoal to deliver a milder essence without overpowering the original food flavor.
What Are The Similarities
Now, let's break down the similarities between JD and KJ lump charcoal to get a clear idea of how they could take your smoking game to the next level.
All-Natural Material
Both brands craft premium-grade lump charcoal with 100% natural hardwood. All the bags are filled with medium to large wood chunks. They contain little to no crumbs or debris.
Easy to Light
As they are sustainably sourced from 100% natural hardwood with no scrape mixed, they are easier to light without sparking or popping.
Steak-Searing Temperature 
As I already mentioned, you get longer burn time from both KJ and JD charcoal which is really good for low-and-slow cooking.
But what about high-heat searing?  Do they burn hot enough?
Thankfully, yes. Whichever lump charcoal you go with, they burn hotter reaching a steak-searing temperature in terms of high-heat grilling. 
Superior Burn 
Compared to regular charcoal chunks in the market, both KJ and JD offer a superior heat and smoke profile. You can reuse the solid wood chunks further.
No Filler Added 
Yes, they don't use any artificial flavor, chemical, or additive to enhance the flavor profile. As a result, you get to enjoy the authentic smoky aroma at its best. 
Why You Choose Jealous Devil Over Kamado Joe Lump Charcoal for Smoking
Though it should be decided based on your flavor preference, the Jealous Devil lump charcoal is the clear winner for me.
It's more affordable, offers cleaner burn, and provides better value for the money. Plus, you can choose from the 8 lbs, 10 lbs, 20 lbs, and 35 lbs packs as per your BBQ needs.
The burn time is also longer than most other charcoal, 20+ hours in a smoker.  And I prefer the subtle smoky essence in terms of flavor instead of the deep woody aroma. 
I would highly recommend JD lump charcoal, especially for beginners. Because there are high chances they would mess up their first smoke with KJ by overdoing it. 
The robust woody essence is a bit tricky to handle. Moreover, they leave a little more ash behind which could have been improved.
Nevertheless, you won't find it difficult once you master the art of charcoal grilling. But at the beginning, start with Jealous Devil to get a smoother smoking experience. 
Conclusion
To round out this review on Jealous Devil Vs Kamado Joe Charcoal, I would like to reassure you that both are great deals in terms of charcoal grilling. 
With 100% natural and premium hardwood blends, they prepare professional-grade lump charcoal without any additives. 
However, one is less expensive, and the other charges more with a richer woody essence. So, if you are looking for a budget-friendly bet, I vote for Jealous Devil,  especially for beginners. 
On the other hand, the KJ is a better buy for those who love a robust woody hint in charcoal grilling.