If you are a BBQ geek, you must have heard about Oklahoma Joe. They produce a wide array of BBQ smokers with the utmost quality control. 
Among their vast lineups, Longhorn and Highland are two famous names. When it comes to choosing the best BBQ pits for outdoors, they both are great selections with extensive cooking space and precise temperature control. 
However, if you need to pick only one between Oklahoma Joe Longhorn vs. Highland, check out the detailed review below. Here I am gonna talk about all their pros and cons to figure out a better buy in terms of performance, flexibility, and versatility.
Every product is independently reviewed and selected by our editors. If you buy something through our links, we may earn an affiliate commission at no extra cost to you.
"Whether you're Team Oklahoma Joe Longhorn or Team Highland, the true winner is always the incredible flavors you'll create."

Team Topcellent
Oklahoma Joe Longhorn Vs. Highland – Which Suits You Best?
To be honest, these two lineups are quite similar in terms of features and functionalities. After all, they are designed by the same manufacturers. However, they certainly differ in some key aspects like size, weight, cooking area, etc.
Before that, a quick overview of the following comparison chart might help in this regard-
| Key Features | Oklahoma Joe Longhorn | Oklahoma Joe Highland |
| --- | --- | --- |
| Dimensions | 35.5×64.25×55.5 inches | 33.5×57×53 inches |
| Weight | 226 pounds | 180.78 pounds |
| Total Cooking Surface | 1060 square inches | 900 square inches |
| Primary Chamber | 751 square inches | 619 square inches |
| Firebox Chamber | 309 square inches | 281 square inches |
| The Hallmarks | Pre-Installed Baffle Plates, Heavy duty construction, Cool-touch handles, Large cooking capacity & Large charcoal basket | Firebox warming area, Multiple dampers, Customizable setup, Precise Temperature Control & Lightweight |
| Price | Check on Amazon | Check on Amazon |
Saying that both Highland and Longhorn are available in the form of standard offset smokers and reverse flow variants.
If you are stuck between the Longhorn and Highland smokers and cannot decide on one, focus on your priorities.
Are you a regular BBQer who cooks for a large batch of people? Then having the bigger option is always a plus. 
After all, it's always better to have a bit of extra space you don't need than to need space you don't have, right?
Then again, does the additional space justify the extra expense for you? Well, it does for me. I am more fond of Longhorn's superior heat retention and zero heat leakage policy. 
But what if you are a seasonal griller? Do you really need that extended cooking area? If not, stick to the Highland. It has no less features than the Longhorn to let you down.
Moreover, the Highland smoker is more lightweight, compact, and easy to move. It will be a bliss to carry it outdoors.
You can solve the occasional heat leakage issue by adding some sealants while assembling the smoker. And save the extra bucks to make necessary modifications to your Highland. 
However, you can use the same smoker in both styles as Oklahoma Joe cleverly designed the removable heat baffles to turn a traditional offset smoker into a reverse flow offset setup and vice versa.
Well, you can customize the configuration for both either for traditional offset smoking or for elevated reverse-flow grilling. The removable baffle plates and optional smokestack locations are the keys to doing so.
In terms of temperature control, ease of use, build quality, fuel efficiency,  and warranty, Oklahoma Joe treated both lineups equally. 
That's why we need to study the basic similarities and notable differences between Highland and Longhorn smokers to find a clear winner. 
Aside from the baffle plates, there are not many differences between the two configurations. So, let's focus on comparing their reverse flow smokers and it will automatically describe the traditional offset models as well.
Review of Oklahoma Joe Longhorn
If you are looking for one of the most advanced reverse smokers in the market, nothing can beat OJ Longhorn. Aside from offering a massive cooking area, it also excels in even heat distribution. Besides, the effective burn rate increases the fuel efficiency as well. 
However, let's break down its core specifications below-
Top Features
309 square inches of secondary cooking space

751 square inches of dedicated primary cooking surface

Strong and sturdy construction with high-quality stainless steel

Features a professional temperature gauge for better heat control 

A big charcoal basket facilitates longer and more efficient fuel burn
---
There are four removable baffle plates integrated under the porcelain-coated wire grates. These baffles ensure even heat and smoke distribution through the cooking chamber to make your food more flavorful.
Moreover, the optional smokestack locations permit you to set the smoker as a classic offset one or a modern reverse flow one.
Another great add-on is a pair of large wagon-style wheels which make the smoker easy to transport. 
If I talk about the smoking surface, you get 1060 square inches altogether. This is absolutely huge no matter how many people you are cooking for.
Additionally, there is a bottom shelf to store cooking utensils and extra fuel while preparing for a long BBQ session.
Howsoever, I was totally blown away by the convenient firebox door. It certainly makes after-cleaning a lot more easier.
If you crave the authentic BBQ smack in your dish, this Longhorn smoker will never fail to satisfy your taste buds. Not only does the latest reverse flow technology produce more heat and smoke but also infuses them in your food well.
Of course, all these advantages don't come free but with a hefty price tag. But who cares when you need an awesome BBQ tool with unfailing smoking performance? 
Pros
Cool-touch handles 

Extra-large smoking area

Quick and easy ash removal
Cons
Hefty price tag

A bit heavyweight
Also Read: Traeger Ironwood 650 vs Pro 575: Which Grill Is Right for You?
Oklahoma Joe Highland Overview
Talking about the Highland version from OJ, it's quite identical to the Longhorn lineup. It has some common features and functionalities.
Unlike other cheaper reverse flow alternatives in the market, Highland variants are pretty well-built with heavy-gauge stainless steel. 
The key specialties of this amazing reverse smoker are as follows-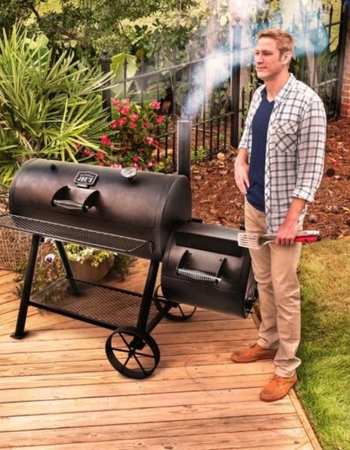 Top Features
Four removable baffles

Stainless steel fuel basket

Temperature control capacity

Porcelain-coated cooking grates

900 square inches of cooking surface
---
The Highland reverse flow variant from OJ is equally popular among the BBQ aficionados for its lightweight construction. It weighs 180 pounds only.
As a result, it couples with the large wagon wheels even better for easier transportation. Moving the smoker from one place to another becomes an absolute breeze.
Next, the unfailing all-steel architecture adds more value to the smoker making it nearly indestructible. Plus, the heavy-duty stainless steel shines even more with a durable matte black finish.
However, the 900 square inches of smoking area is divided into two parts- 619 square inches of main chamber and 281 square inches of firebox chamber.
Thankfully, both chambers have dedicated cool-touch handles to protect your hands from heat. 
Aside from offering a unified grilling experience, it also lets you cook for the crowd by facilitating an efficient fuel burn.
What's more impressive is the multiple adjustable dampers for better heat and smoke regulation. And thanks to the lid-mounted temperature gauge, you can monitor heat accurately. 
However, the best part is that it charges notably less than OJ Longhorn despite offering pretty much the same amenities. 
Therefore, it's a more pocket-friendly deal for those who are on a shoestring budget.
Pros
Very easy to assemble

Lightweight and easy to move 

Features a firebox warming area
Cons 
Sometimes, it leaks heat and smoke if you don't use a sealant
Also Read: Traeger Pro 780 Vs Ironwood 885 – Get The Best One
What Are The Differences Between Two Oklahoma Joe Smokers?  
Now, let's break down their major points of differences in detail below-
Smoking Area
In terms of smoking surface, the Longhorn is the big boy. It comes with a massive 1060 square inches of cooking area. 
The primary cooking chamber itself is 751 square inches which is very close to Highland's overall 900 square inches of total area.
However, Longhorn altogether offers 160 square inches of wider cooking space than Highland.
Cooking Capacity 
Being wider, Longhorn naturally holds the upper hand here. It lets you cook 6 butts or 3 briskets at a time.
On the other hand, you can smoke up to 4 butts on a Highland variant. The number of briskets is the same though.
Heavyweight vs. Lightweight 
As you can see in the comparison chart, the Highland smokers are notably lightweight, weighing only 180.78 pounds. Certainly, you can move them faster and easier.
Talking about the Longhorn range, they are quite heavyweight and bulky. The 226 pound weight is no joke for an outdoor smoker, is it?
Ease of Assembly 
In this field, the Longhorn variants might give you a hard time. Being significantly larger, it's a tad challenging to assemble all its parts.  It specifically becomes difficult if you are a beginner. On the other hand, OJ Highland facilitates an effortless assembly in no time.
Leakage Issue
I have never experienced any heat leakage in my Longhorn smoker. As it's meant for high heat retention, you don't need any sealant to lock heat, smoke, and moisture inside. 
Unfortunately, the Highland range leaks heat and smoke occasionally. Although you can eliminate the issue by adding some extra seals. Moreover, the lid must be shut down snugly. 
Cost
As for the cost, I prefer the affordable Highland reverse smoker instead of its expensive Longhorn alternative. With nearly 20% wider cooking space, Longhorn charges a bit more.
That's why, a Highland variant certainly offers more value for your money with the same specifications.
Similarities Between Oklahoma Joe Longhorn and Highland 
Apart from the disparities, both the smokers resemble each other in the following fields-
Stainless Steel Construction
Oklahoma Joe designed both the smokers with heavy-gauge stainless steel with top-notch quality assurance. Thanks to their all-steel architecture, these BBQ smokers are easier to clean and maintain. 
Porcelain-Coated Cooking Grates
Whether you go with the Longhorn or Highland, the cooking grates are the same. They are made of durable materials with a long-lasting porcelain coating. As a result, both smokers excel in consistent heat distribution with no cold/hot spots.
Removable Baffles
In a reverse flow smoker, baffle plates are the most important components to retain the authentic smoky flavor. Fortunately, you get four sets of baffles in each smoker that regulate heat and smoke evenly. 
Besides, they protect the meat from direct grilling by being placed under the wire grates.
Large Charcoal Basket
As charcoal smokers, both Longhorn and Highland have a large stainless steel charcoal basket in the firebox chamber with the same capacity.
Whether you enjoy high-heat grilling or low-and-slow smoking, this large basket always keeps you on board. You don't fall short of fuel in the middle of a grilling session.
Durability 
OJ never compromises in quality control for any of their smoker lineups. Highland and Longhorn are no exception. Both these ranges are engineered with the finest heavy-duty materials to last a lifetime.
Warranty
According to OJ's warranty policy, both products are backed by a 2-year of warranty.
Most importantly, they provided this warranty for any parts of the smokers. So, rest assured to get a replacement within this period if any of the body parts are damaged somehow. 
Commendable, right?
Final Words
As a people-pleasing brand, Oklahoma Joe never fails to impress its consumers with industry-grade grills and smokers. 
When you have to pick one between Oklahoma Joe Longhorn vs. Highland, why not go with the bigger one? Maybe you don't need the additional space right now, but you may need it in the future. 
However, as a budget-friendly alternative, the Highland is more than good though. Plus, they don't have any striking differences other than the size and cost.
So, whichever of these two Oklahoma Joe smokers you decide to buy, rest assured to witness a thrilling BBQ experience at its best. Both smokers serve their purposes pretty well.
Happy smoking.