Hey there, got a Weber Q grill? Then you must be using the original Weber Q roast rack as well to keep your meat burn-free.
But what if it's suddenly not available in your area? Wouldn't roasting be a real challenge without creating an indirect heating environment with a rack? 
Worry not, guys! I have the 5 best Weber roasting rack alternatives here that can replace the original Weber rack without charring the meat.
Without further ado, let's break them down below to see whether they live up to the promises or not!
Every product is independently reviewed and selected by our editors. If you buy something through our links, we may earn an affiliate commission at no extra cost to you.
"The roasting rack in BBQ is like a trusty assistant, helping you conquer the grill and deliver culinary excellence."

Jeff Koss
Best Weber Roasting Rack Alternatives – Top 5 Picks
The original Weber Q grill rack is indeed an outstanding product that makes roasting a snap. But the alternatives I have picked are not bad either. Some of them are truly well-made considering the craving of the BBQers for a high-quality roasting rack. Hopefully, you will find your pick below to enjoy an even grilling experience. 
HIC's Versatile Roasting Rack 
The first place is occupied by a special HIC rack which comes with ultimate versatility. Aside from roasting, it is also suitable for baking and broiling. If you are looking forward to a consistent cooking temperature, it is, indeed, a great choice then.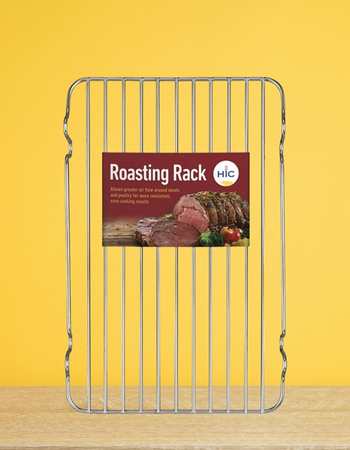 Top Features
Oven safe up to 500 degrees F

Dimensions: 11.75×7.5×1.5 inches

Chrome-plated steel wire roasting rack

Heavy-duty chrome wire surface won't rust

Allows adequate airflow to cook the meat consistently
| Specifications | Parameters |
| --- | --- |
| Brand | HIC Kitchen |
| Item Dimensions | 11.75 x 7.5 x 1.5 inches |
| Material | Chrome |
| Item Weight | 6 Ounces |
The best part about this grilling partner is the footed base that adds great stability while roasting, baking, or broiling your food. Allowing enough air circulation by keeping the meat elevated, it retains the original juiciness in the food.
And the even heat flow makes sure you get the desired brown color in the meat without charring it at all.
On top of that, the chrome wire on the surface is extremely rustproof. What's more, you can clean them with just a bit of warm soapy water. Isn't that great?
Talking about the roasting area, the 12×7.5 inches diameter is not as big as Weber's large original rack. It's even smaller than the small Weber Q roast rack.
But it makes up for the size by the versatile usage. Be it beef, chicken, fish, turkey, or seafood, the scratch-proof rack is all set to let you roast like a pro by spreading the heat evenly.
Overall, it's a must-have tool to add to your grilling arsenal.
Pros
Very affordable price range

Lightweight and easy to clean

Heavy-duty chrome makes the rack durable
Cons
A bit smaller in size

It's chrome wire, not stainless steel like the Weber Q original roast rack
Also Read: What Is The Best Size Weber Smokey Mountain Smoker?
U-Taste Stainless Steel Roasting Rack
Secondly, I picked the U-Taste roasting rack which is made of heavy-duty stainless steel. If you don't have access to the original Weber roasting rack or find that a bit too expensive, here comes its eligible competition.
Yes, the U-Taste rack offers the same category advantages in a way more affordable range.
Let's see what other specialties it offers.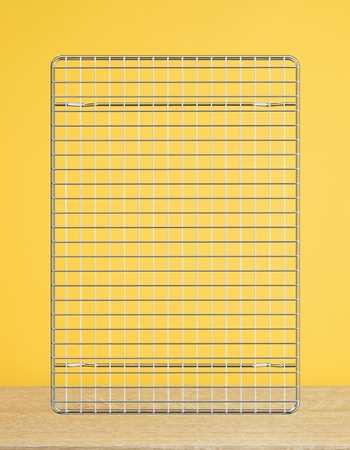 Top Features
12.2×8.4 inches roasting rack

Comes with 4 legs for better stability

Anti-rust 18/8 stainless steel construction

Thick and dense wires let not slide small items

Advanced argon-arc welding makes the edges seamless and smooth
| Specifications | Parameters |
| --- | --- |
| Manufacturer | U-Taste |
| Dimensions | 12.2 x 8.4 x 0.59 inches |
| Weight | 9.7 ounces |
First of all, it's made of premium-grade stainless steel to seal the deal with sturdiness and durability.
Resultantly, it's readily suitable for baking, cooking, grilling, or roasting whatever you like.
You can even keep cookies upon the rack, thanks to the two crossbars to make it a non-sliding one.
The wires are solid enough and you will experience no coating or plating. Unlike the cheaper chrome coating, it will not flake or rust over time.
Howsoever, an often overlooked feature is the no rough edges. Due to the seamless welding, the steel wire ends are smoothly attached without any harshness.
Although the thick wires keep the food from falling, they don't make the cleaning procedure hassling.
Just make sure not to use any corrosive liquid and dry every time you clean the rack. That's enough to make it last forever.
Pros
Helps food cool down quickly

Available in three different sizes

Strong and sturdy construction to hold heavier weights
Cons
Sometimes food sticks to the rack rails
Also Read: 10 Best Weber Drip Pan Alternatives: Finding the Perfect Fit for Your Grill
Spring Chef Oven Safe Roasting Rack
In producing high-tech kitchenware, Spring Chef and quality go hand in hand. Naturally, their roasting racks are one of the best in the market right now. The striking specifications it's crafted with are as follow-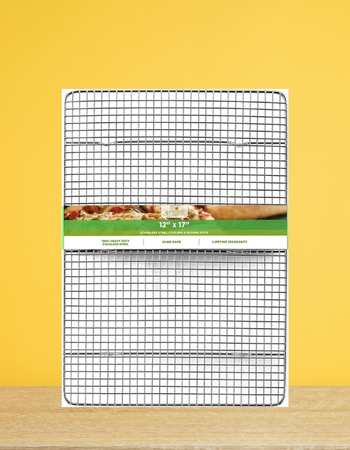 Top Features
Oven safe up to 575° F

Rust, bend, and warp-free

Dimensions: 12×17×1 inches

Made of 100% 304-grade stainless steel

Fits any half sheet cooking pan with 12×17 inches interior
| Specifications | Parameters |
| --- | --- |
| Brand | Spring Chef |
| Dimensions | 12″D x 17″W x 1″H |
| Weight | 1.54 pounds |
| Material | Stainless Steel |
As you can see, this is also made of 18/8 stainless steel like the U-Taste roast rack. As a result, you get a similar heavy-duty performance while baking, cooking, or roasting.
Being oven safe up to 575° F, it lets you bake food safely. And as there is no coating, it will never transfer any toxic element to your food like the non-stick cookware.
In fact, you get the best ever cooking experience with this high-performance cooling and baking rack, thanks to the 4 raised feet underneath. The feet are actually meant to maintain proper airflow.
They also let the food grease stay away from the meat to make it crispy.
Best of all, Spring Chef backed this product with a lifetime warranty. So, contact the manufacturers if any issue arises.
Moreover, the heavy-gauge steel leaves no room for complaints with superior durability. The warp-free engineering fits the bill pretty well.
Pros
Cleans up thoroughly with a little effort

A versatile roast rack with multipurpose usage

The tight grid spacing prevents food from sliding
Cons
A little sharp cut ends of the wires
Checkered Chef Set of 2 Racks for Roasting
This is basically a budget-friendly package of two roasting racks both of which come oven safe. And the size of the rack is so standard that it is compatible with most regular oven and cookware sheets.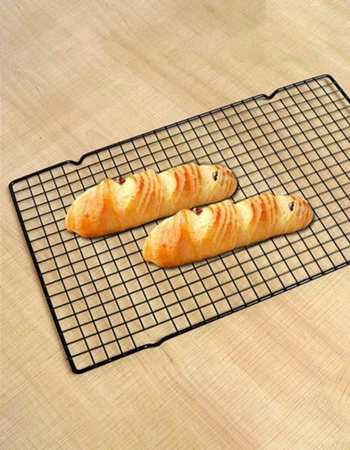 Top Features
Oven safe up to 301° C

No warping or wobbling

Made of pure stainless steel

Two 11.75×17 inches cooking grates

Keeps the food elevated from fat and grease
| Specifications | Parameters |
| --- | --- |
| Manufacturer | Checkered Chef |
| Dimensions | 16.8 x 11.7 x 0.8 inches |
| Weight | 1.54 pounds |
Whether you want to heat up your meal or cool it down, go for these amazing cooking grates with durable architecture on the whole.
With the ½" mesh grid design, you get sufficient air circulation to keep the food moisturized. And as the grid keeps your food elevated, you can enjoy a healthy meal without oil or grease.
Thanks to the tight spacing, it doesn't let any food fall through.
Most importantly, they come dishwasher safe. So, wash them up faster than ever with a minimum effort.
And the dimension is more than enough to spread large portions of meat, cookies, and more at a time. What makes it more desirable is the rust and corrosion-free design that can retain high heat.
Although we are talking about the largest size of this package, this comes in two other smaller sizes too.
Pros
Very reasonable price range

Rugged and robust ergonomics

You get live customer support from the manufacturers
Cons
It struggles to stay flat inside the oven
HIWARE Dishwasher Safe Roasting Rack
Finally, meet an exclusive stainless steel cooling and baking rack from HIWARE that can be a pretty decent substitute for a Weber original roasting rack. Let's check out its prime specifications first.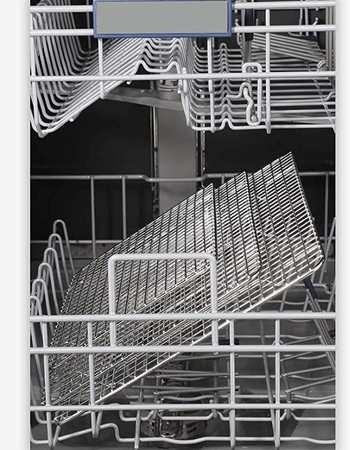 Top Features
Comes absolutely rust-proof

½" grid spacing for maximum airflow

The heavy-gauge wires are made to last

Made of food-grade 18/8 stainless steel

Features 6 lifting feet to raise the rack by 0.8 inches
| Specifications | Parameters |
| --- | --- |
| Brand | HIWARE |
| Package Dimensions | 16.22 x 11.93 x 1.26 inches |
| Weight | 1.12 pounds |
| Material | Stainless Steel |
Among so many Weber roasting rack alternatives, I particularly love this one by HIWARE for its all-around performance.
The 11.8″×16.5″ roast nook is constructed with 3 load-bearing support bars so that it doesn't ever bend. Moreover, the ½"× ½" grid spacing is quite capable of preventing food sliding.
Here you will find 6 strong and stable feet to lift the rack by 0.8 inches. Therefore, adequate airflow makes the food cool quicker.
Above all, the premium quality material lets the rack withstand both hot and cold temperatures.
As the rack follows 100% solid stainless steel workmanship, it can even last in a damp environment.
Even after rinsing it thoroughly under tap, you will find no rust spots. The highest quality steel always retains its actual shine.
All things considered, I highly recommend this cooking rack for baking, smoking, grilling, roasting, and cooling which can hold a whole chicken at a time.
Pros
Easier to use with a lifting handle

Accelerates the cooling process with the raised bottom

Extremely durable with the firm welding of the steel wires
Cons
A bit too wavy architecture instead of lying flat
What To Use Instead Of Roasting Rack
Aside from using a roasting rack, you can go for cylinders of aluminum foil to shape them in the form of a rack. Aluminum foils really come in very handy when roasting a whole chicken or a turkey. Just turn them into tight tubes and follow the regular layout of a traditional roasting rack.
How Do You Make A Homemade Roasting Rack?
If you don't have immediate access to a roasting rack, don't be disappointed. You can make your own rack at home. Yes, it's very much possible, that too with aluminum foil only.
Take a giant sheet of aluminum foil and coil it into a rope. After that, shape the foil rope a bit round like a ball and lay it on the roasting pan. That's it, you are done.
Can You Roast A Turkey Breast Without A Rack?
Why not? You just have to lift the turkey from the roasting pan. Of course, a designated roasting pan would be better. But that's not the only solution. 
You can use aluminum foil balls as well to keep the turkey breast a little bit elevated. Even a wire rack or a microwave rack would do. 
Can You Cook A Rib Roast Without A Rack?
To be honest, you can. If you place the fat side up and the bone side down on the pan, the bones will act similar to a roast rack. In that case, you need no extra rack to hold the roast.
But yes, a specially designed rack will optimize the air circulation to cook the rib more evenly on every side.
Is It Better To Cook A Turkey On A Rack Or Pan?
Well, a rack helps better while cooking a turkey. Because it lifts the meat to a notable extent from the pan so that hot air passes through underneath.
Yes, it's true that a turkey fits in a pan too. But that doesn't let the meat stay away from the direct heat to be cooked more evenly. Resultantly, it could be dried up. 
On the other hand, a roasting rack keeps the turkey elevated from food grease and oil retaining its original moisture. Also, it cooks the entire turkey smoothly and makes its skin crispier than ever.
Conclusion
Have you selected your favorite Weber roasting rack alternative? If you are still confused whether they will be as efficient as the original ones or not, let me guarantee you about their functionalities. 
They are, indeed, very well-built products with all the major specs of an original Weber rack. Moreover, they are cheaper. 
If you prefer a similar stainless steel construction with a plethora of versatilities, I recommend the Spring Chef Oven Safe Roasting Rack. Being virtually indestructible, it is the perfect choice for professional chefs.
Otherwise, you can go for the HIWARE Dishwasher Safe Rack as well for its easy cleaning convenience. 
However, the rest of the three racks also perform pretty decently whether you are roasting beef, poultry, or ribs.