Whether you are barbecuing at the beach or camping in the park, Weber Q series portable grills come in quite handy, thanks to their easy-to-clean architecture. 
Thankfully, there are a plethora of choices in this premium grill series in different sizes. In fact, it is said that you will always find a Q that will definitely suit your needs.
But are they all similar? Or are there some distinctive features to make them exclusive? Let's have a look at the Weber Q size comparison below and break down their five famous models.
Every product is independently reviewed and selected by our editors. If you buy something through our links, we may earn an affiliate commission at no extra cost to you.
Weber Q Size Comparison Among The Top 5 Picks
To be honest, you will find every type of grill in this series including electric, gas, liquid propane, charcoal, etc. Apart from dimensions and cooking surfaces, they do have some basic differences.
Of course, they share some similarities too. But the question is which Weber Q model is the right fit for you?
Let's have a look at the weber q size comparison chart to have the right grill.
Now that you know all their core features like weight, cooking area, and diameter, let's have an in-depth analysis of each model below.
"With a Weber Q grill, your backyard becomes a gourmet haven, where sizzling steaks and grilled delights reign supreme."

Jeff Koss
Weber Q Size Models – What Size Weber Q Should You Buy
To figure out the right Weber Q size, you must pay attention to the details such as the ignition system, burners, portability, etc. aside from the Q size. Hopefully, the following reviews will help find out the perfect Weber q model grill.
Weber Q1200 Propane Grill
First, let's start the discussion with the most colorful model of the bunch, the Weber Q 1200. Being the second smallest grill in this series, it is literally unbeatable when it comes to combining quality and carrying convenience. 
However, the prime specialties it comes with are-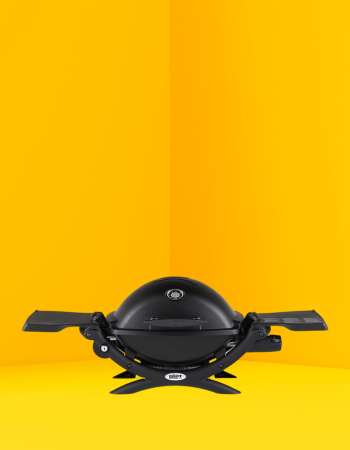 Top Features
Easy to start electronic ignition

Up to 8500 BTU output per hour

189 square inches of cooking area

Durable cast aluminum lid and body

Porcelain-coated cast iron cooking grates
---
Even if you are a novice pitmaster, rest assured that you can prepare a mouth-watering meal with this grill at the very first try.
One of the greatest advantages of this grill is the evenly heated cooking area. Be it direct or indirect cooking, you can control the temperature precisely to avoid over or undercooking.
As the grill combines big capacity with a big performance, you can rely on the cast iron cooking grates for rust-free performance. Moreover, the built-in thermometer is surely a special add-on to this package.
Previously known as Weber Q 120, now it's popularly known as Weber Q 1200. Although the performance is similar.
But the advanced model is blessed with some exclusive features such as the durable side handles, larger grip on the control knobs, strong front and rear cradles, ergonomic side table, etc.
This propane-powered grill is perfect for tailgating or camping with lightweight construction.
In fact, it's one of the best Weber Q grills for grilling on the go.
Pros
Infinite burner control valve

Allows a grate/griddle cooking combination

Sturdy and shroud stainless steel construction

Inbuilt thermometer to observe inside heat flow

Compatible with both low and high-temperature

3D interactive assembly instructions through the BILT app
Cons
Not suitable for higher altitudes

The valve cover should be a little larger
Also Read: Best Size Weber Smokey Mountain
Weber Q1000 Propane Grill
Fast forward to the Weber Q 1000 model, all we can say is that it's quite identical with the Q 1200. Be it the cooking area or the BTU output, you get the same result. But they differ in terms of some feasible features as well.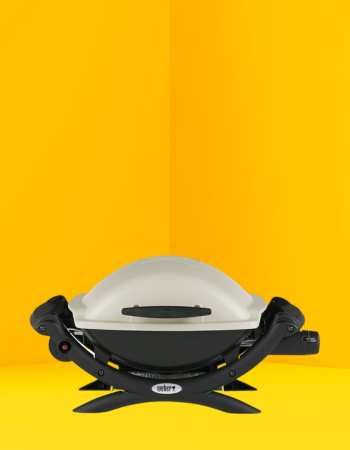 Top Features
Comes fully assembled 

Easy push-button ignition 

Rust-free cooking grates with porcelain coating

Compatible with disposable 14.1 and 16.4 oz LP cylinder

Sturdy stainless steel burner with superior heat resistance
---
Well, the first point it differs from the 1200 size is the ignition system. Unlike the Weber Q 1200, it comes with a clicky push button. 
However, you get the same 189 square inches of cooking space which is large enough to sear burgers, hot dogs, steaks, chicken, or vegetables. 
Being the smallest design in the series, it can literally accompany you anywhere and everywhere. 
The universal chrome color is perfectly complemented by the glass-reinforced nylon frame. And thanks to the separable catch pan, cleaning this grill becomes a breeze even when back on land.
Being crafted with a premium-grade cast aluminum lid and body, the grill is quite durable compared to its price. Of course, it comes cheaper than the 1200 model. 
Nevertheless, you need to be a bit forgiving about the side tables as it doesn't include any. Also, there is no built-in thermometer to check the inside temperature.
But the good thing is you can connect it to a 20-lb tank through an LP adapter hose. What a cost-effective deal it is!
Best of all, you need not assemble it on your own. It comes ready assembled out of the box. 
Pros
Easy to clean

Very cost-effective

Easy-to-operate push-button ignition 

Lightweight and durable architecture 

Sturdy side handles with comfortable grips
Cons
Doesn't have a built-in thermometer 

You may find the lid shallow to cook roasts or ribs
Also Read: 5 Best Weber Roasting Rack Alternatives You Can Go For
Weber Q2200 Propane Grill
Here comes our third pick, the Weber Q 2200 propane grill. Let's look forward to its key specifications to learn more about this amazing product.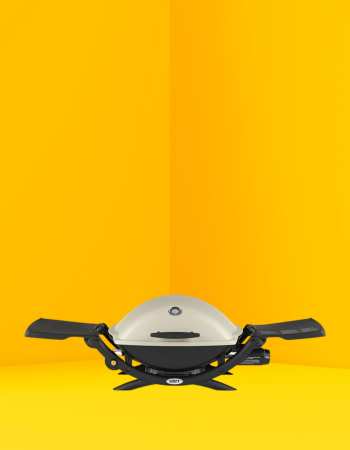 Top Features 
Easy electric ignition 

Up to 12000 BTU per hour

Includes two folding work tables

Strong and stable stainless steel burner

280 square inches of larger cooking area
---
Although it's way larger than the 1000 series in terms of cooking space and diameter, that doesn't affect the portability at all. In fact, the Q 2200 is also as portable as other grills of Weber.
Indeed, it can be a great inclusion in your grilling armory if you prefer a spacious grilling surface. The 280 square inches of area lets you cook roasts, ribs, chicken, or turkeys pretty comfortably. 
That's why we highly recommend this propane grill for full-size grilling. 
In terms of BTU count, it outperforms the previous two models with a 12000 high BTU output. No wonder you can grill on really high heat if needed. 
Moreover, the porcelain-enameled cooking grates also perform pretty well to battle against rust and peel.
Similar to the Weber Q 1200, it too comes with an inbuilt thermometer that accelerates the easy start of the grill. You can light it up quite easily with the electronic ignition system.
Above all, we were blown away by the two folding side tables that keep all the hassle of grilling at bay. Resultantly, we found it the most feasible solution for cooking any meal.
Whether it's about preparing lunch or serving some guests at the dinner table, you will love every bit of this tabletop grill.
Pros
It burns the propane quite clean

Requires minimal assembly

The burner heats evenly

Withstands a lot of use

Removable catch pan
Cons
A bit expensive

Sometimes, it gets excessively hot
Weber Q2400 Electric Grill
Next on the lineup, let's break down the Weber Q 2400 electric grill to see how their electric products perform.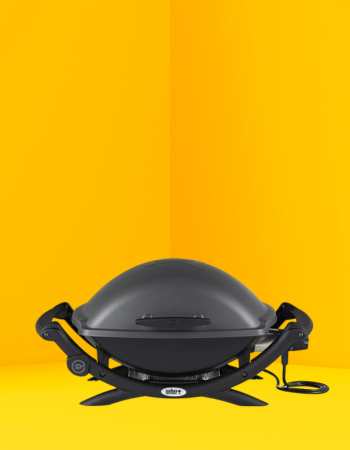 Top Features
Includes a 6-foot grounded cord

1560-watt electric heating element

Durable cast aluminum lid and body

280 square inches of total cooking space

Comes completely assembled out of the box
---
Talking about this irresistible grill, the key differentiating fact from the other Q series grills is that it's an electric one.
Unlike the propane grills, it doesn't come with stainless steel burners. Instead, it includes 1560-watt cooking elements to grill your food evenly.
As already mentioned, it delivers the same cooking space as the 2200 model- 280 square inches. We think it's more than enough to grill a whole chicken or a small turkey.
And as they don't depend on gas fuel, there's no need for a button to light up the grills.
Being restyled back in 2014, the previous Q 240 is now renamed Weber Q 2400. Certainly, there are some new functional features to speed up the performance of the grill.
For example, you get strong and sturdy side handles to carry it comfortably. Besides, the control knobs and the front and rear cradles also come in handy to operate it smoothly.
On top of that, the larger grilling surface allows for cooking a lot of items in a different way. Be it grilling chicken, veggies, fish, or searing burgers, you get unfailing results even at the first attempt.
In addition, it's a full-featured grill with some unique aesthetics to let you enjoy grilling on the go.
Pros
Infinite heat control settings

Fully featured grill with loads of

Porcelain-coated cast-iron grates

Includes aluminum heat retention liners

Easy cleaning with the removable catch pan
Cons
A bit heavyweight

Solely for outdoor use
Weber Q1400 Electric Grill
Lastly, let's check out another electric grill from Weber Q series, the Q 1400. According to features and functionalities, it's pretty similar to the Q 1000.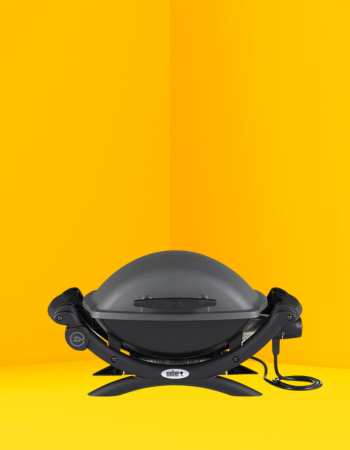 Top Features
6-foot grounded cord

Made of heavy-duty aluminum

1560-watt electric heating element

Lid closed dimensions: 14.5″×27″×16.5″

189 square inches of total cooking area
---
As the name suggests, this is a small electric grill with 189 square inches of cooking space. Weighing only 29.3 pounds, it fits well on your backyard balcony.
As a result, it helps accomplish your long wish of urban barbecuing. Just plug in this cute little grill and have your favorite meal prepared.
The cast aluminum lid and body seal the deal by preparing it to withstand several usages in a row. Moreover, the infinite heat control settings permit precise temperature control to grill food perfectly.
Previously, it was known as the Q 140 model. With the technological advancement in the grill, you don't only get a new name but some exclusive amenities too.
Being smaller in size, it's a space-saving product with superior portability. And being electric powered, even if you don't have the permission to use a gas or a charcoal grill in your residential area, you can BBQ hard with it.
Aside from that, it has 8.25 watts of heating element per square inch. And as we all know, math never lies. Therefore, this small yet sturdy holds up heat pretty well. Even more, it gets hot quicker.
So, overall, it's a decent deal for the price.
Pros
Glass-reinforced nylon frame

Superior heat holding capacity

Comfortable grip on the handle

Infuses authentic grilled taste in food

Strong and durable cast iron cooking grates
Cons
For outdoor use only

A bit tough to clean the metal tray and grill plates
How To Tell What Size Weber Q You Have
Suppose, you have a Weber Q but you don't know the size. What will you do if you need to replace a specific part of the grill?
Will you measure the cooking surface? That doesn't always work as some Weber Q models offer similar grilling areas. 
Wait, wait. Don't get daunted already. It's not rocket science. Simply check out the serial number and you will get the answer.
Different models have serial numbers in different places. So, it's very important to have a clear idea where the serial number of the Weber Q grill is located.
For Baby Q, Q 1000, and Q 1200- you will get it located in the backside frame. And for Q 1400, Q 2400, Q 2000/2200, and Q 3200- look in the rear leg frame.
Once you find the serial number, type it in the search box on the Weber website. You will get to know which Weber Q size you have within seconds.
What Is The Smallest Weber Q?
Being launched back in 2003, the Weber Q series came with some amazing portable grills in different convenient sizes. But the smallest grill of this lineup is known as the Baby Q (100/1000). It's indeed a very lightweight and portable grill. At the same time, it's pretty powerful as well.
Is Weber Q Worth It?
Absolutely yes. If grilling is your prime purpose, these girls from the Q line are unbeatable. They offer a perfect sear on the steak. Moreover, you get to choose from many sizes to suit all your grilling needs.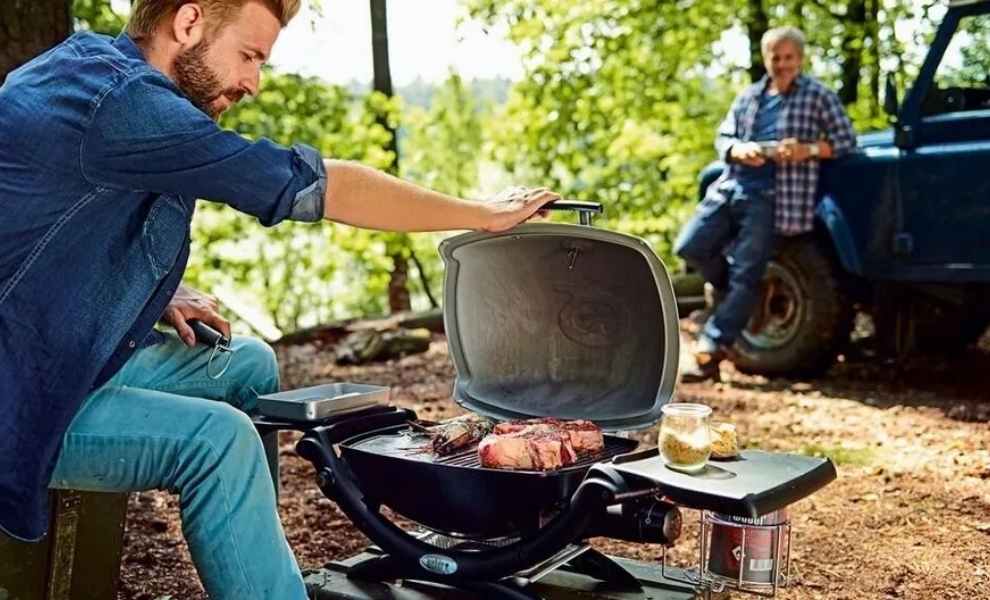 Aside from grilling, some Weber Q grills also permit roasting and searing. The cast-iron cooking grates are great to fight against any rust or peel. Furthermore, they are creatively designed to bypass the food grease not affecting the direct heat flow.
You cannot but love the impressive cooking surface, sturdy architecture, and lightweight ergonomics. Being portable, most of the sizes perfectly fit both your backyard balcony or support grilling on the go.
So, yes, they definitely are worth the price and the hype.
How Big Is Weber Q1000?
Although the smallest in the series, the Weber Q 1000 is big enough for perfect grilling for a few guests. With the dimensions of 16.5×27×14 inches, it offers 189 square inches of cooking area, similar to the Q 1200 and Q 1400 models. Moreover, it weighs only 16.4 ounces to be carried easily.
Can You Boil Water On A Weber Q?
To be straightforward, yes, you can boil water on a Weber Q grill if you don't have a stove. But you need to heat the grill plate enough so that it transfers the heat to the water kettle. Also, the grill will consume excessive gas. So, it's better to boil water on a Weber Q occasionally, not regularly.
Can You Cook A Roast In A Weber Baby Q?
Yes, you can. Just make sure to preheat the grill properly but not to burn the bottom of the roast. If everything's done properly, it delivers an irresistible flavor to whatever you roast, beef, chicken, lamb, or fish.
What Size Gas Bottle For Weber Q 2000
You need to use a gas bottle of 4.5-9 kg for your Weber Q 2000. You can choose any size from this range.
What Size Box To Store Weber Q Grill
If you want to store your Weber Q securely, especially the Q 1200 or Q 1000 size, a 35-gal box is the perfect choice for that.
Conclusion
Weber is a world-famous name that makes some amazing grills- all by grillers and for grillers. Among their innumerable choices, the Q series holds a special place in everybody's heart for its versatile range of products. You get a lot of portable and stationary grills in several sizes. 
However, choosing the right size of Weber Q could be more challenging than you thought. Despite the varying model numbers, they can be identical on cooking surfaces.
On that note, we prepared this guide on the Weber Q size comparison that includes their top five models with all their pros and cons. 
Hopefully, you can now check on their details and decide on the appropriate size of Weber Q for you.