Some accessories allow you to utilize your instant pot to its full potential. You will be surprised to know how versatile your instant pot can be with the right accessories. That's why I have created a detailed review for you to help you find the best 10 qt instant pot accessories.
Every product is independently reviewed and selected by our editors. If you buy something through our links, we may earn an affiliate commission at no extra cost to you.
If you don't want to miss out on some of the best options available on the market, make sure to go through the entire article.
7 Best 10 Qt Instant Pot Accessories You Can Go For
I have evaluated all the necessary aspects while selecting the following options. So, you can rest assured that none of them will fall short in any attribute.
5 Piece Bundle for 10 Quart Instant Pot
This 5-piece bundle for your 10 qt instant pot is entirely something else. If you are looking for a way to increase your instant pot's usability, this is one of the best starter kits you can get. All the accessories that come in this pack are perfect fits for a 10 qt instant pot. They have a large capacity so you can get all your cooking done using the same unit.
I will get to the details in a minute. Take a look at the top features and you will know why this package is worth your money.
The price you're getting is extremely reasonable, considering the features you're getting.
Top Features
Dishwasher-safe

Safe-saving design

All accessories are food safe

Made of premium-grade silicone

Complete pack of five accessories
---
Let's talk about what the package includes first. You will be getting a stainless steel inner pot, a silicone lid, a silicone lifter sling, a silicone steamer basket, and a tempered glass lid. All the accessories are made of food-grade materials.
The silicone used for making these are entirely safe to use for cooking. It's BPA-free and premium-grade. So, you won't have to worry about risking your health when you're using these.
The steamer basket is large, which allows you to cook a big meal without taking much time. However, it's collapsible so you won't need much space to store it.
If you're thinking about slow-cooked meals, there can't be a better accessory than the tempered glass lid. The durability and the space-saving design are some cool features that I admire. It has passed a seven feet drop test. So, you can trust it to be durable.
The handle on the lid allows it to stand freely, so you can store it without blocking much space in the kitchen. It's also an excellent seamless fit for the instant pot. Besides, you can use it as a replacement lid for other pans and pots too.
The lifter sling comes with long handles and can hold up to 15 pounds of weight. As for the silicone pot lid, it can create a solid seal on containers to make them airtight.
Last but not least, the inner pot made of stainless steel deserves some attention. It creates topcellent heat distribution to evenly cook the food. Besides, there are measurement guides on the pot that makes cooking easier for even beginners.
Another thing I must mention is that all the accessories are dishwasher-safe. So, no need to worry about cleaning it either.
Pros:
Space saving

Easy to use and clean

All 5 pieces are food safe
Cons:
The lid doesn't fit the smaller-sized instant pot
Silicone Leak-Proof Inner Pot Lid
Let's say you don't want to spend a lot of money on multiple accessories that you don't need. The one I am about to review right now will surely make you consider this option. It's a silicone pot lid for the inside of your instant pot.
Several advanced features of this lid have kept this lid ahead of its competitors. It is hard to make a list of the top features of this lid because there are so many.
I am confused about which ones to keep and which ones to skip. Let's see.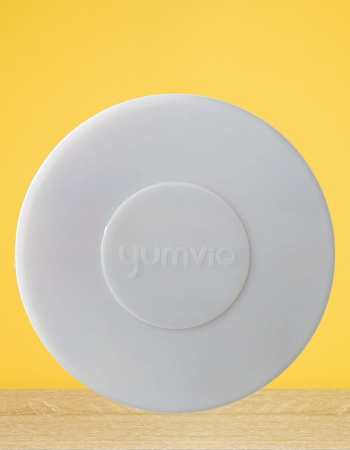 Top Features
Perfect fit

Leak-proof

Dishwasher-safe

Creates an airtight seal

No BPA or any other toxic chemicals
---
The first thing I would like to emphasize is how convenient this product is. When you want to store the food that you cooked in your instant pot, you always transfer it to another airtight container.
However, this lid will allow you to transform your instant pot's inner to an airtight container to reduce the work. Storing the food has been facilitated with this lid.
Even when you want to carry your food somewhere, you can simply carry the inner pot after you're done cooking it. It helps you to keep the food warm or cold for some time due to its capability of making the pot airtight.
Many silicone-made products tend to get damaged at high or low temperatures. You won't have to worry about that if you decide to go for this lid. It can cover hot or cold food without getting damaged.
Besides, it doesn't leave any smell on the food like many other silicone-made covers either.
Everyone knows the struggle of scrubbing a mess made from food. This lid saves you from that misery in multiple ways. For starters, it's dishwasher-safe. So, you don't need to wash it manually. Secondly, its leak-proof design prevents food spills and reduces hassles.
One thing I must mention is the use of safe materials. Even though everyone assumes this feature to be a must-have, not all products available in the market are made of food-grade and safe materials.
However, with this lid, you can rest assured that you're using a clean and hygienic lid to cover your food. There is no BPA or any other toxic chemicals in this lid that will cause any hazardous situation.
All in all, this is one of the best lids you can get for your instant pot inner.
Pros:
Very easy to clean

It can endure high heat

Keeps the hot food warm

Perfect size and design for 10 qt instant pot
Cons:
It May not perfectly fit in the instant pot other than Duo Nova
Also Read: 5 Best Instant Pot 8 Quart Air Fryer Lid
Stainless Steel Dishwasher-Safe Inner Pot for 10 Qt
Maybe your inner pot of the instant pot got damaged or you want to get a spare one for convenience. Either way, one of the best options is to stick to this 10 qt inner pot for your instant pot. You must be wondering why you should choose this one over the other ones available in the market.
I believe that, after seeing the features and the review, you will know why no other pot can be a replacement for this one. After all, everyone wants an inner pot that resembles the original one.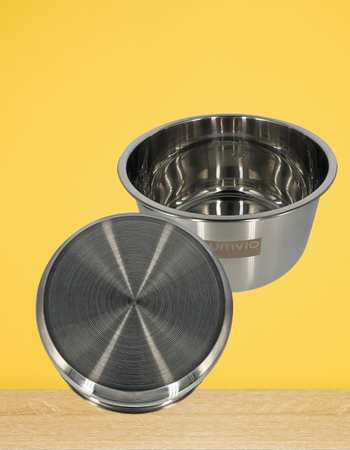 Top Features
Dishwasher-safe

Excellent heat distribution

304 food-grade stainless steel

Comes with measuring instructions

Specially made for the 10 qt instant pot
---
If you've somehow damaged or misplaced the original inner pot that came with your instant pot, you can get this amazing one as a replacement. 
The quality resembles the original one and you can get the best out of it without any doubt. Even if the original pot is intact, you can always make use of a spare one. Now, let's talk about why you should choose this one in particular. 
First of all, there are measurement markings on the pot. The markings come in both cups and liters. So, even if you are a beginner at cooking or using an instant cooker, you can trust this pot blindly. 
The heat distribution of this pot is amazing. The temperature is evenly distributed to the entire pot while you are cooking, which ensures a perfectly cooked meal. This heat distribution is ensured by the three-ply bottom of the pot. 
As for the material, you can expect to experience the best only. It's not every day that you see 304 stainless steel on an affordable pot.
It's entirely food-grade and there's no presence of toxic materials. So, keep your mind at peace thinking that you are only using the best materials for cooking your food. 
The durability and sturdiness is nothing to ignore when it comes to a pot. You can rest assured that the pot won't disappoint you in a very long time. Unless you lose the pot somewhere, you can hardly damage it with usage. 
Lastly, the pot is super-easy to clean. Simply put it in the dishwasher and you won't have to do any manual cleaning to maintain it. Overall, if you're looking for a replacement for your instant pot inner, this is one to go for.
Pros:
Absolute performance

Makes instant cooking easier

Available at a reasonable price
Cons:
Only compatible with the Duo Nova 10 qt Instant Pot
Also Read: Best Steamer Basket For Pressure Cooker (Top 5 Picks)
Silicone Replacement Food Grade Sealing Ring
Another 10 qt compatible accessory I would like to recommend is this food-grade sealing ring. If you love to cook, you must already know that sealing rings are a vital component for the instant pot pressure cooker. If the cooker isn't airtight or sealed properly, it can ruin your entire dish. 
So, if you want to make sure that the instant pot is doing its job the way it's supposed to, consider getting these sealing rings. Let's see what you will be getting.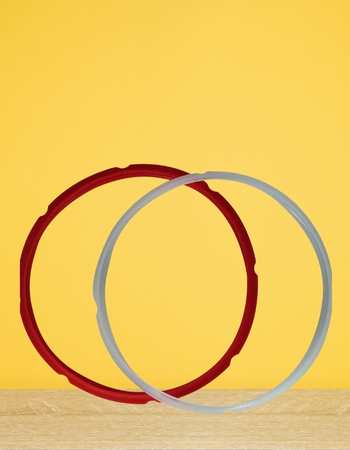 Top Features
2-piece pack 

Dishwasher-safe

Food-grade silicone 

Leak-proof and airtight

Avoid mixing up flavors
---
You can make your instant pot leak-proof and airtight using the right sealing rings. However, that's what the rings are supposed to do, so I won't be emphasizing this feature. The other features you will get with these rings are way more exciting. 
Let's start with the least exciting one. These rings are dishwasher-safe to reduce your manual labor around the kitchen. Besides, even if you decide to clean them manually, it won't be a tough job at all. So, cleaning isn't an issue even if you don't own a dishwasher. 
The absence of harmful material is one of the vital features of this product. When you're using an accessory while cooking, it's essential for the product to be free from any toxicity. 
Or there will be unwanted substances leaching onto your food. These rings do not contain any harmful chemicals like BPA, lead, and phthalates. So, you won't have to worry about consuming anything harmful. 
I mentioned in the top features section that the rings avoid mixing up flavors. That was unambiguous. Let me clear that up. When you use a sealing ring for cooking spicy dishes and use the same ring for cooking sweet dishes, you will notice that the sweet dish's flavor is a bit messed up. 
Having two separate rings will allow you to use them for different food types. You can enjoy the dishes' original flavors without any mix-up. 
It's an affordable option. So, if you know someone who is passionate about cooking and owns an instant pot, I suggest you consider this as a gift for them. It will certainly be a unique and thoughtful way of making someone happy without emptying your pocket. 
Pros:
It's 100% food grade

Ensures leak-proof sealing

Requires minimal effort to clean
Cons:
You may need to shrink it for your next use
Also Read: Instant Pot Red Sealing Ring Vs Clear – Everything You Need To Know!
Standing Dishwasher Safe Glass Lid
The name may sound a bit weird. I mean, what even a standing glass lid is? Well, let me tell you. The handle on this glass lid is structured in a way that you can keep it free-standing. It facilitates storing and keeping it on any solid surface. 
Despite these unique features, it's not the only advanced attribute that you can admire. Among many other features, the following are the best ones that come to my mind.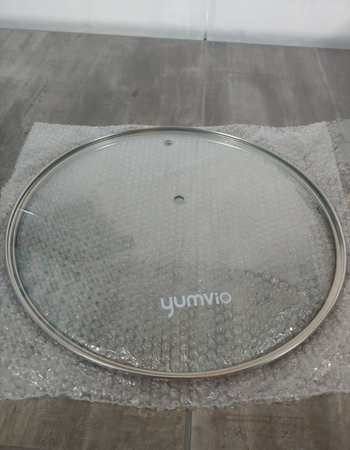 Top Features
Seamless fit 

Low-maintenance 

Durable and sturdy 

Save-spacing design 

Perfect for slow cooking
---
As you can see, this lid is full of rich attributes. In addition, the price isn't crazy either. So, if you need a versatile lid for multiple pots and pans, there's no reason to neglect this lid. 
It's a colorless 11-inch tempered glass lid. So, you can monitor your cooking procedure and food condition with ease. Your instant cooker is an awesome appliance to have around. 
Nonetheless, if you want to push the appliance to its greatest limits, some moderations are required. 
For instance, when you're using the default lock-lid for slow-cooking meals, the pressure can overcook the food. So, what can you do to solve this issue? You can have a tempered glass lid as an alternative that fits your instant pot. 
Well, you won't have to worry about fitting as the lid is designed specifically for a 10 qt instant pot. Besides, you can use the lid with other pans and pots too. So, you're spending money on a lid that's not specific to one thing. 
The next thing I would like to mention is the most unique feature of the lid. While other lids and covers require to be stored horizontally on the kitchen countertop, this one can stand vertically using the handle.
This is an extremely useful feature if you want a clutter-free area around you. There's nothing more soothing than a tidy kitchen. 
One thing some users may freak out about is that the lid comes unassembled to prevent damage. You will be surprised to see how easy it is to assemble. All you need is a working screwdriver to assemble the parts. 
The primary goal of this lid is to utilize the saute, slow cook, and the steam option of your instant pot. However, there's a secondary benefit you can enjoy. You can store the food you cooked directly in the pot using this lid. 
Not having to transfer the food to another bowl only means one less cutlery to clean. After all, not all containers are dishwasher-safe like this lid. 
Pros:
It's dishwasher safe

Suitable for any pot which is 10 qt

Its handle doesn't get hot when cooking
Cons:
Need to handle with care as it's not antifragile
Also Read: Instant Pot Lid Cracked (Reason & Solution)
Space-Saving Steamer Basket for 10 Qt
A space-saving steamer basket is everyone's dream. Adding variety to your instant pot has never been this easy. Who thought that a silicone steamer basket can be so useful for people who own an instant pot? Let's not talk about it vaguely anymore. 
Before getting into details, let me tell you some awesome features you can expect from this steamer basket.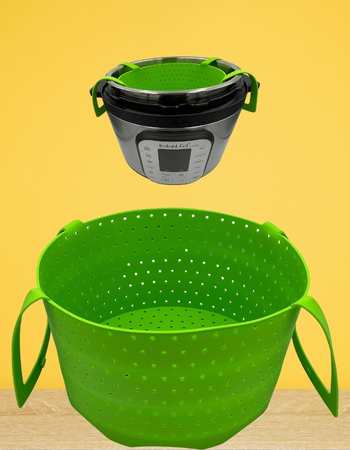 Top Features
Large capacity 

Dishwasher safe

Food-safe materials

Perfect fit for a 10 qt pot

Collapsible save-spacing design
---
The silicone used for making this steamer basket is free from any toxicity. There is no BPA in it and it is premium-quality food-grade LFGB silicone. You can be at peace that nothing harmful will be released to your food when you're using this steamer basket. 
The most highlighted feature of this steamer basket is its save-spacing design and rightfully so. People often skip buying utensils only because they take up too much space in their kitchen. 
With an urban lifestyle, you want your kitchen to have as few utensils as possible. With this collapsible steamer basket, it will be almost like not owning anything at all. 
However, don't assume that the save-spacing design has any impact on its capacity. It's large in size and you can get your cooking done in no time using the basket. It is 5.9 inches in height so you can guess how much food it can hold in one go.
One underrated feature of the steamer basket is the handles. They are long and very convenient to hold, especially when you're straining your steamed food.  
Even though silicone-made utensils are usually very easy to clean, this one comes with a dishwasher-safe option. So, cleaning it after each use is no issue at all. 
You can also give it as a present to someone to express your gratitude towards them. Anyone who is in love with cooking will be overwhelmed with a gift like that. 
So, whether you're steaming vegetables for yourself, your guests or you want to gift it to someone, there is no way to get disappointed with your purchase. 
You can always make your instant pot more functional if you choose the right accessory. 
Pros:
It's durable 

Easy to clean

It's foldable and food grade
Cons:
Also Read: How To Clean Instant Pot Before First Use After Every Use
Silicone Extra Large Lifter Sling for 10 Qt
The last one I kept on this list is the silicone lifter sling. It's probably one of the most underrated accessories of an instant pot. However, it's one of the most essential units to have around the kitchen, in my opinion. It allows you to lift any plates, bowls, containers, or food from the instant pot, without any hassle. 
It also keeps your hands safe from burning. I will get to these in detail. But first, let's take a look at the top features.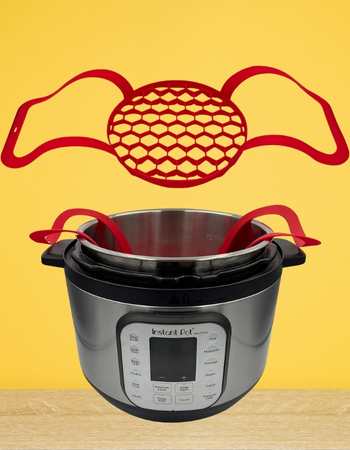 Top Features
Easy to clean 

Long handles

Food-grade silicone

A capacity of up to 15 pounds 

Perfect fit for a 10 qt instant pot
---
A lifter sling will allow you to lift any kind of insert, bowls, plates, or pots with ease. As long as the food is below 15 pounds, there shouldn't be an issue with lifting. And as you can imagine 15 pounds is a lot when it comes to food. 
The handles are the special feature of this lifter sling. These allow you to keep your hands out of the way. So, no matter how hot the container is, you can lift it without any problems whatsoever. 
It's also entirely dishwasher safe, which eases the cleaning process. That's another feature to consider when buying a lifter sling for your instant pot. The material used for making this product isn't harmful at all. 
There is nothing in the lifter that can release toxic substances. It's made from BPA-free premium-grade LFGB silicone. In other words, the unit is food-safe.
The price isn't wild either. For most people, it's an affordable price range. The features it offers are worth the asking price. Besides, it's reusable, so it will last a long time even if you use it regularly. 
Most of the time accessories that are made for the 10 qt instant pot aren't a perfect fit. You will be happy to know that's not the case with this lifter slinger.
It's 9.5-inch in diameter, which perfectly sits inside the instant pot and helps you lift the inner. Any instant pot measuring 10 qt can hold this inside and facilitate operating the unit. 
As you can see, this lifter sling has all the features you would want in an instant pot accessory. So, don't forget to explore this option when buying 10 qt instant pot accessories. 
Pros:
Easy to clean

Comfortable to grip

Endures heavy-weight
Cons:
You may require a brush to properly clean it
Conclusion
Everyone loves their instant pots and rightfully so. It's something that makes your way more convenient around the kitchen. As a cooking enthusiast, I believe this to be an absolute necessity. For the same reason, I took this responsibility upon myself to find some excellent 10 qt instant pot accessories and share them with you. Hopefully, this article will help you as much as these options have helped me.