Looking for a convenient Egg accessory to widen your BGE's side profile? You can rely on either side shelves or Egg mates. Both are very practical additions to the Egg to enhance your grilling experience. 
But what makes them different from each other?  Which will be a better buy to make the best use of your Big Green Egg?
On that note, let's have a detailed discussion on Big Green Egg shelves vs mates pointing out their similarities and distinctions. 
By the end of this guide, you will understand which is a better buy for your BGE and why.
So, let's dive in!
Big Green Egg Shelves Vs Mates – Quick Comparison Overview
A Big Green Egg is undoubtedly awesome grilling gear. But if you want to enjoy the fame of the best grill master in your neighborhood,  you need to add some additional accessories to the base model.
One such accessory is an Egg mate. Speaking of which, there are two variations, Egg mates and side shelves. 
Indeed, both serve pretty much the same purpose of expanding the side profile of your Egg. 
They are quick and convenient additions to a BGE offering an extensive work surface right where you need them. 
What makes them different is the architecture. The side shelves are usually made of high-density polyethylene with multiple slats. 
Resultantly, these composite shelves are not subjected to weather or humidity changes. Moreover, they are rust and corrosion-resistant. 
You can use them for years without any worries. And guess what, they need little to no maintenance. 
So, cleaning these shelves becomes a breeze with mild household detergent. Or sometimes you can just hose them down with regular water.
Best of all, these side tables are extremely easy to install. All the hardware will be provided by the manufacturers.
You just need to screw them up. Hey, don't fret! They come with the necessary instructions for fast and facile installation. 
However, the only issue with these shelves is that they don't allow you to place anything hot on them. Apart from that, they are absolutely worth every penny with their practical heavy-duty engineering. 
Now, if I talk about the Egg mates, they are certainly higher in quality. 
In most cases, they are made of sustainably sourced Acacia wood with stronger mortise and tenon joints. Therefore, they look beautiful with no visible screws from the top.
Since these mates feature a light coating of oil with UV stabilizer, they offer a convenient working and serving surface on both sides of your BGE.
Above all, they are suitable for any outdoor conditions. 
But they come with a higher price tag compared to the shelves. Plus, they require more care and maintenance as wood is supposed to stain easily.
So, for a cheaper price tag and easier cleaning/maintenance, most Egg users go with the side shelves. 
However, they don't look as elegant as the wooden Egg mates. If the look is all you care for, the Egg mates would be your better bet.
Also Read: Conveggtor Vs Plate Setter – Mystery Revealed
KAMaster Side Shelves for Large Big Green Egg
First, let's explore the KAMaster folding side shelves that readily fit in your BGE with minimum assembly. If you need ample storage space in your large BGE, try these heavy-duty side shelves right away. These are durable, foldable, and offer excellent value for money.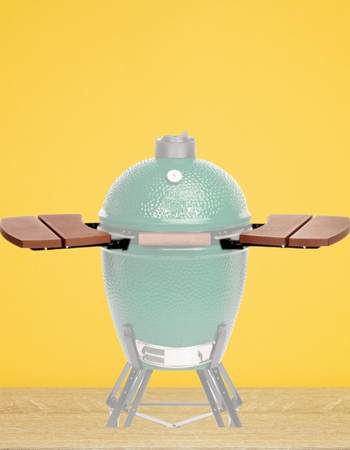 Top Features
Rectangular in shape

Durable HDPE material

Foldable when not in use

2-slat side shelves for large BGE

Easy assembly with the included hardware
---
Being rectangular in shape, they come with unmatched conveniences by adding sufficient working and serving spaces to your Egg.
Moreover, the HDPE material makes the side tables resistant to heat, cold, and corrosion. No wonder these super durable side shelves serve for years.
Another good point about these KAMaster side tables is the low maintenance. In fact, that's the key for many Egg users to fall for these metal-made shelves.
With a little bit of care, you can keep them new for years. You can wash them with your regular household detergent.
Nothing new is needed to take care of these shelves. Still, if you find any issues, contact the manufacturers.
As the products come with a 1-year warranty, most likely you are going to get a replacement. They offer very good customer support, indeed.
Pros
Fits a large BGE perfectly

Very affordable price point

It comes with all hardware and necessary instructions to install the shelves
Cons
Doesn't include an egg nest in the package, you need to buy it separately
Also Read: Big Green Egg Reggulator Vs Daisy Wheel – Vent Cap Showdown
Dracarys Grill Side HDPE Shelves for Big Green Egg
Next, I have another HDPE side shelf for your large BGE from Dracarys. Similar to the KAMaster Side Shelves, this one also features HDPE to be rust and corrosion-resistant. Let's break down its key specifications below.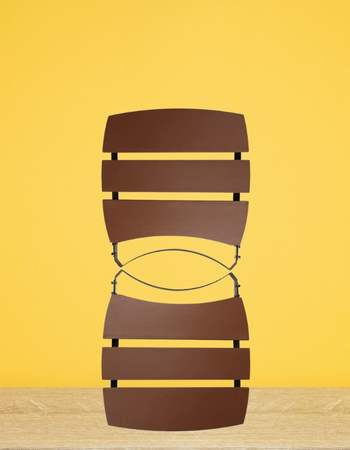 Top Features
Comes with a 1-year warranty

Very easy to clean and maintain

Relatively easy to be assembled

A 3-slat model for extended working area

Made of high-density polyethylene (HDPE) to last long
---
That's why you can use the side tables as long as you want with little to no maintenance. Just hose them down occasionally and they will remain forever clean.
Another USP of using these composite shelves is that the HDPE is health- and environment-friendly. So, you can place any food or cooking tool on the shelves unhesitatingly.
Dracarys designed these side shelves with utmost care to enhance your grilling experience with BGE. Resultantly, they attach to your Egg within minutes with the included hardware.
Moreover, you can fold them when they are not in use. So, you can cover your Egg with the existing cover without any hassle. The folding side tables will not occupy any extra space.
Best of all, the high-density polyethylene makes the shelves UV resistant. Nevertheless, you cannot put anything hot on the shelves. So, beware!
Pros
Fold down neatly to fit under the BGE cover

The HDPE shelves are way more durable than wood

Covers a 3-year replacement warranty for the screw kits
Cons
They are not heat resistant and therefore, you can't place any hot item on the shelves
Also Read: Looftlighter Vs Eggniter For Big Green Egg – Which One Is Best
Big Green Egg Acacia Egg Mates for Large Eggs
On the final spot, I have a pair of Egg mates for your consideration. These modern-style Egg mates from Big Green Egg itself are brilliantly designed with space-saving features. Let's point out the prime specifications first.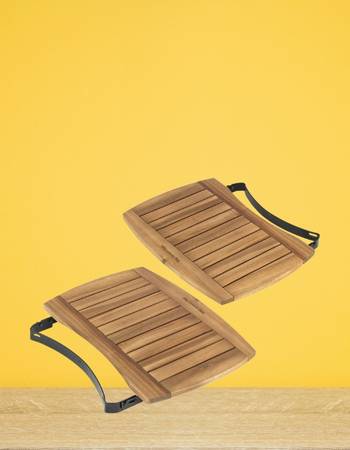 Top Features
Folds down neatly and quickly

Strong and durable construction 

Fast and straightforward assembly

Attaches to the lower band of the Egg

Made of sustainably harvested Acacia wood
---
Acacia wood uses mortise and tenon joints which are strong, sturdy, and less affected by expansion/contraction because of temperature and humidity changes. 
This is the same style that is used for high-quality furniture and cabinets. No wonder, you will find these wooden mates extremely useful.
At the same time, they are low maintenance. Big Green Egg built these mates with a light coating of oil with UV stabilizers.
Talking about the size, the larger Acacia mates are architectured for a large Big Green Egg in 21″×15″. 
However, you need to pay more to add these beautiful wooden mates for your Egg. 
But as long as they look beautiful and offer unmatched working space, you won't mind spending more, right?
Pros 
No visible screws from above

Heavy-duty mortise and tenon joints

Provides working space on both sides of the Egg
Cons
A bit more expensive 

Sold in pairs, you cannot buy a single mate for one side only 
Also Read: Eggspander Vs Adjustable Rig – Which Will Work Best For You?
Differences Between Big Green Egg Mates And Shelves
Despite serving the same purpose, which is to add extensive working surface in your BGE, side shelves and mates are quite different in some aspects. 
Let's study their distinctions below so that you can pick the better one between these two.
Design
First of all, they differ in design. The side shelves usually come with 2 or 3 slats. You can choose one based on your requirements. Of course, the 3-slat models are wider to add bigger working space to your Egg.
On the other hand, the wood mates don't come with slats. They are engineered as whole sections with space-saving features.
Material
Do you know the biggest difference between a composite side shelf and a mate for BGE? Yes, you guessed it right. The material it is. Usually, shelves are made with HDPE. 
On the contrary, mates are manufactured with different woods, preferably Acacia. 
Maintenance 
Due to the difference in manufacturing materials, they also differ in maintenance. Most Egg users prefer composite side shelves for their low maintenance. You just need to occasionally clean them with mild detergent and water.
But a BGE wooden mate is subjected to stain and weather change. So, you need to maintain them a bit more carefully.
Heat Resistance
On the HDPE side shelves, you cannot place any hot items directly. This will melt down the slats. However, that's not the issue with a wooden mate and that's what makes a mate more efficient. 
Durability 
As we all know, wooden mates will be more subjected to stains, corrosion, and rot.
On the contrary, the high-density polyethylene makes the side shelves rust and corrosion free. As a result of this fact, the side tables are more long-lasting, maintaining a new outlook for years.
What Are The Similarities
Enough of the differences. Now, let's look forward to the similarities below.
Working Space 
Both products are manufactured with comprehensive working and serving space. They are simple yet useful additions to your BGE to enjoy a wider side profile. As a result, you get plenty of space to prepare for your grilling session.
Installation 
Whether you go for the side shelves or the Egg mates, they are quite easy and straightforward to be assembled. With clear instructions, you can install them within a few minutes.
Foldable 
The most functional feature of these convenient side spaces is that they both are readily foldable. You can flip them down for easier storage when they are not in use.
Are Big Green Egg Shelves Worth The Money? 
Here comes a crucial query about the side shelves for your BGE. Do you really need it?
Well, it's indeed an important Egg accessory when you are cooking outdoors. 
By expanding the side spaces in your Egg, you can prepare for the upcoming smoking session more conveniently.
They are especially needed when you have limited room on your patio or deck. You can place the food items, cooking tools, etc. on the shelves for your convenience. And with a little care and maintenance, they last for years.
So, yes, they are absolutely worth your money in terms of functionality, durability, and usefulness.
Conclusion
Have you decided your pick between Big Green Egg shelves vs mates? The wooden mates certainly look finer, but they are not weatherproof. 
The composite side shelves are rust and corrosion free, but you cannot put anything hot on them.
As you can see, both have their amenities and drawbacks. But side shelves are extremely low-maintenance, so I vote for them. Plus they are more affordable as well.
But you can also go for the Egg mates if you are okay with regular care.