Grills like the Big Green Egg are known as the "Ultimate Cooking Machine" to hardcore enthusiasts. 
However, if you bought into that hype as a beginner and are still confused about how you can utilize your expensive grill for more than meat, veggies, and the occasional pizza, you really need to look into Eggspander and Adjustable Rig. 
Primarily, the Eggspander will give you 3 levels of cooking zone while the adjustable rig from Onlyfire manages only 2. 
Nevertheless, there is a lot more that differentiates these products and you need to fully understand them before making a decision. 
Let's see what sets them apart:
Every product is independently reviewed and selected by our editors. If you buy something through our links, we may earn an affiliate commission at no extra cost to you.
"With the Big Green Egg, you're not just grilling; you're creating memories, forging traditions, and sharing the joy of exceptional food."

Papa J.
Eggspander Vs Adjustable Rig – Which Suits You Best
While both these products promise to make better use of the vertical space inside your large grills, their design fundamentally changes what you can really do with them. 
The Eggspander comes as a kit with 5 different pieces. With the set, you will get one ConvEGGtor basket, 2 pieces of multi-level racks, and 2 pieces of stainless steel half-moon grates.
With only the convector basket (Not calling it the conv"egg"tor) and the half-moon grates you can use the cowboy method and basically cook right on top of the coals.
By mixing and matching these 5 different pieces, you can cook as close to the coals as your heart desires. 
If that is not your jam, no worries, as the multi-level racks will enable you to get further and further away from the coals. 
You can cook at the regular height or use the highest settings for really low indirect heat that can keep your meat or bread hot while the sides are cooking.
The Onlyfire adjustable rig also comes in 5 pieces. But these 5 pieces are not exactly like the Eggspander. 
You will get 2 half-moon grates that are the same as the eggspander and 1 base rack that is kinda comparable to the convector baster. 
However, instead of getting 2 pieces of multi-level racks, you are getting 2 half-moon heat deflectors here.
So out-of-the-box, without any other accessories, you can not go as close to the coals or as far away from them using the adjustable rig.
Sure you can buy accurately sized grill grates and use the cowboy method using this Onlyfire kit but since it is a bought-separately part, we will exclude it from this section.
Regardless, with the Onlyfire adjustable rig, you will be getting 2 heat deflectors that can give you a more fine-tuned experience in regards to which sides of the grill get direct heat and which sides get indirect. 
I will talk about other accessories you can buy for both of these kits in the in-depth review section of this article. So stick around for that.
Keeping all that in mind, the choice is pretty simple. If you want the most flexibility and do not mind shelling out extra cash, the Eggspander is definitely the way to go. 
However, for just beginners who want more control over the spread of heat throughout their grilling surface and are happy with just 2 height levels of cooking surface, the Adjustable rig is an easy recommendation.
Also Read: Big Green Egg Shelves Vs Mates – Which Suits You Best?
Eggspander 5 Piece Kit For Large BGE 
In the last section of this article, we basically only scratched the surface of what the Eggspander kit is capable of. With the right tinkering and mixing of parts, this accessory is really a game-changer for any owner of the Big Green Egg. 
Top Features
Superb out-of-the-box functionality

Design made to fit the BGE perfectly

Includes 5 pieces for 3 levels of cooking

Usable in Almost 40 different configurations

The top rack has a sliding mechanism for better reachability
| Specifications | Parameters |
| --- | --- |
| Brand | Burly grill |
| Material | Stainless Steel |
| Is Dishwasher Safe | Yes |
| Kit Piece | 5 |
Where do we start, aside from the 3 height settings, this first-party design by the Big Green Egg is done so smartly that you will effectively get 'infinite' configurations.
You can cook 3 different dishes at 3 different temperatures simultaneously for starters.
Ever wanted to use a dutch oven or a wok on your grill, the convector basket has a properly sized grate to hold your wok or dutch oven perfectly.
Want to make a pizza that puts even a dedicated pizza oven to shame? Just buy a proper pizza stone and you are off to the races.
Need cast iron grates for great char on your steaks while you cook veggies on the side on stainless steel? All while a loaf of bread is baking? You guessed it, with separately bought cast iron grates, you can do just that.
The name of the game really is compatible accessories here. Since this is a first-party design, you will have hundreds of options and the world will really become your oyster.
Best of all, the Eggspander fits the Big green egg so perfectly that you do not even need to worry about the sliding top rack being too far back while closing the lid on your egg.
What else can we say except that the Eggspander fulfills the promise of your Big Green Egg being the "Ultimate Cooking Machine"? With just this kit, you can ditch your oven and stove and just use the grill for everything.
Pros:
Seemingly endless options

Made to fit the Big Green Egg Perfectly

Lots of first-party accessories are available adding more functionality
Cons:
Can be a bit Expensive

Only fits the Big Green Egg

Lots of added functionality is locked behind sold-separately items
Also Read: Looftlighter Vs Eggniter For Big Green Egg – Which One Is Best?
Adjustable Cooking Rig System Fit For Large BGE
Look, there's no getting around the fact that the Adjustable Rig by Onlyfire offers a lot less in terms of functionality than the Eggspander. But I'd argue it still has a place in the market and for the right customer, it can provide far greater value than the aforementioned Eggspander.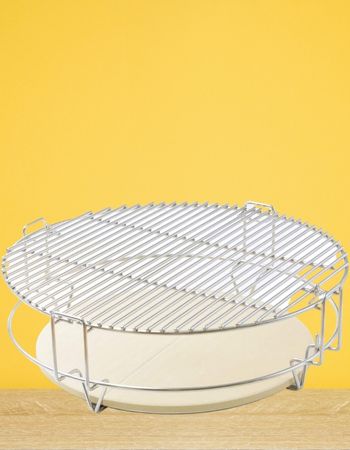 Top Features
Offers 2 levels of cooking surface

Includes half-moon heat deflectors

Supported Accessories are also available

This 5-piece kit includes 2 half-moon heat deflectors

Fits a variety of grills including BGE, Kamado Joe, Pit Boss, and Coyote
| Specifications | Parameters |
| --- | --- |
| Manufacturer | only fire |
| Kit Piece | 5 |
| Item Weight | 13.16 pounds |
What Onlyfire provides here is a solid set of basics and very few bells and whistles. You will find no fancy sliding rack mechanism here nor will you be able to use the entire vertical space inside your grill.
Even then, the adjustable cooking rig covers the basics so well that I still love it. The included heat deflectors are especially nice as they can give you very fine control of temperature across the cooking surface.
Taking the deflectors off, you can just about put a 13-inch wok in there for your stir fries and chow meins. You can also buy 15-inch grill grates in stainless steel or cast iron for utilizing the cowboy method.
On top of that, the rack system is pretty smartly designed for making assembly and disassembly a breeze.
There are two different height settings you can use for added flexibility and your preexisting accessories like a pizza stone or Conveggtor will work just fine with them.
The Eggspander only works for the BGE but Onlyfire designed this kit in a way that regardless of the brand of your grill, the Adjustable Cooking Rig will get the job done for you.
All this in a neatly priced package? If you do not need your grill to pull triple duty as a stove and an oven, The Onlyfire Adjustable Cooking Rig will be perfect for you.
The fewer options will also not confuse you as much and you can still get a fantastic grilling experience.
Pros:
Offers great value for the price

Covers all the basic functionalities

Compatible with all the big brands 
Cons:
Only 2 included grates

Less functionality than the Eggspander

Not many compatible accessories available
Also Read: Big Green Egg Reggulator Vs Daisy Wheel – Vent Cap Showdown
Differences Between Eggspander And Adjustable Rig
As you might be aware by now, these two products have more differences than similarities. So let's just take a quick look what are the key differences – 
Cooking Levels
This is the biggest difference between these two products as with the entire kit, you will get 3 height levels with the eggspander. These three levels can work as 3 separate temperature zones and will enable you to cook 3 different dishes at the same time.
On the other hand, the Adjustable Rig only has 2. You can buy separate grates for getting 3 levels though.
Compatible Accessories
The Eggspander takes the lead in this segment by a large margin. It is a first-party design by the Big Green Egg and thus almost everything they make will work with this kit. 
On the other hand, the Adjustable rig will give you limited options in terms of accessories and you still might need to look a bit to find the one you are looking for.
Functionality
The Eggspander comes with seemingly infinite options. The sky is really the limit here. But all these configurations might become confusing so you may need to consult the manual or the website from time to time.
The adjustable rig was made for basic users who do not want many bells and whistles and thus has only the most rudimentary configurations.
Grill Compatibility
This is where the Adjustable rig gets its biggest win as it can be used with any big brand grills and even some niche unknown ones. 
The Eggspander on the other hand was made to be used only with the Big Green Egg. The upside of this decision is that it fits the BGE like a glove.
Price
The Eggspander with all its glory typically goes for double or more than the price of the Adjustable Rig. That might be a big pill to swallow for some but it is well worth it.
Also Read: Conveggtor Vs Plate Setter – Mystery Revealed
Similarities Between Eggspander And Adjustable Rig
Even with their differences, this would not be a comparison article if not for the similarities these two products share. Here are the most prominent ones.
Indirect and Direct Heat Cooking Zones
This is the bread and butter of these two products. They both provide you with more indirect and direct cooking zones than your regular height grill grates. It is also why anyone would consider investing in a product like this.
Build Quality and Material
Despite their difference in price, the Eggspander and the Adjustable Rig both are made from the same stainless steel material. Their build quality is also comparable and both are just as robust and should last comparably long under sustained use.
Dishwasher Safety
To no one's surprise, since both of these products are primarily made from stainless steel, they are both dishwashers safe. You can disassemble and chuck the parts inside a dishwasher after use and they will come out squeaky clean.
Wok, Dutch Oven, and Pizza Stone Use
The base rack on the Adjustable Rig and the Covector Basket on the Eggspander both enable the use of a Wok or Dutch oven inside a grill. This is a fantastic inclusion and opens up a whole world for smoky stir fry or stews. Also, both allow the use of a pizza stone for a quick taste of Italy.
What Does The Eggspander Do?
To sum it up, the Eggspander was made to turn your Big Green Egg into a cooking beast. With it, your BGE can become a stove, grill, and oven all at the same time. Using the entire vertical height available inside. 
You can use the Convector basket for its intended use of holding the convector plate or you can take the heat deflector out and use the included grates to go full cowboy. The basket is also perfectly sized for a wok or dutch oven to cook sides on top of burning coals.
On top of the basket, you can put your regular grates for a normal grilling experience perfect for steaks and burgers. And on top of that, you can have another rack providing a sliding mechanism for easy reach and super indirect heat.
What Does The Adjustable Rig Do?
The adjustable rig also provides you with 2 separate cooking zones for direct or indirect heat. The included heat deflectors enable you to use one side of the grill for direct heat cooking and the other for indirect. 
While there is no fancy sliding mechanism, the top grate will give you ample oven functionality by making proper use of the heat deflectors. Additionally, by removing the deflectors completely, you can make room for a wok or a dutch oven.
Mixing and matching is the key here. Try any combination of all the included 5 pieces and you are sure to find many many configurations.
How Do You Put A Conveggtor on Eggspander?
The Conveggtor by the BGE has a very unorthodox shape for a heat deflector and thus is pretty confusing. However, rest assured as it is pretty easy to put it on your Eggspander. 
All you need to do is take the top grates off your Convector basket and drop the Conveggtor inside at an angle. Do not try to push or shove it in as that may damage the grates or the plate. 
Just take your time and try a bunch of angles to see which one works for you the best. 
Conclusion
Overall, both these products are fantastic in their own right and either will change your grill game and turn you into a pitmaster. Yes, the Eggspander and the Onlyfire rig are competing products, but they are designed for distinct audiences. If you know what advantages the Eggspander has over the Onlyfire rig and whether or not you will really use them, making a decision is easy. Whatever the case may be, best of luck with your future barbecues!