Controlling temperature in a Big Green Egg is associated with so many things. One of the crucial components to maintaining a precise heat flow while cooking is the chimney cap.
Speaking of which, I have two names for you. The traditional Daisy Wheel and the robust BGE Reggulator with a rain guard.
Although both BGE Reggulator and Daisy Wheel do their job perfectly by venting the exhaust, there are some differences between these two high-tech air vents.
On that note, let's have a fair fight between the Big Green Egg Reggulator Vs Daisy Wheel to figure out the greater deal. 
Here we go!
Every product is independently reviewed and selected by our editors. If you buy something through our links, we may earn an affiliate commission at no extra cost to you.
Big Green Egg Reggulator Vs Daisy Wheel – Which Should You Go For
If you ask me, which of the two vent caps works better, it's actually hard to decide. 
Here is a quick comparison chart –
| Key Features | rEGGulator Top | Daisy Wheel |
| --- | --- | --- |
| Material | Full Cast iron | Cast iron & Stainless Steel |
| Item Weight | 2.2 pounds | 3.39 pounds |
| Compatibility | 2XL, XL, Large, Medium | M, L, XL |
| Durability | Very High | High |
| Ease of Use | Controls air flow through a single lever | Easy (Attaches to chimney) |
| The Hallmarks | High durability, Precise Temp. control, All-weather resistance, Dual Function Metal Top & Easy to clean | Easy temp. control, Durability & Simplicity, Value for money, High temp in short time and Ergonomic handle |
| Price | Check on Amazon | Check on Amazon |
However, let's try to figure it out through the elaborated discussion below.
Well, it's true that they both are cast iron chimney caps, and therefore, extremely durable. But one thing makes them different from each other.
The robust Reggulator has a corrosion-resistant coating. That's why the sturdy architecture is protected from rust and corrosion.
Moreover, you will truly be in love with its pre-seasoned finish. That's the reason to make the Reggulator cap an all-weather product.
Another distinction lies in the silicone tab. It doesn't get hot, you know! As a result, you can adjust the vent anytime you want.
Relax! The ever-cool tab won't burn your hand.
Besides, a great add-on to this superb air vent is the 50% greater airflow. Naturally, it keeps all the hassles of airflow adjustments at bay!
Furthermore, you can set it permanently in your favorite Egg. No need to remove the vent every time you are done cooking.
And it keeps all the settings unchanged. So, no worries.
However, all these amenities don't come for free. You must pay the premium price tag to get this top-quality chimney cap.
But one thing is for sure, if you can afford the BGE Reggulator, you shouldn't miss it in any way.
Talking about the BGE Disney Wheel, it doesn't lack any must-have features to maintain a consistent heat flow.
But it doesn't come with a rain guard. That could be an issue in the rainy season though.
And instead of the silicone adjustment tab, it has a stainless steel handle. Of course, the body is cast iron made with the same sturdiness as the Reggulator.
If I talk about durability, you can use both vents year after year. They are quite easy to clean.
However, it is important to note that the Daisy Wheel replacement part isn't dishwasher-safe. So, be careful while cleaning. You can't scrub it.
One major complaint about the Daisy Wheel cap is that it's hard to open after three/four smoking sessions.
Although the manufacturers claim that the cast iron construction eliminates any grease build-up.
Nevertheless, the biggest plus point of using this vent top is that it keeps the original setting unchanged no matter from which angle you open the BGE lid.
But a brand new Reggulator certainly offers more choices when you customize the setting.
On the other hand, the Daisy Wheel is more popular as it creates less turbulence at the top of your Egg while venting the airflow.
And it comes with a way more reasonable price tag. That surely is a bang for your buck, I guess.
Also, you will enjoy the two opening modes for easier adjustment and heat control.
Also Read: Big Green Egg Shelves Vs Mates – Which Suits You Best
Green Egg All-Weather Supported rEGGulator Top
First, let's talk about the all-weather supported Reggulator top by BGE. Do you know where Reggulator surpasses all other airflow controllers? With its top-notch temperature control. Yes, you get absolutely precise temperature control with this cast iron chimney cap to make your dish more palatable.
Here are the top features for your consideration: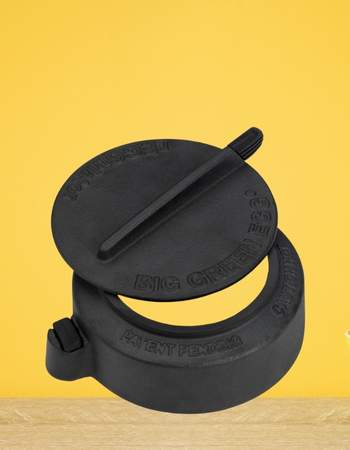 Top Features
Offers precise heat control

Offers 50% greater airflow

Quite a durable cast iron construction

Suitable for BGE 2XL, XL, L, and Medium sizes

Pre-seasoned finish for superior weather resistance
---
In addition, it offers 50% more airflow, thanks to the open vent design. You don't even need to remove the cap after cooking. It has a corrosion-resistant coating, after all!
Apart from the sturdy cast iron architecture, its cool silicone handle is also praiseworthy.
You can touch it throughout the cooking without burning your finger. So, airflow adjustment becomes a breeze with this brand-new robust Reggulator.
If I talk about accuracy and ease of use, it surely surpasses all other traditional events. You can achieve absolute precision at your fingertips with minimum effort.
Being followed by an optional rain cap, it also keeps the rain away from your big green egg.
Most importantly, if you shut off the airflow by closing the drought door, rest assured that your BGE is now 100% airtight.
Above all, the pre-seasoned finish will leave you awestruck by its ultimate weather resistance.
Wait, the downsides? The expensive price tag is not really affordable. Keeping that aside, it's an absolutely amazing vent cap for your BGE, no doubt.
Pros
Rust and corrosion free

Highly precise heat control

You can permanently place it on your Egg dome
Cons
Also Read: Looftlighter Vs Eggniter For Big Green Egg – Which One Is Best
Big Green Egg Daisy Wheel Replacement
Talking about the BGE daisy wheel replacement, it's a must-have who uses an Egg regularly. Let's break down its key specifications below to understand how it works.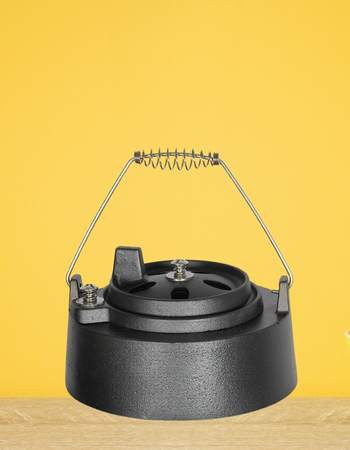 Top Features
Quite easy to install

Made of cast iron and stainless steel

Avoids grease or oil build-up at the top

Designed for high-temperature resistance

Fits M, L, and XL size BGE and any Kamado grill of the same size
| Specifications | Parameters |
| --- | --- |
| Brand | KAMaster |
| Material | Cast Iron |
| Handle Material | Stainless Steel |
| Is Dishwasher Safe | No |
First thing first, it's a sturdy chimney cap that stays in place when you open your Egg.
If you like smoking, baking, or grilling in your BGE, just go for it. Rest assured that you won't regret purchasing it.
The super easy temperature control makes it a holy grail for BBQ lovers.
As stated above, the cast iron architecture makes it reach the ideal oven temperature within a short time.
Opposed to stainless steel, it reaches a higher temperature much faster. Although it has a stainless steel handle.
With the help of the drought door at the bottom of your Egg, you can easily adjust the temperature by controlling airflow.
Also, thanks to the robust ergonomics, the cap doesn't melt in high heat.
That surely seals the deal when you are cooking meat at a high temperature.
Not only is it highly heat-resistant but also it maintains a more consistent temperature throughout.
Moreover, the two opening modes make it an unmissable product for any food geek out there. The easy-to-move chimney cap makes it easier to turn the daisy wheel.
Best of all, the adjustable tightness makes it more convenient to customize your setting.
And you get it at almost half the price of a BGE Reggulator vent cap. How amazing is that?
Pros
High heat resistant

Keeps the setting unchanged

Extremely affordable price point
Cons 
It is not dishwasher safe

It becomes challenging to open the cap after 3-4 cooking sessions
Also Read: Eggspander Vs Adjustable Rig – Which Will Work Best For You?
So, what's your thought on these two extraordinary chimney caps for BGE? Couldn't decide on your pick yet? That's fine as we move forward to the similarities and differences between them.
What Are The Differences Between Daisy Wheel And rEGGulator?
Honestly speaking, both work great as BGE vent caps to maintain precise heat flow. But certainly, there are some differences to look forward to. Let's point them out below. 
Cost
Among all other distinctions, I noticed the cost first. The Reggulator is quite pricey, you know!
I know it's said, you get what you pay for! But the price distinction is so high that it annoys me a bit. I mean you need to spend almost double to get a Reggulator than the daisy wheel vent cap.
Although the BGE Reggulator has some amazing features to offer, the expensive price tag makes it hard to get.
On the other hand, the daisy wheel cap is quite affordable and therefore, quite popular as well.
Weight and Dimensions 
While comparing these two top-ranked chimney caps for your Egg, I found the Reggulator a bit lightweight. 
With the dimensions of 6.5×6.5×4 inches, it weighs only 2.2 pounds. 
Contrarily, the daisy wheel weighs slightly more, 3.39 pounds. And the dimensions are 6.46×6.46×4.13 inches.
This makes no big difference though!
Rain Cap
One good reason to vote for the robust BGE Reggulator is that it comes with a rain cap. Therefore, you can keep it dry so that water doesn't drip into your Egg. The rain guard keeps the vent opening dry.
Stainless Steel Handle vs Silicone Adjustment Tab
In terms of the daisy wheel chimney cap, there's a stainless steel handle. Of course, it makes handling the cap easier.
On the contrary, you get a silicone adjustment tab for the Reggulator vent. The biggest plus of this tab is that you can touch it no matter how high the temperature is. It always remains cool not to burn your finger.
Airflow
As you can see from the review part above, the new Reggulator is facilitated with 50% greater airflow than any traditional metal top. Resultantly, it manages temperature more accurately. 
Also Read: Conveggtor Vs Plate Setter – Mystery Revealed
What Are The Similarities Between Them? 
Keeping the distinctions aside, let's focus on the similarities below-
Temperature Control
Both are wonderful vent caps when it comes to precise temperature control. If you use the drought door of your Egg to manage the airflow, you can get consistent heat flow from both the chimney caps throughout your cooking. 
Easy to Install
Being absolutely lightweight, these caps don't need much effort to be installed. You can install them quite easily. 
Cast Iron Construction 
As stated previously, both Reggulator and daisy wheel chimney caps are made of durable cast iron. 
That's why they are outstandingly durable. No matter how high heat your Egg reaches, the cast iron construction keeps them safe. None of the parts will melt. 
Fitting
Both the chimney caps are made to fit a wide variety of BGE. They are compatible with Medium, Large, XL, and XXL BGE.
What Is A Daisy Wheel On A Big Green Egg?
A Daisy Wheel is basically a diel function chimney top that allows precise temperature control in a BGE.
Having two opening modes, the larger opening facilitates higher or lower temperatures. You simply need to rotate it to adjust the heat.
However, the smaller opening fine-tunes the cooking temperature according to your desire. 
And if you need the best cooking result, open the Daisy Wheel top fully when you light your Egg. 
Is The Reggulator Worth It?
Yes, absolutely. I know its premium price range will dumbfound you. But if we consider its amenities, it is absolutely worth it.
The pre-seasoned finish, the corrosion-free construction, and moreover, the perfectly precise temperature control leaves you awestruck while using the vent top.
Moreover, it's a weatherproof air vent accompanied by an optional rain guard. So, you don't need to buy a ceramic top separately. 
Does The Reggulator Come With The Big Green Egg?
Yes, the Reggulator comes standard on the new Big Green Eggs by replacing the original Daisy Wheel cast iron top. It fits medium, large, XL, and XXL BGE.
Conclusion
After a head-to-head confrontation between Big Green Egg Reggulator Vs Daisy Wheel, what's your pick now? Will you stick to the Daisy Wheel or upgrade to a Reggulator chimney cap?
In my opinion, none of them really disappoints in terms of providing consistent heat flow while cooking.
But as the Reggulator is a bit more updated, it has some extra advantages, for sure. 
The optional rain cap is one such feature that eliminates the need for a ceramic damper top. Plus, it's weatherproof too.
But considering the pocket-friendly budget, the Daisy Wheel vent top is pretty good as well.
Now, it's totally your call to choose one of these two high-tech air vents for your BGE.
And if possible, why not get both?