Are you planning to replace the year-old plate setter that you have been using with your BGE? Then you can consider a conveggtor with pretty much the same features and functionalities.
A conveggtor is basically the latest trademarked name by Big Green Egg for a plate setter. But both work great as heat deflectors when you prefer indirect cooking.
On that note, welcome to the discussion of conveggtor vs plate setter. Let's find out which would be a better fit if you want your BGE to perform as an outdoor convection oven.
Every product is independently reviewed and selected by our editors. If you buy something through our links, we may earn an affiliate commission at no extra cost to you.
Conveggtor Vs Plate Setter – A Quick Comparison Overview
Before jumping to a conclusion, you must know what makes them two prominent heat deflectors under different names.
The conveggtor is comparatively a new term for many Eggheads as they used to know it as a plate setter. But as BGE trademarked it as a conveggtor, you see a little bit of change in the new variants.
It's a little bit heavier than the formerly known plate setter. Also, a conveggtor is specifically made to fit each BGE model whether it's a small, medium, large, or XL Egg.
If you want to turn your Egg into an outdoor convection oven, you have to use a conveggtor, for sure. 
In conjunction with the thermal properties of your Big Green Egg smoker, this heat deflector evenly spreads the heat within the dome to infuse an unmatched smoky aroma into the meat. Keeping the food away from the direct flame, it prevents overcooking and charring.
Similarly, a plate setter is also a three-legged ceramic surface that facilitates convection-style cooking. You can use it as a heat deflector, a pizza stole, and a smoking stone as well.
Being architectured with heavy-duty ceramic, it circulates the heat evenly to cook your meat properly.
You can use a plate setter either keeping the legs up or down. Place it on the smoker keeping the legs down if you want to create more distance between the heat shield and the lower cooking grid.
Moreover, it's a non-toxic ceramic shield. Therefore, you can directly place food on a plate setter too.
However, in my opinion, the deciding factor between these two heat shields is not their performance but the cost.
Saying that the plate setter is quite reasonably priced as a decent heat deflector. And it does its job really well. 
On the contrary, a conveggtor will certainly leave a mark in your wallet with its expensive price tag.
But as it has a solution for every BGE smoker, it's worth buying. It will fit an Egg perfectly if you can pick the right one.
The plate setter, however, is also available for all Egg models. But the legs could have been a bit longer to provide a better fit.
In terms of weight and dimensions, they do differ slightly but that doesn't make them poles apart. 
While smoking meat indirectly on a BGE, both work great by keeping the flame away yet spreading the heat evenly. 
So, if you already have a plate setter, you don't need to replace it with a conveggtor. It will just do fine.
But if the old one is somehow broken, you can go for a conveggtor to update the old one.
Also Read: Big Green Egg Reggulator Vs Daisy Wheel – Vent Cap Showdown
Big Green Egg ConvEGGtor For LARGE Egg
Turning the BGE into an outdoor smoker is every BBQuer's dream and a conveggtor can easily make that dream come true. It adds optimum versatility to the Egg when you want a low-and-slow cooking.
As stated above, a conveggtor is the new trademarked term for a plate setter by BGE. It is compatible with baking, roasting, smoking,  grilling, or anything that requires indirect heating.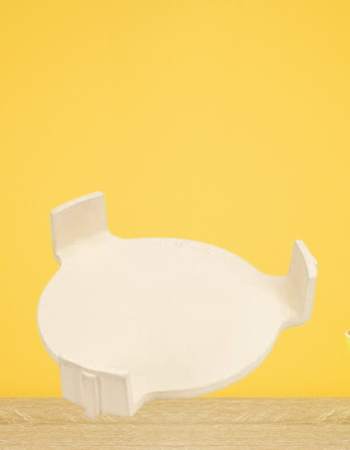 Top Features
Made with ceramic

Radiates the heat evenly

Perfectly fits a large BGE

Facilities indirect cooking

Very well-made architecture
---
However, as it's primarily designed for an Egg, you need to be careful when buying other kamado grills.
Note: Make sure to buy the grill in the same size as the BGE. Otherwise, the conveggtor won't fit.
Though it's a really well-made deflector, you need to handle it with care. Sometimes, it could be very fragile. You should place it on the grill when the grill is heated up.
Yes, it's a bit pricey. But once you use it, you will never go back to any other Eggcessories, thanks to its unrivaled smoky aroma without overcooking the food.
So, it could be a superb Big Green Egg plate setter alternative for a low-and-slow BBQ session.
Pros
Supports long cooking hours for more intense flavor

A versatile cooking companion with three ceramic legs

by creating a heat-directing barrier between food and fire

Suitable for indirect smoking, grilling, baking, and roasting

Circulates the smoke-filled air around the meat to make it more flavorful
Cons
A bit pricey

Quite heavyweight and therefore, it's a bit challenging to lift it in and out
Also Read: Eggspander Vs Adjustable Rig – Which Will Work Best For You?
Big Green Egg Plate Setter
Now, let's look forward to the BGE plate setter for a large 18″ Egg, Kamado grill, or Char Griller. As you can see, it's a multipurpose tool to make indirect cooking easier. You can use it as a heat deflector, baking stone, pizza stone, searing surface, and whatnot.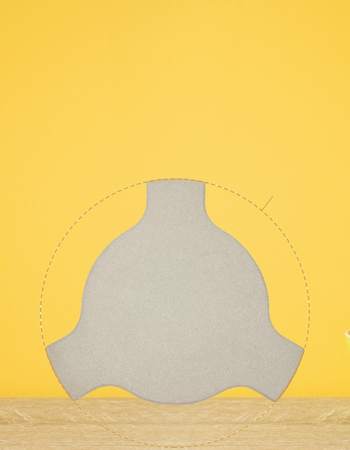 Top Features
Hand wash compatible 

An oval-shaped ceramic heat deflector

Passed the SGS testing to meet FDA standard

Constructed with three legs for multipurpose use

Weight: 10.47 pounds, Dimensions: 19.53×18.46×4.88 inches
---
Being designed for an 18″ Egg, it also fits a Kamado grill and a Char Griller of the same size. That surely counts as a big plus.
Thanks to the high-quality material, it is super thick and sustainable. In fact, Egg users love it for its unrivaled durability.
Also, being hand wash compatible, it's easier to clean and maintain. And the best thing about this plate setter is its affordable price point. Considering the price tag, it's a real bang for your buck. 
Finally, how can not talk about their superb packaging? Rest assured your product will reach safely without being damaged. 
Pros
Safe and non-toxic

Extremely affordable 

Very upgraded packaging
Cons
The legs could have been a bit longer
Also Read: Looftlighter Vs Eggniter For Big Green Egg – Which One Is Best
What Are The Differences
So, what are the differences between these two indirect cooking assistants? Only the names?  Not really. They do have some disparities in terms of specifications as well. Let's point them out below.
Weight 
The newly patented BGE conveggtor is a bit heavier than the conventional plate setter. A conveggtor weighs 12.67 pounds whereas the plate setter weighs 10.47 pounds. 
Resultantly, it's a bit tougher to move the conveggtor without a basket. Moreover, it gets quite hot pretty quickly.
In that case, adding a conveggtor basket is a wise investment to lift it in and out of the Egg.
Cost
As already mentioned, the conveggtor comes quite pricey. A conveggtor for a large BGE costs more than double of a plate setter.
Although the premium price tag is justified by its versatility, ease of use, and efficient heat radiation.
Cleaning and Maintenance 
When it comes to cleaning a dish setter, the plate setter comes in quite handy. You can hand wash it with a little bit of care.
Nevertheless, it's important to note that you have to hand wash the setter with water only, no soap or solvent.
In the case of a conveggtor, I would suggest scraping off the food residue with a soft brush or scraper. You must do it when the conveggtor is cool.
Then wipe it up with a soft damp cloth. It's better not to use direct water in a BGE conveggtor.
Also Read: Big Green Egg Shelves Vs Mates – Which Suits You Best
What Are The Similarities 
Now let's break down the resemblances of a  plate setter and a conveggtor. 
Material
Both the heat shields are made of high-quality ceramic. As a result, they come extremely well-made with sturdy architectures. 
Besides, the thickness of the ceramic surfaces is quite similar either to cooking brisket at 110°C or baking a pizza at 300°C.
Legs
Both are designed with three ceramic legs so that you can place them on the smoker by turning the legs upside down.
You can also place the legside down based on your recipe's requirements.
Versatility 
Whether you call it a plate setter or a conveggtor, both heat deflectors add ultimate versatility to your BGE. 
They create a barrier between the food and the fire but still manage to infuse an incomparable smokey smack into the meat.
From smoking to grilling, searing to roasting, baking to BBQing, you can do anything if you pair up these ceramic stones with your Egg.
Also Read: 5 Big Green Egg Accessory Storage Ideas You Can Go For
Does Big Green Egg Come With Conveggtor
Unfortunately, no. A BGE doesn't come with a conveggtor. You need to buy it separately if you prefer indirect heating.
Though some dealers add it as a package with the Egg, still, you need to pay for it separately 
But as it adds extreme versatility to a BGE grill, you can consider buying it to turn your Egg into a convection oven.
Conclusion 
That's all about conveggtor vs plate setter for your BGE. Hope you will now understand why these heat deflectors are essential to take advantage of your Egg to the fullest.
They separate the firebox from the cooking area and thus enable the grill/smoker to grill, sear, bake, or roast indirectly without exposing the food to direct flame.
However, although these two ceramic heat shields serve pretty much the same purposes, I would recommend a plate setter considering its pocket-friendly price. Also, it's easier to clean.
But you can go for a conveggtor too as it's the latest addition to the Eggcessories.