Serving all the foods hot and ready simultaneously is a real struggle, especially when arranging a barbecue party for a large crowd. Nobody wants to eat cold meat after putting so much effort into smoking it.
Whether you are hosting a party in your home or planning to bring some brisket to a BBQ, the critical concern is to make sure the meat remains warm.
It is significantly more challenging for novice cooks who have no idea how to keep meat warm after smoking. As a meat lover, I have frequently enjoyed throwing barbecue parties. But it was not always easy to maintain the meat's temperature. 
Every product is independently reviewed and selected by our editors. If you buy something through our links, we may earn an affiliate commission at no extra cost to you.
To help you not repeat the same mistake I made, here I will share the proper methods that are both effective and economical to keep your smoked meat warm.
Without further ado, let's get started.
How To Keep Meat Warm After Smoking – 13 Useful Ways
Preserving the appropriate temperature of meat can be challenging, but you can easily do it with the help of some tools and supplies. Let's find out some useful methods that you must know.
Use A Faux Cambro
A Cambro, manufactured by Cambro Manufacturing, is an insulated box essential for maintaining the food's safe temperature (140°F) for a long time.
It is a vital tool for keeping any kind of meat warm as they need at least an hour to rest before serving. You can use a Cambro to keep your food either hot or cold.
Here Is My Top Pick – Cambro Ultra Food Pan Carrier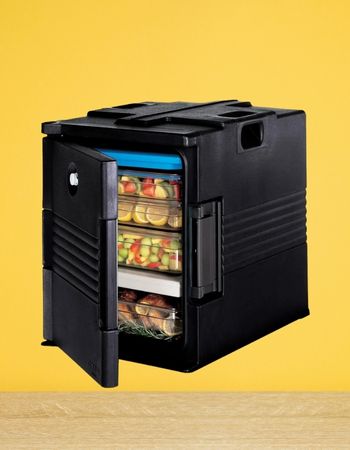 Top Features
Fully airtight gasket

Don't need electricity

Easy to Load & Unload

Ensure the secure seal

Hold temperature and keep the meat for hours
---
For professionals, it is a must-have tool. It comes in handy when you have to drive a long distance for a trip. If you are cooking in your backyard, you do not need to buy a professional Cambro.
You can make your own Cambro with products you already have, such as a soft-sided plastic cooler, two or more towels, aluminum foil, Disposable aluminum pan, etc.
Keep Meat Warm Using Chafing Dish – Best For Parties
In buffets, parties, or catering businesses, serving warm smoky meat is the most crucial part. But how do caterers keep food warm?
Well, they use equipment called a chafing dish. It is portable and an integral part of the food industry. These dishes are stainless steel pans where you put your meat.
Then make this pan sit on top of another stainless steel pan filled with hot water. Lit the chafing fuel container under the dish to heat the water.
Here Is My Top Pick – Tiger Chef Disposable Chafing Dish Set
Top Features:
Best for Party

40 piece complete set

Affordable and loved by cooks

Very easy to use and convenient

Comes with everything you need
The fuel containers can last for about six or more hours. So you do not have to worry about burning your food and enjoy warm food at your party without electricity.
These dishes are very affordable and an excellent option for parties, buffets, or conferences.
If you always want to get a warm hot dog, here are some of the most handy methods on how to keep hot dogs warm after grilling. Don't miss to check it out.
Use Regular Oven Or Toaster Oven To Keep Meat Warm
It is one of the most effortless and popular methods you should try! The perfect temperature to keep food warm in the oven is 200°F (93 °C). Place the smoked meat in the middle rack for up to 2 hours.
To keep brisket hot in the oven without drying out, use aluminum foil to wrap them. If the food is not above 140 °F (60 °C), you can raise the temperature slightly.
Here is our top choice – Large Countertop Toaster Oven
Top Features
Even & fast heating

Simple controlling system

Versatile at baking, roasting

Great for keeping food warm

Separate selector for temperature
---
Toaster ovens are a great alternative to a regular oven. Because of their small size, they heat up quickly. Make sure to keep the temperature at Bake setting to prevent the food from burning.
Also Read: How To Keep Rotisserie Chicken Warm (11 Exclusive Ways)
Use A Thermal Cooker To Keep Your Meat Warm
Another great way to serve warm meat is to use a thermal cooker. The most common use of a thermal cooker is to simmer food without electricity.
But you can also use it to keep your food warm—the vacuum insulation helps keep food hot for many hours.
Thermal cookers play an essential role in keeping food above 140ºF (60ºC) for up to 15 hours. It can also keep above 160ºF (77ºC) for up to 8 hours.
It is a perfect choice for those who love adventures and go camping in nature often.
Here Is My Top Pick – Sunpentown Non-Electric Thermal Cooker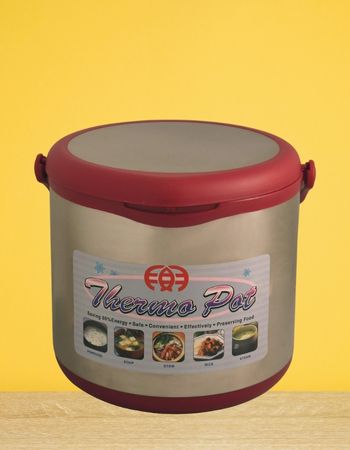 Top Features
Don't need electricity 

Used advanced technology 

Saves both energy and cost

Keep the food warm up to 8 hours

Stainless steel material ensures the durability
---
To prevent food poisoning due to bacteria growth, make sure that the food was not inside the cooker when the temperature dropped below 60 ºC. With proper caution, you can get the most out of it.
Aside from retaining the texture, flavor, and taste of the food, thermal cookers are great for the environment as they reduce carbon dioxide and gas use. 
Another Great Way To Keep Meat Warm Using Microwave
Microwaves come in handy for storing hot food when you are too busy to warm them! Store them in any container you want as you do not have to turn on the microwave. 
For ensuring the safe quality of meat, never keep it in the oven for more than 1 or 2 hours. If the food is above 90°F, you have to take it out before 1 hour.
Use Thermal Insulated Bag
If you need to keep the meat hot for a short time, thermal bags are the best option for you. These bags are useful for traveling a short distance or going on a picnic with your family.
You can use these bags to keep lunch boxes and bags too. These bags use aluminum foil or plastic/paper cardboard to retain heat. They are lightweight, affordable, and available in different sizes.
Here Is My Top Pick – Insulated Cooler Reusable Bag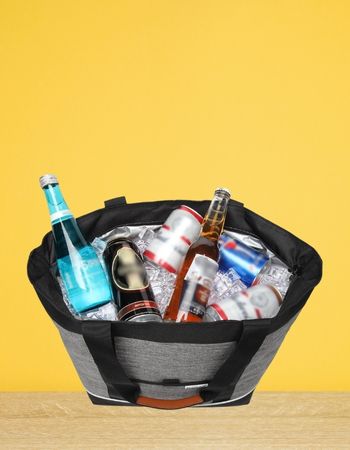 Top Features
Versatile at anything

Keep food cold and hot

Multi-functional unique design

Leakproof, Easy to fold, and use

Extra-large for keeping extra food
---
Similar to thermal coolers, you need to wrap the dish with foil before putting it inside the bag. It can store smoked meat for about 3 hours.
Use Instant Pot
Instant pots are another faster and cheaper way to keep the meat warm. It's perfect for busy people who don't have enough time to spend in the kitchen.
Turn on the keep warm button and place the meat in a heat-tolerant dish. It will keep the food between 140-172°F. Try adding a small amount of water at the bottom of the pot to keep the meat moist.
Use Thermal Cooler
Thermal coolers are not just for keeping things cold; it does a great job storing many hot foods for 6-12 hours.
The insulation traps the heat of the food and prevents it from escaping the cooler. To get the best results, follow these steps.
Use aluminum foil to line the inside of the cooler. Aluminum foil works like magic in holding heat.

Make sure to wrap the whole interior of the cooler with aluminum foil.

Place the hot meat in a container and wrap it well with a large piece of aluminum foil.

Make sure to wear protective gloves to avoid getting burned.

After that, place the container inside the cooler.

To make heat packs, take a few cotton socks and fill them half with uncooked rice.

Tie the sock with a knot and place them inside a microwave on regular settings for 2/3 minutes.

Once the packs are nice and warm, put them inside the food container to fill in the empty spaces. It will help to increase the temperature inside the cooler.

Use clean towels to keep the foods from moving when traveling.

Finally, pour boiling water into a rubber hot water bottle and place it on the top of the cooler.

Secure the lid tightly so heat cannot escape.
Slow Cooker or Crock Pot
You can use a slow cooker or crockpot to keep food warm for parties.
Keep the cooker in a warm setting before transferring the meat.

It will ensure the meat stays near 170 °F (77 °C).

Preheating the cooker will reduce the heating time.

The food will stay warm for about 2 to 4 hours once you turn off the cooker.
The main focus should be keeping the food at over 145 °F.
Using Heat Lamp
If you are short on time and you do not have any of these tools available at your hand, don't panic. You can use a heat lamp to keep the meat warm and crisp. In fact, most restaurants use this method.
Warming Tray
Warming trays are self-warming electric devices perfect for keeping food fresh and hot. The great thing about them is that they often have multiple sections and heat-resistant transparent lids. These trays are small, easy to use, and you can carry them wherever your party may be.
Serve With Warm Plate
Heating the plates is the quickest solution to keep your food from cooling down. Preheat the oven at the lowest setting, around 150 to 200 °F (66 to 93 °C). Once it is hot, stack the plates inside for 2/3 minutes. Make sure the plates are oven-proof.
Placing the plates in a microwave for 30 seconds at a standard-setting will do the work too. Wear oven gloves to take out the plates once they are hot.
Purchasing plate warmers are also an effective way to save time. They are electric foldable heating pads. You can find them online or in a kitchen specialty section of a store.
Wrap your plates with these and continue stacking them on top of another. Heat them for 5 minutes and serve warm food.
Use Aluminum Foil and Towels
If you need to store your food's heat for a short time, wrapping it with aluminum foil will do the job. Cover loosely with the foil to retain the moisture of the meat.
You can keep roasts for 10-20 minutes in foils before serving. Resting time may differ depending on the size of the meat, such as 20-45 minutes for turkey and 5 minutes for steaks/chops.
Wrapping the aluminum-covered food container with 1 or 2 towels will also do an excellent job of keeping the food warm for a little time.
How To Keep Meat Warm For Hours
By reheating the meat or following a few other steps, you can keep the meat warm for hours. These are-
You can keep the meat inside a slightly warm oven to keep it hot.

You can use a hotpot, which is the most popular system.

Use aluminum foil for covering the meat.

Reheating the food when needed is a good option too.
Tip: If the meat is kept inside a light warm double boiler, it will be hot for a few hours.
Caution: When you will choose the option of keeping the meat inside a warm oven, please check the heat before putting the heat inside it. If the heat is more than 200 degrees F, then the meat can be overcooked. So, be alert in this matter and enjoy your hot meat dishes.
How To Keep Food Warm For A Party Without Spending Much
First, preheat the cooler by transferring hot water about 3 gallons into it.

Close the lid tightly and after 30 minutes, remove the water.

This step is essential for making the cooler's internal temperature ready for the meat.

After cooking the meat, use aluminum foil to wrap it.

Put a towel at the bottom of the cooler and then place the wrapped meat on top of the towels using a disposable pan.

Place the other towel at the top and close the lid.

Make sure to keep the lid sealed to keep your meat warm for 4/5 hours.

Clean the cooler right after every use with regular soap and water. This step is vital for ensuring food safety and taste.
The More Meat You Smoke The More Hot Longer
Smoking a large number of meats means having more thermal energy. As a result, when you pack a lot of smoked meat in a cooler or container, it will stay hot for a longer period.
In contrast, a small number of meats won't retain heat longer even if smoked at the same temperature. More meat will also help to keep air out of the container by filling up the empty spaces.
If you don't have a warmer or you don't want to use this, let's try this method below
How A Quick Read Thermometer Can Help You To Serve Warm Meat
A quick-read digital thermometer like Meater and Yummly is an essential tool in grilling. Not only does it ensure safe internal temperature, but it also saves your meat from overcooking. 
If you do not have one, stop reading and buy one! You can find these thermometers in two different types.  
Dial instant-read thermometer
This thermometer will show the temperature in 15 to 20 seconds. You need to insert the stem at least 2 inches inside the meat. 
In thinner meats such as burgers, inserting through the side of the meat will give you an accurate reading. 
Digital instant-read thermometer 
This thermometer will give you a reading in just 10 seconds by inserting ½ inch into the meat. You can use this in both larger and thinner meats such as steaks, chops, and burgers. For both thermometers, please do not leave it in the food during cooking.
How Long Is It Safe To Keep Meat Warm
When you keep the meat warm in several methods, it has to retain a temperature above 140°F at all times. 
Generally, after 2 to 4 hours, the meat starts to dry out and lose freshness. Closing the lid will also help in sealing heat and moisture.
If the temperature drops below 140°F, reheat using an oven, microwave, or stove. Once it's 140°F or warmer, you can put the meat back into the warmer.
Here is a complete meat temperature guide to follow for maintaining health and preventing food poisoning. 
Importance Of Keeping Meat Warm
Temperature plays an indispensable part in ensuring food quality and safety. Hot food, if not remain hot, reduces flavor and increases the chance of food poisoning.
Bacteria multiply between 40-140°F; for this reason, this range is the danger zone. Bacteria thrive the most, specifically between 70-125°F. 
Just like you need to cook meat at a high temperature to kill germs, you also need to retain meat heat after cooking. Marinating temperature above 140°F is essential to avoid dangerous health effects.
Sustaining the proper food temperature is essential for safety and flavor. Investing in the right equipment for warming and cooling is just as important as your investment in cooking equipment.
What is a safe temperature to keep the meat warm?
The meat is safe at a temperature above 140°F. Keep tracking with an instant-read thermometer to make sure the temperature stays between 140-165°F. 
Is it OK to keep the meat warm without overcooking?
You can keep the meat warm in an oven without overcooking. You have to set the oven in the lowest temperature setting and cover the meat with foil. Turn off the oven when the temperature goes above 225°F.
Can I leave the meat in a slow cooker overnight on warm?
Slow cookers cook the food for a long time, so it is safe to leave the cooker overnight if you are busy or out of the house. 
But you need to take some precautionary steps such as placing the cooker on a heat-proof surface, choosing the right recipe, keeping it in a dry place and away from the wall, etc. 
Besides following these, you also need to read the manufacturer's instructions.
Conclusion
A successful barbecue party depends not just on the perfect smoking of the meat but also on retaining the heat after smoking. After all, everyone enjoys a warm and juicy piece of meat. No matter what purpose or how long you need to store the meat, we covered all the possible useful techniques and tips in our article. Now that you know everything about how to keep meat warm after smoking, we hope you can find the perfect method according to your budget and needs.  
Now It's time to taste warm meat. Enjoy!