Grilling, Smoking, Baking, Searing, a Kamado Joe can do it all. That too with minimal maintenance and a really really long lifespan. However, no tool is completely maintenance free and even the most rigid and most well-built device will need some work done for a hassle-free experience.
The key example is the top vent or chimney of a Kamado Joe. While some models of this famous grill come with their flagship Kontrol Tower Vent, others come with just the stock version and for a better experience, these stock versions need to be replaced.
The Kontrol Tower may also become unusable over time. So what are the best Kamado Joe Top Vent Replacements available in today's market?
Let's explore:
Every product is independently reviewed and selected by our editors. If you buy something through our links, we may earn an affiliate commission at no extra cost to you.
Exploring Kamado Joe Top Vent Replacement Options for Your Grill
Stock Kamado Joe Daisy wheels are usually made of cast iron and thus, over a sustained period of use, they may become loose, dirty, or filled with rust. Sometimes the case is so bad that downright replacing it will be the best option. 
Even without that, the stock top vent on many Kamado Joe models may not be suitable for cooking in harsh weather situations. Exploring the market, I saw that there are many replacement units available, and the ones that really caught my eye are made from stainless steel. 
I curiously observed many of these options under different real-life scenarios and ultimately chose 2 models that are, in my opinion, the best options available. They are made by Smokeware and Skyflame respectively.
Top Vent Replacement By Smokeware
My top pick also happens to be the internet's favorite. For this reason, I was really skeptical about this product at first but it really won me over. The Smokeware Stainless Steel Vented Chimney Cap is what most of you should consider buying.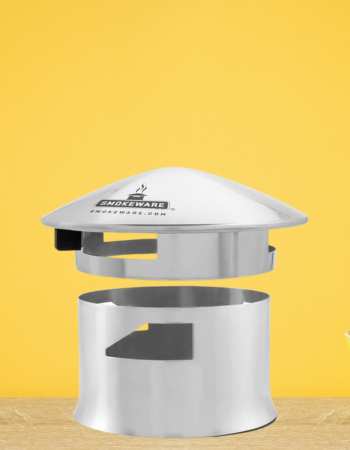 Top Features
Super Easy to Clean

Gasket Mount Design

Tapered vent for very fine control over airflow.

Made from 304 Grade Stainless Steel for longevity and durability.

Dome-shaped top piece for keeping rain and snow away from the insides.
---
First, let's talk about how easy it is to mount this vent. All you need to do is just cut the felt and silicone gaskets to length and stick them with the included tape to your grill top and the insides of the vent. Et Voila! The magic of friction fitting will ensure that your vent creates a seal that keeps the entire vent in place. Even when you open the dome.
If you are worried about the stainless steel getting too warm to move and control the airflow, there is a small handle that makes this job easier. Additionally, the tapered vent makes it so that the fine-tuning temperature is a lot easier than the stock daisy wheel.
However, the feature that seals the deal is the top cap that is perfectly shaped for channeling rain and snow away from the openings and thus maintains the temperature inside the dome exactly where you set it.
Pros:
Extra gaskets are included for future replacement

Fantastic build quality and will basically last forever

Keeps every drop of rain and snow out of the dome

Installation is super easy and no mechanical moving parts that can lose temper over time
Cons:
Stainless steel discolors easily

Fitting issues with some Kamado Models

The toolless design means you need to clean them fairly often
Also Read: Kamado Joe Charcoal Storage Ideas And Hacks With Expert Advice
Top Vent Replacement By Skyflame
A 2 piece top vent is not everyone's cup of tea and some people just want one single piece that can offer all the benefits. This is where the Skyflame vent comes in.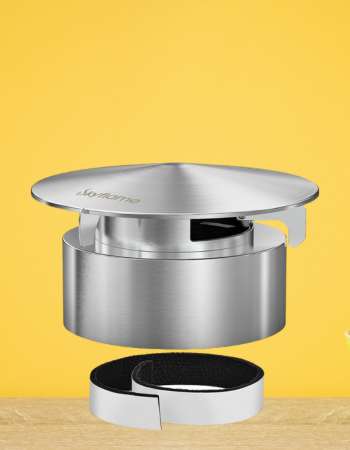 Top Features
Gasket Mount design for easy installation

Clamshell top piece design with high-quality spring

The top piece keeps rain and snow away from the dome

Made from 304 Grade Stainless Steel for longevity and durability

The top piece is connected to the bottom piece for no possibility of misplacement
---
The key difference between this and the Smokeware is in the mechanism of the top piece. The Skyflame uses high-quality springs to keep the top piece of the vent connected to the bottom so that you never lose it. This creates one additional point of failure but in our thorough testing, the spring holds up fairly well.
Another big difference here is that the vents are not tapered and thus temperature control is not as precise as it could be. But in our testing, the range seems to be good enough for a solid recommendation.
Other than that, the Skyflame sports identical features to the Smokeware from the build quality to the mounting mechanism to weatherproofing, and all of these work just as great if not slightly better. 
One final caveat is that there are no handles for adjusting the vent and since during a cook the entire chimney will be extremely hot, you will need gloves to adjust it. Not as big of an issue as we use gloves anyway but could be a dealbreaker for some.
Pros
Cheaper than alternative options.

Weatherproofing is as great as possible.

The toolless mounting mechanism is a big win.

Build Quality is top-notch and will last basically forever.

One piece design so no possibility of losing the top cap or it falling off during operation.
Cons
Temperature control is not very granular

Can not be adjusted without heat-proof gloves during the cook

The spring-loaded top design creates additional points of failure
Also Read: Kamado Joe Accessory Storage Solutions for Every Grill Master
Kamado Joe Top Vent Replacement Vs Alternative
In this section, I will take a detailed look at what sets my two options apart so that you can select just the one that is right for you. 
Both of them are functionally identical and the build quality is highly comparable, but the subtle differences make each of them right for a certain kind of Kamado Joe user. The main differences are:
Top Piece Design: This is in my opinion the main difference between my two options. The Smokeware used a friction-fit design that can be completely taken apart for better cleaning. And since this design sports no mechanical connector, it will last a long long time without failure. 
This comes at the additional disadvantage that the fitting may become loose over time and you may even lose the top piece during cleaning or transport.
The Skyflame uses a clamshell design with a loaded spring that keeps the bottom and top pieces together for better or for worse. This means you will never lose the top piece and take it off easily for a full airflow, but the spring will definitely become loose over time and may even outright fail.
Vent Design: The Smokeware Chimney has a top vent that is tapered towards one end. This makes the airflow control a lot more fine-tuneable and thus the temperature can be adjusted with almost infinite possibilities. 
On the other hand, the Skuflame chimney has vents that are just rectangular cutouts. This does not really cause a problem in terms of getting your grill to the exact temperature you want but it does reduce the fantastic granular control. 
This causes no difference for beginners but a bit more veteran users will definitely appreciate the finer control.
Vent Adjustment: The Smokeware comes with a small non-metallic handle that can be used to easily adjust the vent opening during the cook as this specific part does not conduct heat and does not get hot enough. So you can adjust the vent easily without any gloves even during a cook. But we do not recommend it as safety should always be your number one priority.
However, no such handle is featured on the Skyflame chimney. You absolutely have to use utensils or heat-proof gloves for adjustment. Therefore, please use every safety precaution and try not to burn yourself.
Also Read: Kamado Joe Gasket Replacement Guide For Optimal Performance
How To Fix If Kamado Joe Top Vent Broke
The most common problem with the Kamado Joe top vent is it gumming up and the adjustment wheel not moving. This usually happens if the vent is not cleaned properly after every 3-5 uses and the grease solidifies to glue the mechanism together. Thankfully the fix is pretty easy.
You can get a small propane torch or just a long-handled lighter and light the flame and hold it inside the dome towards the underside of the vent. This will heat all the grease up and the vent will come loose. 
You have to immediately take the vent off and give it a thorough cleaning otherwise it will happen again as soon as the vent cools down.
Another common problem is for some reason the pin breaks and the vent breaks into 2 pieces. This usually can not be solved at home and your best bet will be to claim a warranty if your grill is within the period. Kamado will fix your vent free of charge.
However, outside of warranty if this happens, it is not worth the hassle to try and fix it yourself as the performance will never quite be the same again. 
Buying a new cheaper and frankly better chimney is going to serve you a lot better.
Why You Should Consider a Top Vent Replacement for Your Kamado Joe
Once your built-in vent breaks and you are left without any options, buying a new replacement is the best course of action. However, you should also know why we and thousands of other users replace the top vent as soon as the grill is out of the box.
Unless your Kamado comes with the flagship Kontrol Tower vent, the built-in stock daisy wheel does very little in terms of features or quality for long-term use. It is made with cast iron that can rust easily and you can not cook in rain or snow using it as the vent is right at the top and creates a perfect channel for rain or snow to fall on your food.
The Kontrol Tower fixes both of these problems as it is made with cast aluminum that is rust-free and also keeps the vents away from the rain. However, it is very expensive and the aesthetic might not be for everyone. 
Our options are drastically cheaper while also providing all the benefits. So we would seriously ask everyone to consider replacing their Kamado Joe top Vent for a better overall experience.
Ultimate Guide to Replace Top Vent On Your Kamado Joe
The built-in top vent of most Kamado Joe is friction fit and has a heat-proof gasket in between that keeps the daisy wheel snugly fit to the porcelain dome. Removing it might seem like a daunting task but with the following step-by-step guide, anyone can do it.
Step-1: You will definitely want your grill to be warm (not scorching hot) as the space between the gasket and dome will be filled with leftover grease and when it cools down it will solidify making removal very difficult. So do it after a cook when the grill has cooled down a bit.
Step-2: Put on a pair of leather gloves or any other heat-proof gloves that give you a good grip. Have a friend or family member hold the dome down so that it does not come open. Finally, grab the entire chimney and pull straight upward. Don't be afraid to pull really hard as there is minimal chance of damage to the porcelain dome.
Step-3: The built-in dome should be off by this point. However, if it is not, you will want to use a nonmetallic pry tool to pry it off using a good amount of force. However, be careful that your pry tool can not damage the dome.
Step-4: Give the top part of the dome a good cleaning and replace the gasket with the one that will come with your replacement unit. Now all you need to do is push the new chimney straight down so that the fit is snug and the bottom part does not move at all.
Conclusion
The Kamado Joe is an absolute unit when it comes to anything BBQ and it is very difficult to do better for the price. The top vent is perhaps one of the few things that we think can be done better. With our Kamado Joe top Vent Replacement options, you can expect far better experience and results!