Have you been using your Kamado Joe grill for too long? Then probably it's time to renew the gasket.
The gasket is one of the most important parts of a Kamado-style grill to keep the heat sealed, right? What if it's worn out over time and doesn't offer the same sealing anymore?
On that note, you can check out some amazing Kamado Joe gasket replacements to upgrade your grill's efficiency. 
Every product is independently reviewed and selected by our editors. If you buy something through our links, we may earn an affiliate commission at no extra cost to you.
5 Best Kamado Joe Gasket Replacements For Enhancing Efficiency
Here I go with the five best gasket replacement kits for Kamado Joe that upgrade the grill performance instantly. Out of innumerable options, I selected them based on their durability, heat resistance, value for money,  and efficacy.
Quick Decision Making Chart –
| Key Features | KAMaster Gasket | BBQ Nomex Gasket | FireBlack34 Gasket |
| --- | --- | --- | --- |
| Item Weight | 4.8 ounces | 3.52 ounces | 2.39 ounces |
| Long | 15ft | 15ft | 15ft |
| Wide | 9/8″ | 7/8″ | N/A |
| Thickness | 1/8″ | 1/8″ | 1/8″ |
| The Hallmarks | Long enough, High-temp peel, Ultra fireproof material, Easy to install & Great compatibility | Made to last, Extra dense, Perfect fit, Won't melt or burn and Value for money | Professional grade material, Made in USA, Easy to install, Great efficiency & Versatility |
| Price | Check on Amazon | Check on Amazon | Check on Amazon |
KAMaster High Temp Kamado Joe Gasket Replacement
If someone looks for the best quality Kamado grill accessories,  KAMaster should be the go-to brand for them. This is very much true for replacing the old gasket in a Kamado Joe grill. Like the name suggests, it's a high-temp kit for higher heat resistance. 
Let's look forward to the prime specifications of this rectangular gasket replacement.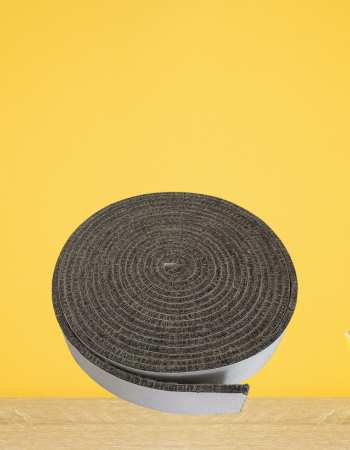 Top Features
Built-in adhesive

No extra cut needed

Made with high-heat resistant materials 

Perfect for all Kamado grills including Classic and Big Joe

The 15 feet gasket is long enough to fit the base and the top lid
| Specifications | Parameters |
| --- | --- |
| Brand | KAMaster |
| Material | Felt |
| Shape | Rectangular |
| Length, Wide, Thick | 15ft, 9/8″, 1/8″ |
As you can see, this is an ideal replacement gasket for a Kamado Joe owner as the length, width, and thickness perfectly match the grill surface. So, this kit sufficiently matches both the base and the lid of your grill.
Moreover, you need not cut the gasket to fit it into any Kamado model. The width is accurately designed to match the size of your Kamado grill. So, no more accidental tailoring errors anymore!
The next big thing regarding this replacement gasket is the material. Thanks to the high-temperature materials, this won't burn or melt even while high-heat searing.
In fact, it lasts longer than the factory gasket. Can you imagine? 
Talking about the seal, you can't expect better. I mean you literally see no smoke leakage to provide precise temperature control. Certainly, you are going to enjoy a better BBQing.
Pros
Optimal heat sealing without any leakage

Made of high-temperature fireproof material 

Easier to install with the self-adhesive backing
Cons
Could have been a bit thicker

You need to stretch it to cover a big ceramic grill
Also Read: Kamado Joe Charcoal Storage Ideas And Hacks With Expert Advice
High-Quality Replacement Gasket by BBQ Gaskets 
Secondly, I selected another high-quality Kamado Joe gasket upgrade from BBQ Gaskets to replace your old worn-out one. Whether you have a Joe, Primo, King, or Komodo model, it suits them all. 
Especially, the extra-dense construction fits all Kamado-style cookers without leaving any gaps. Let's check the core amenities below.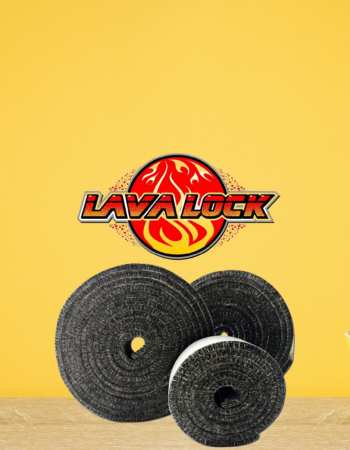 Top Features
Very easy to apply

Self-adhesive material 

Made of high-temp peel and stick

Perfect for all Kamado-style smokers

Made in the USA under expert guidance
| Specifications | Parameters |
| --- | --- |
| Brand | BBQ gaskets |
| Material | LavaLock® |
| Color | Grey |
| Weight | 3.52 ounces |
Compared to the KAMaster kit, this gasket replacement is even cheaper. But that doesn't make it any less while upgrading your grill's performance. 
With the perfect dimensions for all Kamado smokers, it does justice to the price tag by providing self-sticking backing.
Yes, you just need to adjust it to your grill surface. No extra messy adhesive spray is required. 
Apart from that, this gasket offers a tight seal to keep the heat and smoke inside the grill. Naturally, you enjoy high-heat grilling better. It also helps make your food tastier. 
Being engineered with hi-temp peel and stick, it doesn't burn or melt while high-temperature smoking. 
And thanks to the extra dense materials, you need not cut it to match your Kamado grill size. It's already in the perfect shape and size.
One thing to remember, it perfectly fits all your Kamado cookers except Vision.
However, if you are worried about longevity, then rest assured. This gasket is made to last with high-tech materials.
Furthermore, the manufacturers included extra material absolutely free of cost. This makes this kit even more cost-effective, isn't it?
Best of all, you get expert customer support if any issues arise. Overall, it's a deal you shouldn't miss if you have a worn gasket in your Kamado grill.
Pros
Sticks easily 

Lasts pretty long

Very affordable price range
Cons 
Not as thick as the original Kamado gasket
Also Read: Kamado Joe Accessory Storage Solutions for Every Grill Master
FireBlack Easy-to-Install BBQ Smoker Gasket
As the name suggests, it's literally a no-brainer to install this FireBlack BBQ gasket. The self-stick LavaLock adhesive does it all. You just need to peel off the sticker and paste the gasket on your grill. Even after frequent use of the Kamado, the adhesive doesn't come out anytime soon.
The key features of this Kamado Joe gasket kit replacement are as follows-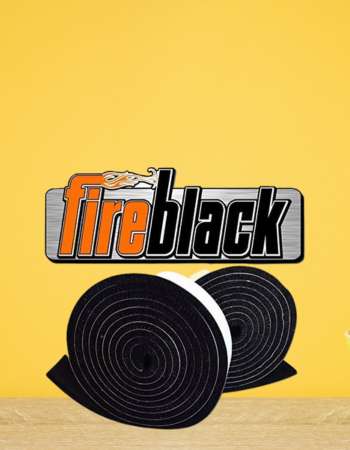 Top Features
Resists temperature up to 1600F

Built-in professional-grade LavaLock adhesive

Made of high-quality stainless steel to last long

Fits small, medium, and mini BGE and Kamado grills

Offers a 15 feet long seal for maximum charcoal efficiency
| Specifications | Parameters |
| --- | --- |
| Brand | FireBlack |
| Color | Black |
| Inner Material | Stainless steel |
| Long | 15ft |
FireBlack designed and manufactured this gasket in the USA under expert guidelines. Therefore, it assures satisfaction by every Kamado owner as a gasket replacement kit.
Who doesn't want to renew a year-old Kamado grill just by replacing the gasket? It exactly does the same by providing better sealing when you smoke, grill, or sear.
I cannot but mention the insanely high-temperature resistant materials which hold up to 1600F. Besides, it guarantees a better balance and heat control without any smoke leakage.
This 3/4× 1/ 8″ gasket is 15 feet long which is perfect for small, medium, or mini Kamado cookers.
Apart from that, it fits a BGE as well. And thanks to the durable material, you can use it for UDS or any other offset smoker lids.
If your old gasket has failed, you can try putting this new one in your Kamado grill. Surely, it will survive super high temperatures by increasing the grill's efficiency. And yes, it's quite budget-friendly.
Pros
Closes the lid softly and quietly

Keeps 99% of smoke inside the grill

The professional-grade adhesive makes the gasket stick easily
Cons 
It's quite challenging to remove the paper backing of the gasket
Also Read: Kamado Joe Winter Storage Solutions – Expert Storage Checklist With Advice
Replacement Gasket by Aura Outdoor Products
On the fourth spot of the picks, let's have a look at a Kamado replacement gasket by Aura Outdoor Products. Similar to the products above, it also offers a long-lasting stick to cut the cost. 
Besides, you can make your beloved Kamado Joe absolutely new by installing this gasket, thanks to its incredible fuel efficiency and wonderful heat control.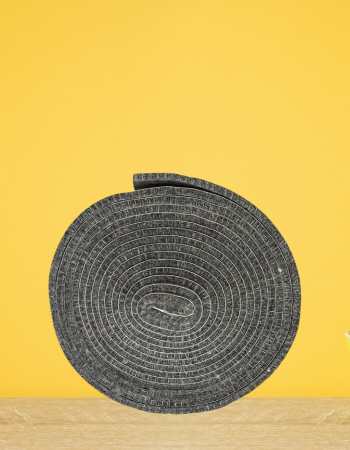 Top Features
Built-in peel-and-stick adhesive backing

Fits pretty well in any Kamado-style smoker

Very easy to apply with the instructions to install

Improves the fuel efficiency by holding heat and smoke inside

Long and wide enough to cover both the top and bottom of the dome
| Specifications | Parameters |
| --- | --- |
| Dimensions | 7 x 6 x 1 inches |
| Weight | 4.8 ounces |
Sometimes, you see the Kamado Joe gasket loose out of nowhere. Probably, the adhesive has failed or it's worn out due to overuse.
What should you do now? Change the old gone gasket, for sure.
Actually, what does a gasket do in a grill? By resisting high heat, it blocks most of the smoke from exiting the cooking chamber.
Thus, a well-fitted gasket improves the cooking performance by assuring better temperature control. That's what this gasket upgrade does for your Kamado cooker by bringing back stability in heat control. 
Even if you own a large BGE or Kamado Joe smoker, worry not. It is long and wide enough to seal the deal.
In fact, it's wider than you actually need to cover a Kamado cooker. That leaves you with hesitation about whether to cut the outside edge or hang it over. 
In my opinion, lining up the outer edge makes it easier to put the bands back on.
Nevertheless, the best part is the peel-and-stick adhesive backing, I guess. Without any additional adhesive spray, you can just make the gasket stick to your grill by peeling the backing. And yes, this kit comes with the installation instructions as well.
Pros
Suitable for all Kamado and Egg-style grills

Lasts quite long, even longer than the stock gasket

Offers an excellent seal between the top and bottom of your grill
Cons 
A little wider than needed, you should trim it for a perfect snug fitting
Also Read: Kamado Joe Charcoal Basket vs. Kick Ash Basket: Which is Better for Grilling?
Quantfire Replacement Gasket For Kamado Joe
Looking for a replacement for your Kamado Joe junior gasket? You can check out this high temp grill gasket replacement kit at a very affordable budget. 
Besides, Quantfire makes gasket upgrades for Kamado Joe Classic, Classic l, and Big Joe as well. You can pick one according to the model you own.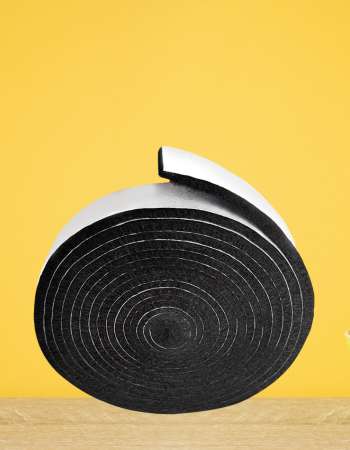 Top Features
Easy to use with the peel-and-stick white backing 

A perfect fit for Kamado Joe Jr., no extra cut is required 

Made with flame retardant and high heat resistant material

Optimum sealing performance to enhance charcoal efficiency

Suitable width, length, and thickness to cover the base and top lid
| Specifications | Parameters |
| --- | --- |
| Brand | Quantfire |
| Color | Black |
| Dimensions | 5.3 x 5.3 x 0.87 inches |
| Weight | 2.08 ounces |
Quantfire is always a reliable name for offering durable Kamado Joe replacement parts. That's why I hand-picked their gasket upgrade to renew an old Kamado grill with optimum sealing.
Truth be told, they offer one of the cheapest gasket replacements in the market without compromising the quality. 
Without any chemicals or adhesive sprays, you can easily install this kit by peeling the white backing from the adhesive side.
Naturally, you won't make a mess while applying the gasket to your grill surface. Moreover, the manufacturers designed it with high-temperature-resistant materials. As a result, it doesn't melt or burn. 
However, smoke-free leakage is one of the key amenities of an ideal gasket replacement. Thankfully, Quantfire passed the test with this self-stick gasket.
It offers optimal sealing without making the smoke leak.
Naturally, you get to enjoy a more precise temperature control which greatly influences your smoking results as well.
Best of all, it comes with adequate material to replace the top, bottom, and vent gasket in a Kamado grill.
Pros
Very affordable 

Quick and easy installation 

Sticks well on a ceramic grill for quite long
Cons 
This gasket is not dishwasher safe
How To Choose The Perfect Gasket Replacement For Kamado Joe
Follow the following things when you buy a gasket replacement for your KJ grill to replace the original one-
Material
First thing first, you should look for high-quality material for the Kamado Joe gasket. Only then it will last as long as the original one, sometimes, even longer than that. 
Also, it should be fireproof and built with flame-retardant materials. 
High-Heat Resistant
The gasket must be resistant to high-temperature. Otherwise, it will start melting during high-heat searing. 
On that note, you can go for the FireBlack High Temp BBQ Smoker Gasket that survives heat up to 1600F.
Built-in Adhesive
Whenever you try to put a gasket on the grill with an adhesive spray, you cannot help making it a mess.
That's why experts always recommend choosing a gasket that has self-sticking properties. 
That means a gasket replacement with built-in adhesive is the best deal as it takes nothing but to peel and stick to be installed. 
Size and Shape 
When buying the perfect gasket upgrade for a KJ grill, the size and shape matter.
There are lots of dedicated gasket replacements for Kamado smokers in the accurate size. Go for those as you don't need to cut them. Just peel off the backing and paste it on the grill. 
So, measure the length, width, and thickness of the existing gasket on the top, bottom, and vent precisely and then go for the replacement accordingly. 
Sufficient Sealing 
The key purpose of the replacement gasket is to bring back the heat control of the grill by providing optimal sealing performance. So, it must seal heat and smoke inside the cooking chamber.
If the gasket doesn't offer adequate sealing, it's a misfit for your KJ grill.
Kamado Joe Gasket Replacement Step-By-Step Guide
To replace your failed Kamado Joe gasket, you must follow the proper guidelines. Here is the step-by-step gasket replacement guide for your Kamado smoker-
First, you need to remove the old gasket material including adhesive. There shouldn't be any material left.

Then you should brush the surface thoroughly including the dome and the edges. Remember, this might take some time. You can use glue remover, detergent, or alcohol to get rid of any sooty substances from the surface. 

Once the surface is clean, mark the accurate position where you want to install the new gasket. Then cut the material according to the measurements of the base, neck, and dome of your Kamado grill.

Peel off the back sticker of the new gasket and slowly apply it on the base. The new gasket material should line up with the interior edge for a proper seal.

Trim off the excess gasket if there's any when it comes to the end of the base.

Follow the same method for replacing the neck and dome gaskets. 

Once you are done pasting the new material, leave the grill standing for 24 hours so that the gasket fully sticks to the surface. Then you can start cooking on your grill.
Conclusion
The gasket is an important part of a Kamado Joe grill, for sure. Thankfully, it doesn't need replacement super often. 
Although it depends on the frequency of using the grill, you probably need to change the gasket every few years.
But whenever you replace it, do it right. That's why I narrowed down your search for the best Kamado Joe gasket replacement with my top five picks.
Hopefully, now you can make an informed purchase with the reviews above.
Good luck!