Do you want to be a true master of your Masterbuilt 560 charcoal smoker? Then you must learn how to troubleshoot it when the masterbuilt 560 control panel/display not working.
There are some common complaints against this digital charcoal smoker that its control panel goes blank out of the blue frequently. 
Moreover, you keep hearing the beep sound over and over when the display keeps blinking. And sometimes, the LCD screen doesn't turn on at all.
With all these issues in mind, I have prepared a detailed troubleshooting guide below. Keep scrolling if you want your Masterbuilt 560 control panel back on track again.
Every product is independently reviewed and selected by our editors. If you buy something through our links, we may earn an affiliate commission at no extra cost to you.
Why Is My Masterbuilt Smoker Control Panel And Display Not Working?
Honestly speaking, I have experienced the same issue with my Masterbuilt 560 so many times. And what I always do is unplug the cable and plug it back.
But that's not the solution in most cases. First, you need to find out what's stopping the display to work fine. 
So, let's break down the common causes behind the malfunction of the Masterbuilt 560 display/control panel. 
Dirty Control Panel
Have you not cleaned your Masterbuilt 560 for a long time? Chances are, smoke, food grease, and dust are seeping into the panel and making it malfunction. 
Yeah, a dirty controlled panel will stop working due to grease and debris buildup.
Whether it's the Gravity series 560 model or any other Masterbuilt smoker, you must clean the display regularly. 
Extended Period of Use
Being an electronic device, Masterbuilt 560 is not compatible with extended periods of use. If you are running the smoker for too long, the digital display can suddenly go dark out of nowhere. 
Maybe it won't even start the next time you try to turn on the smoker. That means the digital display panel needs rest to cool down. 
Thankfully, the problem is temporary, not permanent. 
Environmental Effect
Well, the next reason is pretty obvious. Being an outdoor appliance, the Masterbuilt 560 is often subjected to environmental wrath. 
When you try to start the smoker in freezing temperatures, naturally, the display won't turn on. This is the limitation of most electric appliances. 
At the same time, direct sun exposure for a long time can cause the control panel to break. In that case, you need to replace the entire panel.
Faulty Fuse
Once I checked the fuse behind the control panel of my Masterbuilt 560 and it was blown. It might be another potential cause of the display failure.
Physical Damage
Finally, the display panel has probably been physically damaged. Have you ever accidentally dropped a food tray over it?
Or it might be a fallen branch that damaged the display while the smoker was under a tree. 
Even if there are no signs of breakage, it could lead the wires to become loose with the display. That's how the control panel stops responding. 
However, it's better to look for replacements in such cases instead of wasting time and money. 
Also Read: Why Is My Masterbuilt 560 Fan Not Working?
How To Fix If  Masterbuilt Smoker Control Panel Not Working Properly
Here I go with the possible quick fixes of the display issues. Hope this helps you troubleshoot your Masterbuilt 560 in no time.
Clean the Control Panel
First thing first, you need to thoroughly clean the control panel if it's dirty. Due to heavy use, there could be dirt, grease, and smoke buildup inside the panel.
Alongside wiping the panel thoroughly, you should also consider cleaning it from the inside. 
To do so, 
Take a screwdriver 

Unscrew all the clips and screws the display is attached to. 

Then pull the panel apart

Place it on a paper towel

spray a quick-drying electrical contact cleaner like WD-40.

Now, you have to wait for a while so that the cleaner seeps in. 

Then you can screw everything back to the display panel back onto the smoker.
Reset the Panel
The simplest thing you can do when a Masterbuilt 560 display stops working is to reset the display. It particularly helps when the smoker is plugged in for a long time.
Simply, unplug the smoker from the power source, wait for a minute, and plug it back.
Moreover, you can unplug the entire display from the smoker to check if all connections are alright.
This trick saved me in many crucial situations when I badly wanted my smoker to run smoothly.
Reset the Software
Another way of solving the display issues is to perform a software reset. This will bring the display back to its factory default settings. But how do you perform a factory reset? There's no reset button after all!
Well, don't panic. All you need to do is to push and hold the clear button for 5 seconds and then release it. This will magically solve any technical issue in the control panel of Masterbuilt 560.
Warm Up the Unit
As I stated above, the LCD screen won't turn on in freezing temperatures. So, detach the display unit and move it to room temperature. Let it warm up for a while.
Now, place the unit back in the smoker and turn on the smoker. Hopefully, the display will work. Otherwise, you can just use a hairdryer to warm up the display panel if you are in a rush. 
Replace the Fuse
Check for the fuse at the back of the control panel. If you find any issues, replace it to make the panel work again.
Replace the Entire Panel
Well, this is the last step. But if the display panel is severely damaged, there's no point in trying to fix it.
If your smoker is still under the warranty period, contact Masterbuilt for a replacement. But if it exceeds the warranty period, buy a new display unit.
Don't worry, you can install the replacement panel all by yourself. Of course, credit goes to Masterbuilt's user-friendly plug-in system.
Also Read: Best Fire Starter For Masterbuilt 560 (My Top 5 Picks)
3 Masterbuilt 560 Control Panel Replacements You Can Go For
After extensive research, I picked up the following three control panel replacements for your Masterbuilt 560 which fill the bill in terms of flexibility, ease of operation, and value for money. Let's check them out in detail-
Digital Control Panel for Masterbuilt 560  by COMVIEE
First, let's analyze an excellent control panel replacement by Comviee which is absolutely suitable for the Masterbuilt Gravity series 560 digital charcoal smoker. 
The key features of this replacement kit are as follows-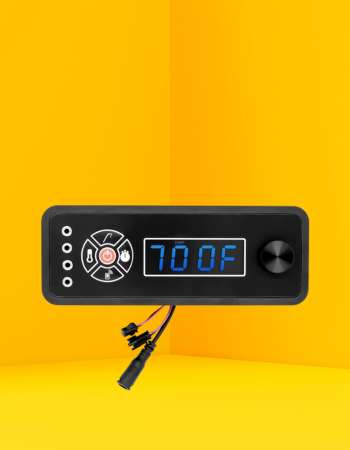 Top Features
Very easy to install

Quick push-button control

Smooth and hassle-free operation 

The sturdy interior is made of durable stainless steel

Accurate display of the smoker's internal temperature 
---
Well, this off-brand control panel is absolutely perfect for your Masterbuilt 560 followed by an easy installation. 
The high-quality controller assembly with an LED digital display ensures exact internal temperature readings.
Therefore, you can set your required temperature on the digital control panel to smoke, sear, roast, or BBQ better.
Please remember that this replacement controller is not compatible with wifi. And if you find frequent errors while connecting it via Bluetooth, you need to try a few more times. 
However,  the replacement unit is highly heat resistant and therefore, provides a long service life. You just need to install it properly following the instructions given by the manufacturers. 
Moreover, it's very easy to operate with the push-button on/off. The precise buttons on the unit make it more user-friendly. 
Pros
Heavy-duty construction lengthens its lifespan

Concise buttons make the controller user-friendly 

Any sort of dissatisfaction with the controller provides either a replacement or a full refund
Cons
Digital Control Panel with Meat Probe
Secondly, let's meet another wonderful 560 controller panel from Qfire, a reliable name for any Gravity series replacement kit. They produce power adapters, fans, fan kits, display units, and whatnot for the Gravity series charcoal smokers from Masterbuilt.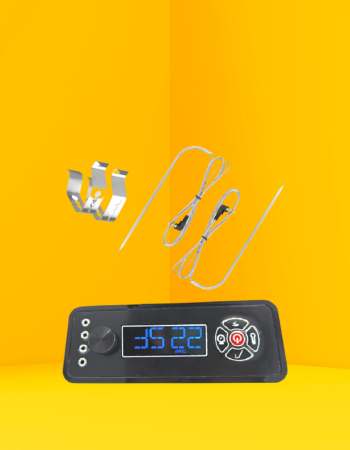 Top Features
Doesn't provide any wifi support

Heavy-duty construction with stainless steel

Allows controlling both cooking time and temperature accurately 

Includes 2 meat probe thermometers and 2 probe clips in the package 

Compatible with Masterbuilt Gravity 560 and 1050 charcoal grill and smoker 
---
Well, there are five concise buttons on this digital unit. One indicates the meat probe temperature, and the next one is to set the cooking time. 
The time setting button is followed by a "heat fast" button which accelerates the heating process. Then there is a button to set the cooking temperature. 
In the middle, there's a red power on/off button. All these buttons are very smooth to operate.
Aside from a digital panel, you get two meat probes and two clips in the same package. Doesn't it make this package a better value for money?
However, with the meat probes, you can monitor the meat temperature closely.
Pros
Very easy to install

LED digital display 

Comes with meat probes to monitor meat temperature 
Cons 
No Wi-Fi or Bluetooth capability 
Digital Control Panel Replacement by FEECOS
In the final spot, I want you to check out this digital control panel by Feecos. The best part of this replacement kit is that it works with almost all Gravity series smokers from Masterbuilt, whether you own a 560, 800, or 1050 lineup.
Let's break down its key specialties below-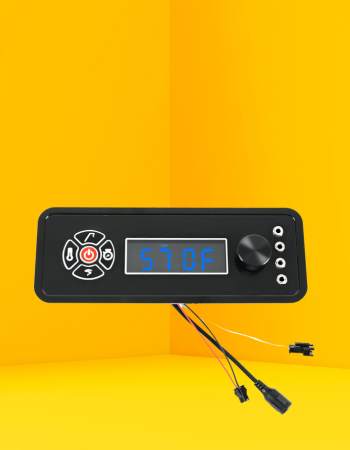 Top Features
A power on/off controller

Ensures longer service life

Features a control knob for easy operation 

Features a heating acceleration button for quick smoking 

You can set the cooking time and temperature using two different buttons
---
Honestly speaking, Feecos made it very easy for users with a push button on/off system in the controller.  
Besides, you can easily install this replacement control panel. It's no rocket science at all.
You just need to install the digital thermostat on your Masterbuilt smoker and adjust it to your required temperature. 
As it's not wifi supported, you might find some issues regarding connectivity. But there is a 24-hour customer support team available to answer your questions. 
On that note, most of the off-brand control panel replacement kits have no wifi support. So, no big deal!
Best of all, this off-brand kit displays the internal smoking temperature as accurately as the original control panel. I think that's what matters when you want to enjoy a smooth grilling experience. 
Pros
Value for money 

Beginner-friendly features

Long-lasting construction 
Cons
Sometimes, the display gets unreadable 
How Do I Reset My Masterbuilt Control Panel?
According to the manufacturers, you need to power off a Masterbuilt smoker and unplug it from the power source. After 5 minutes, plug it back in and turn the device on. That's it. Your Masterbuilt control panel has been reset.
Is It Normal For The Control Panel To Go Dark During Smoking? 
When you are cooking for a long period of time, the control panel might go dark due to inactivity. 
But it's not normal if it still remains dark when you are trying to activate it by touching the display or pressing the buttons.
Can Improper Cleaning Or Maintenance Lead To Control Panel Issues?
Yes, of course. Like any other electric component, you need to be very careful while cleaning the control panel of your Masterbuilt 560. If you don't wipe the panel after each use, food grease and dirt will seep into the panel to make it malfunction. 
Similarly, if you leave your smoker outside without proper protection,  weather elements could affect the panel badly.
Is It Possible To Use a Masterbuilt 560 Smoker without a Control Panel?
Yes, it's possible but not recommended. Without the display panel, you cannot set/monitor the cooking time and temperature. So, it's hard to cook your food to your liking. 
Besides, the smoker will run at maximum temperature without a control panel.
Conclusion
Being a long-term Masterbuilt user, I know how frustrating it is when the control panel/display fails. It can literally ruin your entire day.
However, you can get the panel up and make it run with some simple quick fixes. Until the panel gets totally ruined, you can follow the steps above to make it work.
But if it's unworthy to restore, go for the alternatives. The replacement units are absolutely worth trying considering their cost and long lifespan.