Masterbuilt 560 is a smart and versatile charcoal smoker from the Gravity series. It has gained immense popularity among BBQ geeks since its launch.
But sometimes, it surely gives you a hard time with the fan. You might see the fan malfunction in the middle of cooking. And even worse, the fan might not turn on at all.
Having first-hand experience of handling this workhorse for years,  I am going to share what to do when you find the masterbuilt 560 fan not working.
Should I start? Then dive deep into the troubleshooting part. 
Every product is independently reviewed and selected by our editors. If you buy something through our links, we may earn an affiliate commission at no extra cost to you.
Why Is My Masterbuilt 560 Fan Not Working? 
First, let's focus on the key reasons why the Masterbuilt 560 fan stops working.
Damaged Controller
A damaged controller could lead the Masterbuilt fan to stop working correctly. And sometimes, the fan is not connected to the controller. Otherwise, you have to check if the controller's power is off.
Overheating Issue
An overheated grill/smoker stops the fan from running. If you are having a long BBQ session, the smoker is bound to be overheated. In that case, the fan might not be operated as it should be.
Stuck Charcoal 
If you find a piece of charcoal or any physical object that got stuck in the fan, it's not going to work. In fact, the fan will not turn on in your Masterbuilt 560 if this happens. 
Open Ash Door/ Hopper Lid
I once kept the hopper lid open in the Masterbuilt 560. Any guesses about what happened?
Naturally, the hopper switches became less engaging, stopping the fan from working properly.
The same goes for the open ash door. With the ash door open, the less engaged fan switches prevent the 560 fan from running smoothly. 
Faulty Heat Sensor
With a defective temperature sensor, any Masterbuilt fan will malfunction. Sometimes, you can't even turn the fan on as the sensor reads temperature incorrectly. 
Similarly, a dirty temperature probe gives the wrong signal regarding the actual temperature of the smoker causing the fan to run irregularly.
Temperature Goes out of the Setting 
Last but not least, the cabinet temperature of the Masterbuilt 560 fan often exceeds the set temperature. In that case, the fan stops working. 
Also Read: Best Fire Starter For Masterbuilt 560 (My Top 5 Picks)
How To Fix If My Masterbuilt 560 Fan Is Not Working? 
Well, once you can figure out what is stopping your Masterbuilt fan from working properly, your job is half done. 
Now, let me walk you through the solutions below to fix these issues. 
First, check the connection of the controller and make sure the power button is on. You should also check the wiring connection between the fan and the controller. Upon finding any loose or frayed wires, you need to reconnect them to make the fan work.

To avoid the overheating issue, you should turn the smoker off, wait for a while to let the temperature dip down and restart the smoker. Hopefully, the fan will start working. 

Upon finding charcoal, wood chips, or food particles stuck inside the fan, you must pull the fan's mountain screws to let the stuck item fall out.

Whether it's the ash door or the hopper lid, you must ensure that they are closed properly. Otherwise, the 560 smoker fan will malfunction. 

Besides keeping the temperature probe dirt-free, you should also check the accuracy of the temperature sensor. If there's an issue with the sensor, you should replace it with a new one.

Finally, the fan's set temperature must be higher than the cabinet temperature. So, if the cabinet temperature goes higher, fix the fan's set temperature range again and restart the smoker. 
If nothing of the above techniques works, the fan is probably dead and you should look for a replacement. 
Also Read: Masterbuilt Smoker Leaking From Bottom – How To Fix?
Masterbuilt 560 Fan Won't Turn On – How To Fix?
Apart from the Masterbuilt 560 fan not working out, there are other issues as well. What if you can't even turn it on? 
Let's look forward to the reasons followed by the solutions.
Reasons
If the fan of a Masterbuilt 560 smoker is not suddenly turning on, probably the smoker itself is not plugged into an appropriate power source. So, check the connection first. However, a loose or disconnected power cord would also stop the fan from running. 

Another reason the fan won't turn on is that there are probably charcoal pieces stuck inside. 
Solutions
To resolve the issues, you need to make sure the smoker is plugged in properly without any frayed wire. You can try unplugging the smoker and plugging it back in to see if that solves the problem.
Secondly, a thorough visual inspection is necessary to find out any obstructions in the fan. Any food grease or charcoal pieces could hinder the fan's regular movement. Just remove it and you will see the fan turning on.
Again, if nothing works, the motor of the fan is probably damaged. So, you have no choice but to replace the entire fan.
Also Read: Masterbuilt Smoker Tripping GFCI (Solved)
Masterbuilt 560 Smoker Fan Replacement – My Top 3 Picks
As I stated above, sometimes no troubleshooting step works if the fan is already dead. But don't fret! There are plenty of replacements in the market. You don't need to stop using the Masterbuilt 560 if you can't fix the fan. 
Just follow the reviews below which include three of the best replacement kits for a Masterbuilt Gravity 560 fan.
Replacement Masterbuilt 560 Fan by YAOAWE
Replace your damaged Masterbuilt fan today with this replacement fan kit from YAOAWE. If you own any of their gravity series grills, rest assured this will fit them all. And you can easily take care of the stainless steel exterior by wiping the fan regularly. 
Nevertheless, let's break down it's core specifications below-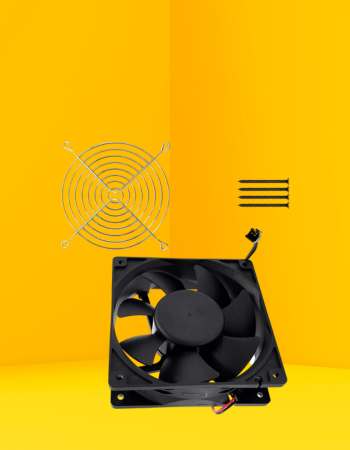 Top Features
Very easy to install

Reaches high heat quickly

Includes a stainless steel fan guard for added safety

Offers precise temperature control throughout the smoking session

Compatible with Masterbuilt Gravity Series 560, 800, and 1050 XL charcoal grill
---
Out of their countless grill replacement parts, YAOAWE is winning hearts with this particular fan replacement for Masterbuilt gravity smokers.
There are reasons though. With reliable craftsmanship, this kit falls nothing short of impressing even the expert grill masters.
With the 2-pin connector, it fits any Gravity grills from Masterbuilt.
As it comes with 4 mounting screws, you can have a hassle-free installation. 
Best of all, it helps reach 225° F within 7 minutes. And you can reach 700° F in your Masterbuilt 560 in just 13 minutes.  Can you imagine?
Thankfully, the outer materials include heavy-duty stainless steel. So, you just need to wipe the exterior for a thorough cleanup.
Pros
Very good build quality 

Reasonable price range 

Everything fits together smoothly 
Cons
Doesn't have any locking feature
Also Read: Masterbuilt Electric Smoker Vent Open Or Closed (Answered)
Replacement Masterbuilt 560 Fan by brati
Looking for a decent replacement for your old Masterbuilt gravity smoker fan? Check out this one from brati. Aside from offering a cheaper price tag and precise temperature control, it has so many other things to offer. 
Let's look forward to its prime features.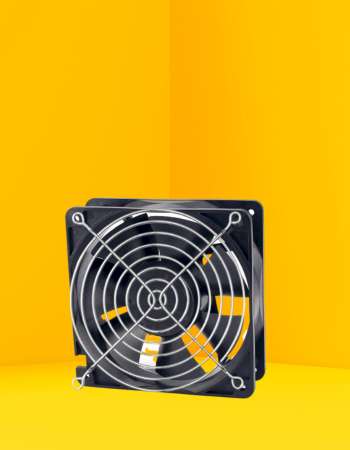 Top Features
Easy to plug in and use

Pushes more air to heat the grill quicker

Made with premium quality stainless steel 

Fits Gravity series 560/800/900/1050 models

A digital fan kit for Masterbuilt Gravity series charcoal grills and smokers
---
Honestly speaking, I found this replacement fan better than the original Masterbuilt fan in some cases.
Firstly, it makes very little noise which is a great plus for me.
Secondly, the excellent stainless steel construction adds more value to the entire package. 
Talking about the installation, it's as easy as plug and play. So, you don't need any expert help even if you are changing your smoker's fan for the first time.
And it only takes a few minutes to complete the installation.
Overall, it's a deal you shouldn't miss if you have to replace the Masterbuilt stock fan in your 560 charcoal smoker.
Pros
Very affordable 

Zero connection issues 

Quieter than the original one
Cons 
The build quality is not up to the mark 
Replacement Masterbuilt 560 Fan by WAITCOOK
Finally, I have the cheapest alternative of the original fan of Masterbuilt Gravity series charcoal grills and smokers. But the cost has nothing to do with the quality. Waitcook designed this exhaust fan with utmost care and professionalism to let you BBQ better.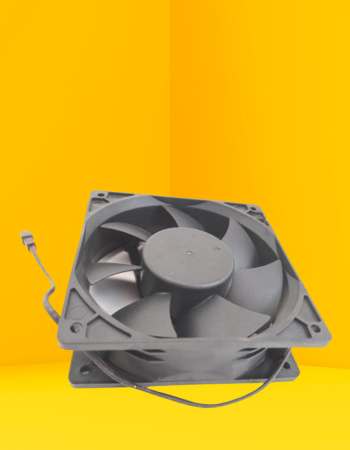 Top Features
Hassle-free installation 

Ready to move with a push button start 

Controls internal temperature efficiently 

Maintains your desired cooking temperature 

Compatible with Masterbuilt gravity series 560, 800, and 1050 model
---
Waitcook is a dependable choice to get BBQ replacement parts. They proved it again with this digital fan kit for Masterbuilt. 
Similar to the YAOAWE one, it is suitable for Gravity 560, 800, and 1050 charcoal grills and smokers. Unfortunately, you get no fan guard here.
However, the digitally controlled fan enhances airflow from the hopper to the smoking chamber. 
As a result, you can reach your target temperature earlier than expected. 
Besides, it maintains internal temperature accuracy pretty precisely. No wonder BBQ becomes more fun with this affordable fan replacement from Waitcook.
If you encounter any issues while installing the fan, contact their support team immediately. They will solve the problem within 24 hours. 
Pros
Push button control 

Reliable construction 

Very affordable price point
Cons
Here is how can you replace your masterbuilt 560 fan – 
Why Is My Masterbuilt 560 Fan Not Getting Power?
If your Masterbuilt 560 charcoal smoker is plugged in properly and still the fan doesn't get power, the problem is either in the circuit breaker or fan motor. 
Check the electrical panel if there's any blown fuse or tripped circuit breaker. In that case, you need to replace the fuse and then reset the circuit breaker.
Alternatively, there could be a faulty fan motor that doesn't get power as it is damaged. Naturally, you should replace it.
What Can Happen If Masterbuilt 560 Fan Is Not Working?
Due to the fan failure in a Masterbuilt Gravity 560, there could be several issues that lead to food safety concerns. 
As we all know, a fan circulates heat and smoke evenly inside a charcoal grill/smoker. If it suddenly stops working, it will lead to uneven cooking resulting in multiple hot and cold spots. That will ruin your food entirely. 
Also, a malfunctioning fan will make the smoker struggle to maintain a consistent internal temperature. If you don't take the necessary steps to fix the fan, it might damage the smoker's internal components in the long run.
Conclusion
I hope you find this troubleshooting guide helpful. Although there are many reasons behind a Masterbuilt 560 fan not working, I have covered the most common issues above with potential quick fixes. 
Let me tell you again, address the issue first. You need to point out why the fan is not working or getting power. Then work on the issue accordingly. 
But if you find it challenging to fix the faulty fan yourself, don't hesitate to seek expert help.