Among BBQ enthusiasts, drum smokers are on trend nowadays for their traditional low-and-slow smoking capabilities in the easiest possible way.
However, the Weber Smokey Mountain is a reliable name in this regard that has been a crowd favorite since its outset. It's versatile, easy to use, and holds heat quite well.
But recently, the Oklahoma Joe Bronco is giving a hard battle to WSM with its better mobility and competition-grade results. 
But if we compare the enchanting smoke-filled essence they deliver, who wins over whom between Oklahoma Joe Bronco vs Weber Smokey Mountain? 
Let's find out!
Every product is independently reviewed and selected by our editors. If you buy something through our links, we may earn an affiliate commission at no extra cost to you.
Oklahoma Joe Bronco vs Weber Smokey Mountain – Which One Should You Choose?
Well, that's a tricky question actually. But as I have used both smokers, I will try to shed some light in this regard.
Here's the quick comparison chart –
| Key Features | Oklahoma Joe Bronco | Weber Smokey Mountain |
| --- | --- | --- |
| Item Dimensions | 30.28 x 25.35 x 43.3 inches | 24 x 23 x 48.5 inches |
| Item Weight | 136.6 Pounds | 68 Pounds |
| Material | Porcelain, steel | Steel |
| Outer Material | Alloy Steel | Aluminum |
| Cooking Surface | 630 sq inches | 701 sq inches |
| The Hallmarks | Custom smoking setup, Durable Construction, Airflow Control System, Easy clean up & Mess-free dumping | Superior Heat Retention, Large cooking space, Efficient Burning, Lid Thermometer & Precise Heat Control |
| Price | Check on Amazon | Check on Amazon |
Being launched much later than the WSM, OKJ Bronco still managed to gain popularity because of its versatile use. In fact, it's considered a game changer in the BBQ field in terms of drum smokers.
Talking of its architecture, it's smart, stylish, and nontraditional. And this barrel-type smoker actually looks like a drum with a multi-component design.
However, being engineered with classic wagon wheel tires, it's easily transportable. I found it to be the biggest benefit of Bronco.
Moreover, it includes a side table. That surely makes smoking easier. You can use the table as a nice workspace by placing the BBQ tools on it.
Nevertheless, let's get back to the point of versatility. Actually, it's a multifunctional cooker. So, you can use it as a charcoal grill or a smoker as per your demand.
But wait. You can hang ribs in this smoker and smoke them as well.  Wondering how? With the heavy-duty three stainless steel meat hangers, of course. 
Also, you will be sold on the durable rubber handle. It offers a secure grip that's cool to the touch. So, handling the smoker becomes easier even when it reaches the highest temperature range. 
Overall, it's a fun grill to use that holds temperature exceptionally well. 
So, what about its flavor profile? Umm, it's quite good. Once you learn how to add charcoal and manage the air vents conveniently, you can enjoy a great smoky flavor after long hours of cooking. 
However, the only downside is adding charcoal could be a mess until you master the process. 
Here comes the WSM as the winner with its hassle-free charcoal-adding facility. With a super convenient removal fuel door, you can easily refuel the smoker when needed.
Another good point about the WSM is its wider smoking surface. Naturally, you can smoke more food in the Weber one at a time. 
But it doesn't include any meat hooks like the Bronco drum smoker. So, if you hang meat to smoke them, the Bronco could accommodate more food than the WSM.
However, the point to be noted, you cannot use the WSM as a traditional grill. It's meant to perform as a smoker.
In terms of heat control, it's easier for WSM though. It has dampers on the downside to control the temperature better.
To adjust the cooking temperature, you don't need to lift the lid. If you want less heat flow, keep the dampers half open. And closing them completely will cut the oxygen flow to extinguish the fire.
Now, let's talk about the smoke density of the WSM. In all honesty, it offers quite decent smoky essence in your food.
One of the most exclusive add-ons by Weber is the water pan which retains flavor and moisture inside. Resultantly, the meat tastes tender and juicy along with an authentic smoky aroma.
Being heavily insulated, the WSM also spreads heat more evenly. So, the meat becomes more appetizing by being cooked with a consistent heat flow.
Now, it's your call to decide whether you need a deeper smoke-filled flavor or versatility of operation. 
If you are looking for a drum smoker to serve multiple purposes, go ahead with the OKJ Bronco. It has three modes of operation along with efficient smoking performance. 
But for a better smoke profile by adding charcoal easily, I prefer the WSM. 
Still confused? Dive deep into the detailed reviews of two top-selling smokers from each brand. 
Oklahoma Joe's Bronco Drum Smoker
As the name suggests, this multipurpose Bronco smoker has a drum-like architecture to serve all your BBQ needs. It's a premium-quality smoker with heavy-duty construction. Here's why it has been gaining immense popularity in recent years-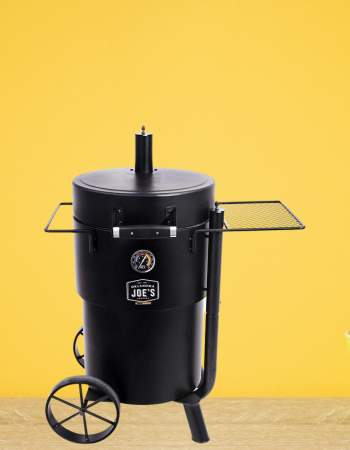 Top Features
Heavy-gauge steel construction

Comes with a sealed lid for precise heat control

Comes with both cooking grates and meat hangers

A multi-component cooker with a porcelain coating

The signature airflow control system makes cooking easier
| Specifications | Parameters |
| --- | --- |
| Item Dimensions | 30.28 x 25.35 x 43.3 inches |
| Item Weight | 136.6 Pounds |
| Power Source | Charcoal |
| Fuel Type | Charcoal |
First thing first, it's a barrel-type drum smoker from Oklahoma Joe, a trustworthy name in the BBQ field.
You can call it a workhorse when it comes to precise temperature control. The unique airflow control design of this charcoal smoker lets you customize heat according to your needs.
Further to the above, you get an oversized charcoal basket with this cooker that holds enough fuel for a longer smoking session.
Another great advantage of this drum smoker is the removable porcelain-coated ash pan. Just lift the pan with your hand and unload it. Easy-peasy!
Talking about the manufacturing material, the outer part is built with durable alloy steel. And the inner portion is covered with heavy-gauge stainless steel. Thanks to the porcelain coating, it's a rust-free drum smoker for lifetime use.
With two sturdy cooking grates, you get around 630 square inches of smoking space. Isn't it enough to meet your BBQ needs? If yes, then why so late? Go and grab your unit before it runs short!
Pros
Very easy to assemble

Rust-free and removable ash pan

Offers great mobility with the well-built wheels
Cons
It's a bit challenging to add charcoals in the middle of a cook
Also Read: What Is The Best Size Weber Smokey Mountain Smoker?
Weber Smokey Mountain 22-inch Smoker
Next comes everyone's favorite mountain cooker, the very versatile Weber 22″ Smokey Mountain Smoker. Let's point out its key specifications below.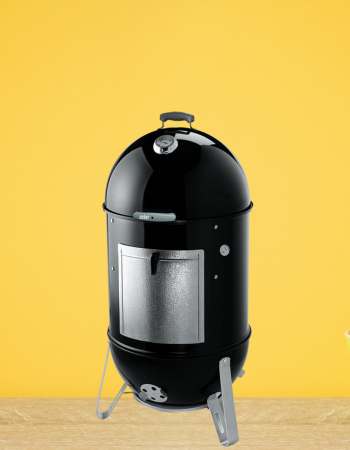 Top Features
Includes a removable fuel door

Outer Material: Aluminum, Inner Material: Stainless Steel

A resistant porcelain coating on the lid, bowl, and center section

Two durable cooking grates offer 726 square inches of smoking surface

Has a silicone temperature grommet to closely monitor internal temperature
| Specifications | Parameters |
| --- | --- |
| Product Dimensions | 24″D x 23″W x 48.5″H |
| Item Weight | 68 Pounds |
| Inner Material | Stainless_steel |
| Fuel Type | Charcoal |
| Color | Black |
To put it straightforwardly, the WSM has a detachable aluminum fuel door, and that makes the biggest difference.
You can easily remove the fuel door and add charcoal during a long smoking session. It's surely a massive plus for any charcoal smoker out there.
Aside from that, the heavy-duty stainless steel architecture is built to last. At the same time, it guarantees high heat retention as well.
Above all, thanks to the silicone temperature grommet, you can observe and adjust the temperature easily.
With the two porcelain-enameled cooking grates, you can smoke up to 6 rib racks at a time. Due to this coating, the smoker is prone to rust and crack.
However, I must mention the water pan of a WSM which regulates temperature evenly and consistently. Resultantly, it adds moisture to the heat to make the meat more flavorful.
And the best part of using a WSM is that you can directly control heat and smoke. If you overshoot somehow, close the dampers and it will let the charcoal extinguish.
Pros
Offers superior heat control 

Great for fast and easy BBQing

Relatively lightweight and therefore, easily portable
Cons
Poor construction of the fuel door
Also Read: 5 Best Temp Controllers for Weber Smokey Mountain
Differences Between Oklahoma Joe Bronco And Weber Smokey Mountain
Now, let's compare these two high-ranked smokers feature-by-feature to break down their differences.
Cooking Surface
As stated above, the 22″ WSM has two cooking grates with the dimensions of 24×23×48.5 inches. As a result, it offers 726 square inches of smoking space. 
On the other hand, you get 630 square inches of smoking surface from the Oklahoma Joe Bronco Barrel Drum Smoker.
Removable Fuel Door
A noteworthy feature of the WSM is its demountable fuel door. You can easily take it out during a cook and add as much charcoal as you want.
Unfortunately, the Bronco lacks this specification and therefore, adding fuel is quite a hassle for its users.
Wheels and Hinged Lid
Being wheeled, the OKJ Bronco wins the battle in terms of mobility. Though it's heavier than the WSM, you can move it easily, thanks to the large wagon-style wheels. 
Besides, it comes with a hinged lid to offer a better seal. In terms of a WSM, you need to buy the hinge separately. 
Versatility 
You can easily turn the OKJ Bronco into a grill from a charcoal smoker. But the WSM is meant to work as a smoker, not as a grill. In fact, this is one of the considerable drawbacks of WSM when compared to Bronco.
Similarities Between Oklahoma Joe Bronco And Weber Smokey Mountain  
Keeping the distinctions aside, the Oklahoma Joe Bronco and the WSM cookers share some common features as well. Let's check them out below!
Material
Both smokers are manufactured with heavy-duty stainless steel. That means both brands left no stone unturned to provide optimum quality assurance to their smokers. 
All thanks to their heavy-gauge steel construction, they last a lifetime if properly taken care of.
Porcelain Coating
Again, you will find durable porcelain coating in both of these smokers. As a result, the cooking grates remain rust-free even after frequent use. The coating also makes the cookers withstand high heat searing. 
Cost
As we all know, drum smokers are a bit pricier. Talking about these two top-ranked BBQ tools, they charge pretty much the same amount, more than $500.
Precise Heat Control
In terms of temperature control, you can rely on both. Because of their high-quality making materials,  they offer optimum heat control for a smoke-filled BBQ session.
By distributing heat evenly inside, both WSM and OKJ Bronco lock flavor and moisture to make the meat tastier.
Why You Should Choose Weber Smokey Mountain Over Oklahoma Joe Bronco
In a word, for a faster and easier smoking experience. Also, you can achieve a better smoke density by giving less effort into a WSM. 
It's true that the OKJ Bronco comes with some exclusive features like a side table, three meat hanging rods, and a set of wagon-style wheels. Obviously, it offers better mobility and versatility.
Nevertheless, it runs out of charcoal faster. And once that happens, you need to take everything out of the cooker to refuel it. What a hassle!
But what makes the WSM better is the removable aluminum fuel door. The detachable door makes refueling WSM a breeze.
Naturally, it is never out of charcoal and therefore, distributes the deep smoky smack up to the hilt. So, in terms of the smoke profile, the WSM is a clear winner. 
Best of all, the damper system allows superior temperature control without even touching the lid. So, you can easily adjust the heat flow as the recipe demands.
Last but not least, Weber has a bigger community than Oklahoma Joe. So, you get more support and suggestions if any issue arises. Plus, the WSM holds better resale value due to the Weber reputation. 
All things considered, the WSM is a better buy for the same price as the Bronco in terms of some crucial aspects of BBQing. And it certainly wins the flavor battle.
Conclusion
To wrap up this guide on Oklahoma Joe Bronco vs Weber Smokey Mountain, I would like to go with the Weber one as a better smoker. 
Yes, it lacks some additional features that Bronco offers. Still, it wins the race with the detachable fuel door that makes the cooker more beginner-friendly.
On the other hand, the difficulty in adding charcoal during a cook is the biggest complaint against Bronco.
But if OKJ could overcome this issue with an upgrade, certainly, it would be the no 1 drum smoker of all time.
So, which of the two smokers you are going to try? Hit me up in the comment section below.
Happy smoking!