Do you have a Masterbuilt 560? Then you might be here to complain about its firebox. Yes, it's true that the Gravity series smokers are known to have a firebox that gets hot easily. 
Sometimes, it cannot hold the fire inside, leading to serious fire hazards. But wait, all these issues could be resolved either by repairing or replacing the firebox unit.
So, let's dive into the Masterbuilt 560 firebox replacement and repair guide below.
Masterbuilt 560 Firebox Replacement with Gasket Material 
Here, I have a wonderful firebox replacement for Masterbuilt Gravity series smokers. What's more amazing is that it comes with gasket material. As a result, you can perfectly install the new firebox unit in your Masterbuilt 560 without any leakage.
However, let's break down what core amenities this replacement unit comes with-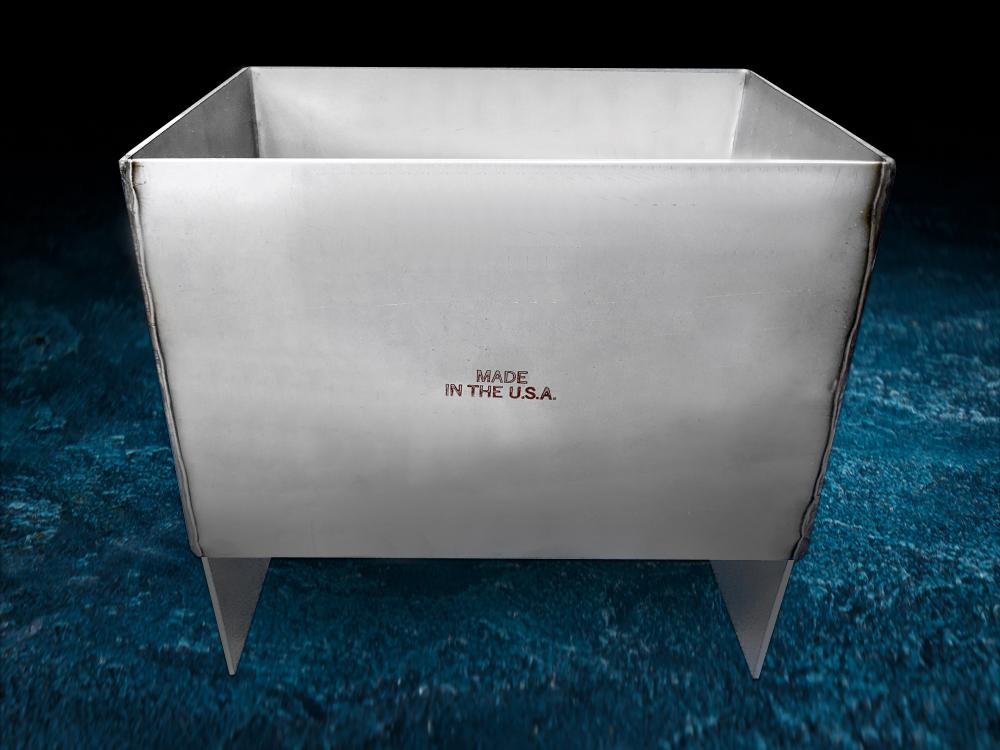 Top Features
Very easy to install

Made of heavy-duty stainless steel 

Thoughtful design to minimize warping 

Prevents burn through the original plates

Fits Masterbuilt 560, 800, 900, and 1050 gravity-fed smokers
First, let me make it clear what you get in the package. It includes a firebox replacement unit along with gasket material. 
Oh yes, there are detailed instructions on how to install this unit as well.
More importantly, you need no rocket science to install this unit. Just manage a couple of tools and follow the instructions. 
You can install the new unit in less than an hour. Can you imagine?
Apart from Masterbuilt 560, you can fit this firebox replacement kit to 800, 900, and 1050 models as well.
Being made of 12-gauge 304 stainless steel, this unit is made to last. At the same time, the gasket material ensures there is no gap in between.
Furthermore, the unit is carefully made in the USA and covers a free shipping facility to the Continental United States.
As Masterbuilt officially stated the original 560 firebox will burn away over time exposing the firebrick, this replacement unit is designed to minimize warping. That's how it helps extend the life of the original firebox unit. 
Nevertheless, you should remember that this unit covers no warranty as it's meant to go through extreme conditions. But don't worry, the heavy-duty construction doesn't let it get destroyed.
Pros
Extends the life of the firebox

Includes detailed instructions to install

Only a couple of tools are required for installation 
Cons 
It covers no warranty period

Slightly differs from the original pictures
Also Read: Best Fire Starter For Masterbuilt 560 (My Top 5 Picks)
How To Replace Masterbuilt 560 Firebox – A Comprehensive Guide
You might be thinking of hiring a professional when your Masterbuilt 560 firebox mod arrives. But trust me, you can replace the firebox yourself. You just need a flat-head screwdriver and wrench to replace it.
Here is a detailed step-by-step guide on how to do it-
First, detach the grill from the power source and let it cool down.

Then take the smoking grates and the ash pan away.

Now you can access the firebox, right? So, it's time to remove the old firebox.

Find out the screws and bolts in the firebox. Then unlock these with the help of the wrench and screwdriver. 

Please save the bolts and screws carefully.

After you take all of them out, the firebox unit is ready to be lifted out of the grill.

Once the old firebox is removed, put the new one inside the grill.

Then place all the bolts and screws accordingly and tighten them carefully.

Once all the screws are secured, place the ash pan and grill grates back in the grill.

Finally, fire up the smoker to check for any leakage. 

If there's no leakage, you have successfully replaced the firebox unit in your Masterbuilt 560 smoker.
However, there are a few things you should remember while replacing the firebox. Here they are-
You must get the correct replacement unit that fits the Masterbuilt 560 gravity-fed charcoal smoker.

Always wear safety gloves and glasses before you start the replacement. 
Also Read: Masterbuilt 560 Control Panel/Display Not Working – Fix It Now
How To Repair Masterbuilt 560 Firebox
Truth be told, your Masterbuilt 560 firebox is better to be replaced than repaired if there is an issue. I have suggested a very good replacement kit with the gasket material above. You can try this out.
Then again, if there are only minor holes or cracks, you can repair them as well. 
First, you must identify the damaged area to measure how severely the firebox is affected.

Then get some high-heat-resistant epoxy, one of the most reliable glues for metal coating.

Apply it evenly to the warped area. Then let it sit for a while to get hardened.

Finally, it's time to test the repair. Heat the firebox and check if the glue holds or not.
If everything is okay, you can continue using the firebox until it gets extensively damaged.
However, it's worth mentioning that this process only works to cover minor cracks. For significant damages, I still recommend replacing the unit with a new one.
Also Read: Masterbuilt 560 Temperature Issues (Solved)
How Do I Determine If My Masterbuilt 560 Firebox Needs Replacement?
The only tell-tale sign that your Masterbuilt 560 firebox needs replacement is the firebox malfunction.
If there's suddenly excessive ash buildup in the firebox or you find it hard to maintain a consistent temperature in the grill, it's perhaps the fault of the firebox. 
Sometimes, you will notice that your foods aren't getting heated evenly. Again, there must be a malfunction in the firebox unit.
But how can you determine the damage? By inspecting the firebox unit thoroughly.
If you notice any crack, hole, warp, rust, or corrosion in the unit, probably it's time to replace it.
Often, holes and cracks lead the firebox to significant heat loss. That badly affects your overall grill performance. 
Please remember that a faulty firebox can cause sudden flare-ups leading to potential fire hazards.
That's why you should replace it as soon as you notice any visible damage.
Also Read: Masterbuilt 560 Fan Not Working or Won't Turn On – How To Fix?
Maintenance Tips For Ensuring The Longevity Of The Replacement Firebox
Well, the maintenance tips for Masterbuilt 560 firebox replacement are nothing new. You should follow the basic care and maintenance. 
After every BBQ session, make sure to clean the ash and food grease from the firebox. This is really important as excessive ash and grease buildup accumulates rust. 
Sometimes, you should remove the grill grates and ash pan to access the interior of the firebox. Then clean the interior thoroughly to make the unit long-lasting. 
Most importantly, don't let the unit get exposed to excessive heat for a long period. This will accelerate the warping of the material.
Besides, you shouldn't expose the firebox interior to water if you want to avoid rust and corrosion.
Finally, you should use high-quality charcoal for less ash buildup. Otherwise, the Masterbuilt 560 firebox, whether it's the original or replacement unit, is bound to deteriorate sooner than expected.
Conclusion
That's all about masterbuilt 560 firebox replacement. I hope this guide answers all your questions regarding firebox replacement in a gravity-fed Masterbuilt smoker. 
Whether you have a 560 or any other Gravity series charcoal smoker, you should replace the firebox with a suitable replacement kit if it starts malfunctioning.
But before you order a replacement, you should check if all the specs are compatible with your specific grill model or not.
Besides, regular check-ups and maintenance can prolong the lifespan of a replacement grill part, be it a firebox or anything else.