Whether you are an aspiring backyard BBQer or an experienced pitmaster, you can never go wrong with kamado-style cooking.
As a kamado grill lets you cook almost everything you want, it is a must-have charcoal grill for a fast and versatile smoking experience.
However, Weber Kamado vs Kamado Joe is a long-standing debate when it comes to choosing the best Kamado-type grill.
Both the brands implied their signature takes on kamado-style smoking with some user-friendly features.
But they show some distinctions in terms of temperature adjustments, efficiency, and ease of operation. 
So, let's find out the better Kamado grill manufacturers between these two by comparing their top products below.
Every product is independently reviewed and selected by our editors. If you buy something through our links, we may earn an affiliate commission at no extra cost to you.
Weber Kamado vs Kamado Joe – Which Kamado Is Right For You?
First, let me walk you through an overall idea between two top-ranked Kamado grills of recent times.
Quick Comparison Chart – 
| Key Features | Weber Kamado | Kamado Joe |
| --- | --- | --- |
| Top-Ranked Model | Weber Summit E6 | Kamado Classic Joe I |
| Dimensions | 30.6″D x 36.8″W x 29.3″H | 18″D x 18.11″W x 48″H |
| Item Weight | 131.99 Pounds | 188 pounds |
| The Hallmarks | Ultra durable, RapidFire lid damper, Adjustable grate, high-heat searing, Gourmet BBQ System & two-zone setup | Tower Top Vent, Precise temperature control, Easy cleanup, Powerful efficiency, Slide-out drawer & Stainless Steel Grates |
| Special Feature | One-Touch Cleaning System, Dual-Position Fuel Grate, Dual-Walled Insulation | Heat-resistant Shell, AMP Firebox, Built-in Thermometer |
| Price | Check on Amazon | Check on Amazon |
Kamado Joe is definitely one of the crowd favorites and for good reasons. Their Classic Series grills deliver unparalleled performances in traditional charcoal grilling. 
In terms of intense smoke flavor profile and high heat retention, you cannot really complain about a ceramic grill.
Moreover, the durable ceramic architecture is porous and therefore, you see a decent amount of visible smoke while grilling in a KJ Classic grill.
And the best part is you get anything and everything needed for grilling with all the KJ grills and smokers. Just get the smoker out of the box and start grilling whatever you like.
Oh yes, it takes a while to make some necessary adjustments. And the key downside is that the assembly is a bit complicated. But once you are done, you can enjoy the best smoke ever.
Among the most exclusive add-ons, I liked the Divide & Conquer Cooking System the most.
It comes with two half-moon ceramic plates for two-zone cooking which is really commendable. Also it is compatible with Kamado Slow Roller, Kamado Joe Dojoe, and Half-moon Soapstone. 
And the patented ash drawer is a real blessing that makes after-cleanup a breeze. Being designed with a revolutionary heat-resistant shell, it locks both moisture and flavor better. 
Naturally, people who prefer the prominent smoky essence in their food find this grill an absolute must-have.
However, the Weber, on the other hand, is not far behind with its Summit Series Kamado grills. In fact, they offer better specifications in some particular aspects.
For example, Weber Kamados are fairly lightweight as they use stainless steel in the construction. So, you can take them to your backyard easily. 
Although they lack better insulation and superior heat retention than the KJ offers. But they hold heat quite well which is more than enough for a balanced flavor profile.
Another good thing about the Weber Kamados is the low-temperature cooking. Aside from using it as a traditional charcoal grill, you can attempt low-heat grilling as well. Honestly, I found it hard on the Kamado Joe grills.
That being said, you can use both briquet and lump charcoal as fuel for your Weber Summit E6 or Summit S6 model.
But KJ Classic grills work better with lump charcoal only.
Nevertheless, there are times when you overshoot in your charcoal grill or smoker.  In those cases, I found the Weber one more user-friendly as it is way more responsive to adjustments. 
You can quickly get the temperature down. But for high heat searing, the KJ one holds heat longer.
Howsoever, another reason I prefer Weber over KJ in terms of Kamado-style cookers is the maintenance issue. 
I mean, the KJ grills are covered with a warranty for the ceramic part, I know. But they are most likely to crack or break once fallen. So, you must handle it with utmost care. 
Fortunately, that's not the case with a Weber one. The dual-walled stainless steel construction is rustproof and prone to breakage, thanks to the porcelain coating.
So, apart from offering a deeper smoky essence, there's nothing special in a KJ grill that a Weber one cannot offer.
Considering all the pros and cons of a ceramic charcoal grill, I found the stainless steel variant a wiser purchase in terms of ease of use. 
So, if you are on the fence between these two, the Weber Kamado will not disappoint you.
Weber Summit E6 Kamado Grill
You say a versatile Kamado grill, I hear Weber Summit E6. Why so? Let's break down its specifications below to clear your doubts.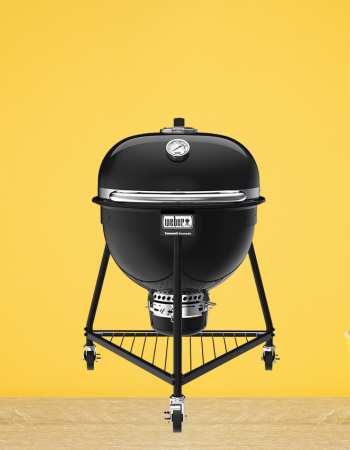 Top Features
Spacious 24″ cooking area

Includes a heat diffuser plate to hold heat consistently

Suitable for both low-and-slow cooking and high-heat grilling

Durable dual wall insulation for an efficient grilling experience

A black charcoal grill with porcelain enameled steel construction
---
To be very honest, Weber Kamado grills lack the signature feature of the classic Kamado grills which is the heavy-duty ceramic architecture.
So is this Summit E6 charcoal grill. It has a dual-walled insulated steel construction. But does it count as a plus or minus? Let's figure it out.
Due to its exclusive double-wall insulation, the grill is more than capable of maintaining heat precisely. Thanks to that, you can reach your required temperature faster than ever.
Furthermore, Weber engineered this grilling gear to reduce charcoal burn to a considerable extent.
Talking about the grilling space, you get 30.6×36.8×29.3 inches of dimensions which provides 24″ of extended cooking space.
And guess what? The heavy-handed steel construction is porcelain-coated for easy cleaning and maintenance.
Apart from that, you get a heat diffuser plate to maintain temperature consistently when you go with low-and-slow grilling.
Hey, wait. You can try high-heat searing as well. Just remove the diffuser plate and go with direct grilling with the manageable charcoal fuel holder.
Overall, it's a great deal for the budget that you shouldn't miss.
Pros
Hassle-free one-touch cleaning

Compatible with two-zone setup

Durable stainless steel construction

Comes with a rapid-fire lid damper for increased airflow

An inbuilt lid thermometer displays temperature accurately
Cons
The wheels are not that well-made

The bottom air vents of the grill get clogged frequently
Also Read: Weber Original Kettle vs Premium Kettle – Ultimate Battle of the Kettles
Weber Summit S6 Kamado Grill
Well, the Weber Summit S6 has pretty much the same features as the Summit E6 with some additional add-ons. Let's look forward to the nitty-gritty details of this premium Kamado grill.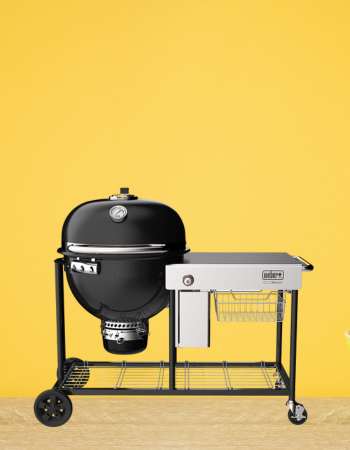 Top Features
Holds heat for all day long

Hassle-free gas ignition to light charcoal faster

A high-grade grilling gear with dual-walled insulation

Made of porcelain-coated stainless steel for long-term use

Comes with necessary accessories like a cart, a condiments drawer, and auto light
---
After exploring the key points about this Summit S6 Kamado-style Weber grill, you will understand that it's the upgraded version of the Summit E6. Certainly, with a premium price tag.
However, the fun part is this grill suits any size feast to feed your friends and families. The extra large 24″ of cooking space is extremely well-built.
Moreover, Weber should be thanked for providing the facility of one-touch clean-up.
Basically, it has a lever outside that pushes the ashes into a vented ash catcher.
Additionally, you get a sturdy cart with this grill with three locking wheels for easy movement. So, if you are looking for a transportable Kamado grill with optimum stability, look no further.
More than that, it comes with Weber's signature RapidFire lid damper that boosts the airflow.
Because of this boost, you get better insulation while smoking your favorite dish. You just need to learn how to control the airflow through the air vents.
Pros
Extra-large grilling surface

Low charcoal consumption

Precise temperature control

Made for both direct and indirect grilling

Lightweight construction for hassle-free movement
Cons
A bit overpriced

The enclosed ash catcher needs some break-in time to be easily accessible
Also Read: Weber Q Size Comparison Including Chart, Review & Price 
Kamado Joe 18-inch Classic Joe I
At this point of our discussion, let's look forward to the 18-inch Classic l grill from the very famous Kamado Joe. Let's try to figure out how it's different from the Summit series grills of Weber.
Top Features
Very precise temperature control

Features a thick-walled heat resistant shell

Produces enough smoke to lock flavor and moisture

Stainless steel cooking grates for easy cleanup and maintenance

Supports Kamado Joe's signature 2-Tier Divide & Conquer grilling system
---
As everyone says, Kamado Joe makes industry-standard Kamado grills and this 18-inch classic tool testifies to the saying.
One good thing about this classic ceramic grill is the slide-out ash drawer. Thanks to that, you don't need to remove the entire inside compartment to get rid of the ash. Just removing the drawer is enough.
Aside from easy cleanup, this classic Kamado-style grill also offers a vast temperature range.
On one hand, you can smoke low-and-slow at 225°F. On the other hand, searing at 750°F is also possible.
Nevertheless, it comes with a sturdy stand to hold the load comfortably. It's a ceramic grill after all.
If I talk about versatility, I must vote for this grill. Whether you like smoking, baking, or grilling, it is compatible with any type of cooking.
Best of all, it features a cast iron air vent for better heat control which seals the deal perfectly. No wonder, you get an incredible smoky smack in anything you cook.
In a word, it's a traditional kamado grill that lets you cook at any temperature you like without affecting the results.
Pros
Includes a built-in thermometer

Delivers natural smoke-infused flavor

The multi-level half-moon design is compatible with different cooking styles
Cons
A bit heavyweight

The painted finish on the lid gets cracked after a while
Also Read: Akorn vs Kamado Joe: A Comprehensive Comparison
Kamado Joe 18-inch Classic Joe II
Finally, I am going to review the great Kamado Joe 18-inch Classic Joe ll. It is, indeed, one of the best-selling kamado grills of any time. But what makes it so special? Let's explore.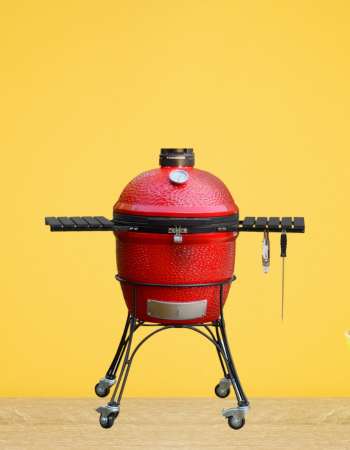 Top Features
The air lift hinge notably reduces dome weight

An 18″ ceramic grill that comes with a cast iron cart

Offers a flexible cooking system at different temperatures at a time

The dual adjustment top vent manages heat and smoke consistently

Provides increased efficiency with the Advanced Multi Panel Firebox
---
As mentioned earlier, all Kamado Joe grills come with necessary cooking gears such as the stand or feet, heat deflector, locking wheels, etc. And you get all these accessories at a fairly reasonable price range.
Further to above, I really liked the Kontrol Tower Top Vent which is rain resistant.
At the same time, the Air Lift hinge is an exclusive addition as well which makes lifting the dome a breeze.
On top of that, you will be blown away by its premium airtight seal, all thanks to the fiberglass gasket. Indeed, your guest will enjoy a palatable dinner palate.
Above all, the AMP firebox is prone to breakage, thanks to its multi-piece construction.
But yes, being a ceramic grill, it should be handled with care and caution.
Pros
250 sq. inches of spacious cooking surface

Fast and facile cleanup with the slide-out ash drawer

Compatible with a vast range of Kamado Joe accessories 
Cons
Lacks proper assembly instruction

You need to move the grill very carefully 
Also Read: Kamado Joe Charcoal Basket vs. Kick Ash Basket: Which is Better for Grilling?
Differences Between Weber Kamado And Kamado Joe
Now, let's point out the key differences between these two leading kamado-style smokers to figure out the better buy.
Material
The Classic Kamado Joe is made of ceramic. Whereas the Weber Summit Kamado Charcoal grill is a stainless steel variant.
And that's the most prominent distinction between these two top-quality kamado cookers.
Therefore, the Weber kamados are prone to rust and crack.
Smoke Profile
As we all know, ceramic cookers are more efficient in holding heat better. Resultantly, you will enjoy a more intense smoky aroma from a dish cooked on the Kamado Joe. 
Contrarily, the Weber Summit Kamado grills produce more of a balanced smoky smack in your food.
Weight and Adjustments 
Ceramic is heavier than stainless steel. Naturally, I found the Kamado Joe Classic grill a lot more challenging to take to my backyard.
Besides, it takes a few more adjustments than the Weber Kamado before getting started with fire.
Being lighter in weight, Weber Summit is easier to move around
Low-Temperature Smoking
Another comparative factor of these two grand grills is the low-heat grilling. It's difficult to smoke below 225°F in a KJ cooker.
But you can conveniently run the Weber Summit at a lower temperature and still can get that blue smoke.
Similarities Between Weber Kamado And Kamado Joe 
As affirmed above, both these smokers offer commendable cooking performances in kamado-style grilling. Certainly, they resemble each other in some aspects. 
So, here I go with the similarities-
Versatility
Similar to all the Kamado-style grills out there, both Weber and Kamado Joe designed their cookers to serve multiple purposes. 
You can grill, smoke, sear, bake, and BBQ with both of these tools. So, yes, they are quite versatile, indeed.
Easy Cleanup
Cleaning becomes a mess when you try traditional charcoal grilling, especially in a Kamado-style smoker.
Thankfully, both these gears offer super easy cleanup by not making it too hard for you. Both of them come with a high-capacity ash catcher to get rid of the ashes easily.  
Well-built Architecture 
Although they differ in materials, that's not the case in terms of architecture. Regardless of the material, both brands engineered their Kamado cookers with utmost quality control.
They are firm, rigid, and sturdy which makes them last a lifetime.
Plus, they offer excellent temperature control no matter how long you have been using them, all thanks to their thoughtful craftsmanship.
Why You Should Choose Weber Kamado Over Kamado Joe
Undoubtedly, Kamado Joe is an outstanding grill with some excellent features and functionalities. 
But it needs more adjustments. Plus, it takes longer to heat up. And you always need to be careful enough not to crack the ceramic construction. 
Furthermore, it's quite challenging to get back to your desired temperature if you overshoot. 
On the other hand, the Weber Kamado is lightweight yet sturdy. The rust-free porcelain-enameled architecture needs less care and maintenance. You can move it more easily than the KJ one.
Moreover, it holds heat pretty well too without making much difference in the flavor. 
That means it works just like a ceramic Kamado without bothering you with the downsides of a ceramic grill.
So, if you are a beginner in BBQing, the Weber Summit Kamado grills are certainly better picks for you.
Conclusion
To sum up this debate on Weber Kamado vs Kamado Joe, I have no issues to vote for either of them. Honestly speaking,  both are fantastic grills in their own way.
Just spare a little time to learn and they will pay you back.
But yes, given the fewer adjustments to be assembled, the Weber Summit is more beginner friendly. Plus, it's easier to bring the temperature down if you accidentally overshoot.
But for a better smoke profile, nothing can beat a ceramic kamado, especially the unfailing Kamado Joe Classic smokers.
So, which of these two smokers grabbed your attention more? I would love to know from your comments below.
Good luck with your purchase.